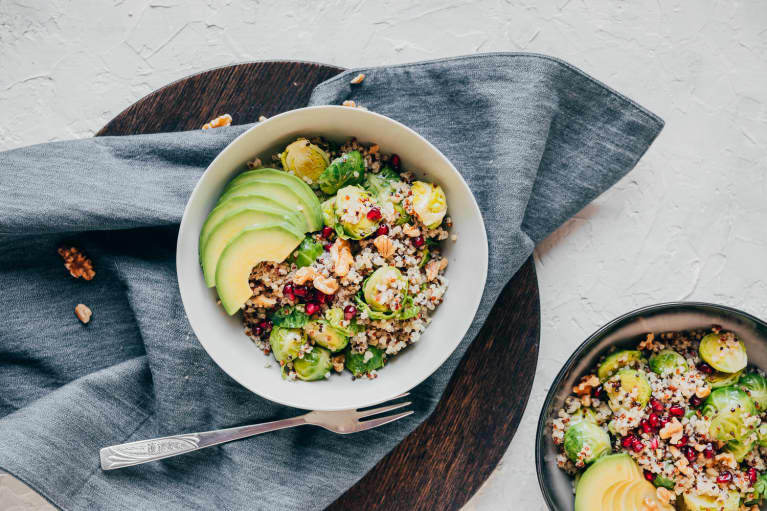 There was a time when following a vegan or even plant-based diet, was a largely polarizing choice. But as more and more restaurants integrate plant-centric options into their menus, and grocery stores broaden their range of dairy-free fare, there seems to be a shift towards this eating approach.
And a new survey of 1,500 Americans—facilitated by Datassential in collaboration with The Culinary Institute of America, Food for Climate League, and the Menus of Change University Research Collaborative—confirms that a plant-based diet is of interest to a growing population.
The data, from an online survey of people ages 18 to 88, suggests there is a shift towards a more plant-centric approach to eating.
What the survey revealed. 
While meat remains top of the list for many people as their primary source of protein, Gen Z, as well as people concerned with the environment (thankfully a large population), have signaled a shift towards integrating more plant-based protein into their meal routine. In fact, Gen Z as a population has the highest consumption of plant-based protein sources each day such as legumes, nuts, tempeh, tofu, and other meat replacements.
So how much of an increase has there really been towards plant-based eating? The survey reveals that up from 15% last year, 21% of consumers indicated that they would like to reduce meat consumption within their diets. In fact, the percentages show that across the board consumers are making an effort to increase their purchases of veggie-based foods while cutting back on meat, fish, and poultry. 
How you can enhance your veggie intake.
It's one thing to have the intention to increase your vegetable intake, and another thing entirely to create an actionable plan and build a menu. Thankfully, from plant-based meal delivery services (see our favorites here) to a wide range of veggie-packed recipes that are bursting with flavor, it's now easier than ever to experiment with meals that hide extra vegetables in dishes you already love.
And what easier way to do that than with mbg's organic veggies+—a greens powder complete with powerhouse ingredients such as organic sea veggies, spinach, kale, and root vegetables. In addition to 31 organic veggies, berries, herbs, and more—this USDA certified, vegan organic greens blend also delivers a good source of fiber to help promote smooth digestion and healthy blood sugar levels.*
Not exactly sure how to integrate greens powder into your diet? Here are some of our favorite recipes:
Following a vegan diet isn't for everyone, but this survey reveals that there is a desire to be more intentional in consuming plant-heavy dishes, particularly among Gen Z. Tailoring your diet to have a positive impact on your health and the Earth doesn't have to entail giving up meat entirely—simply inserting a meatless Monday or making an effort to try a variety of plant-based proteins can do wonders.
If you are pregnant, breastfeeding, or taking medications, consult with your doctor before starting a supplement routine. It is always optimal to consult with a health care provider when considering what supplements are right for you.
https://www.mindbodygreen.com/articles/survey-reveals-pulse-on-plant-forward-eating-habits-in-americans