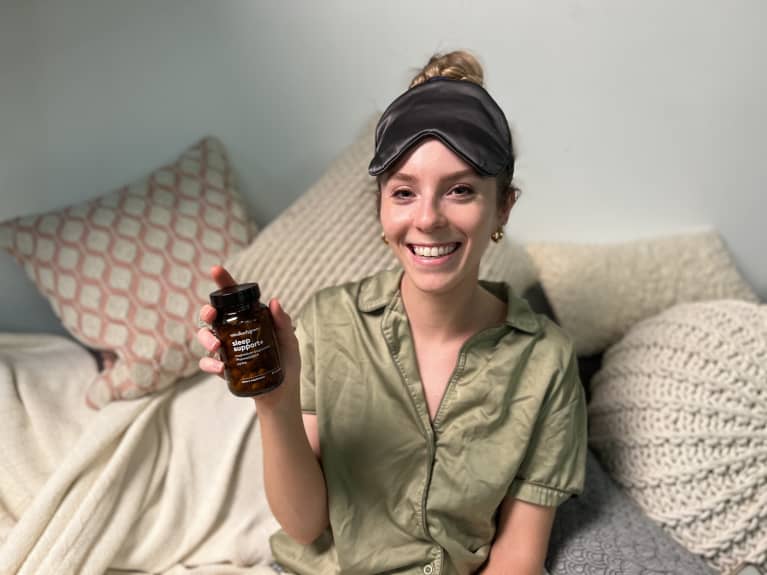 For as long as I can remember, I've had trouble falling asleep. Some nights, I'd lie awake in bed for one, two, three, or even more hours just waiting for sleep to come. Needless to say, for years I went through my life feeling exhausted. I'd slug through each day counting down the minutes until I could get back into bed, but then once bedtime came around, I'd feel stressed about not being able to fall asleep. About five years ago, I decided that this cycle had gone on long enough and it was time to find a sleep solution that truly worked for me.
Why I started taking sleep support+.
At first, I started taking a sleep aid featuring melatonin and valerian nightly. The melatonin definitely helped me fall asleep at night, though it also left some lingering grogginess upon waking. Getting out of bed was a challenge, and I just felt like I wasn't fully "there" in the mornings.
Then, about two years ago, I added another sleep supplement to my routine: mbg's sleep support+. I was intrigued to try the bestseller because it was supposedly helping people not only fall asleep faster but also stay asleep longer and reach those deep, restorative stages of sleep that we all need. In doing so, reviewers noted that the supplement helped them wake up refreshed and ready to take on the day—a feeling that I wasn't used to in my existing routine.
I immediately noticed that the combination of magnesium bisglycinate, jujube, and PharmaGABA® in sleep support+ helped me really stay asleep through the night.* Not only was I falling asleep even quicker than usual, but I was also waking up much more easily in the mornings.*
I took the two sleep aids together for a few years until I started reading more about the potential risks of taking melatonin nightly. I started to doubt if I should consume a hormone (several milligrams of it) so regularly—especially one that didn't have a ton of credible research behind it. So, earlier this year, I gradually weaned myself off melatonin and have only been taking sleep support+ ever since.
I'm happy to report that the hormone-free supplement has still been super-effective at helping me sleep better—and I have way less stress surrounding bedtime.*
I find that taking sleep support+ at the same time every night has helped me stick to my ideal bedtime (around 11 p.m.). Once the clock hits 9:30, I'll take the recommended two capsules with a sip of water and then try to limit my liquid consumption for the rest of the evening. To give the supplement the best chance of working, I also try to eat dinner on the earlier side and avoid any late-night snacks that might mess with my sleep quality.
When sleep time approaches, I'll turn on my humidifier and air conditioner for a bit of white noise and slip into bed with a book until I feel myself becoming super sleepy. Then, I know it's only a matter of minutes till lights out.
One of my favorite things about this supplement is that it makes me feel confident in my body's ability to get a great night's rest. Now that I'm not worrying about whether I'll be able to fall asleep, bedtime feels a whole lot less stressful. Removing that nightly sense of anxiousness has been huge for not only my sleep but my overall quality of life.
While melatonin helped me fall asleep faster, sleep support+ has been the supplement that's really improved my overall sleep quality after years of tossing and turning—without any lingering side effects.*
As told to mbg editor Emma Loewe.
https://www.mindbodygreen.com/articles/izzy-m-sleep-support-review