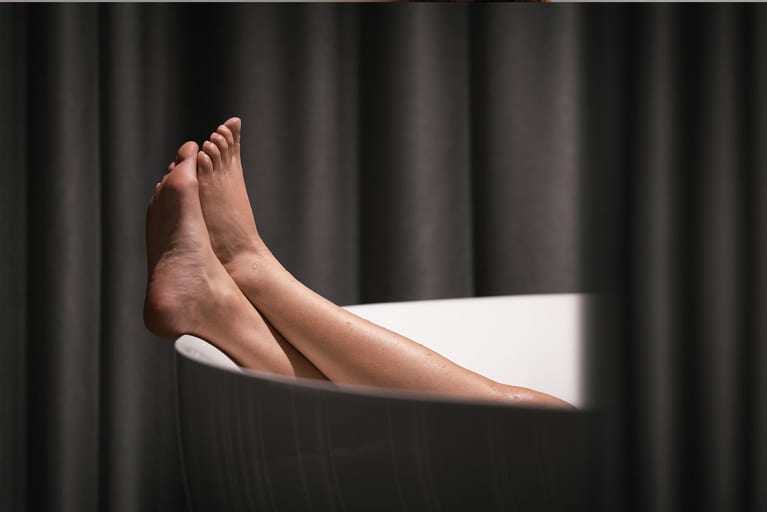 Whether it's walking to work, taking a long stroll on the beach, or hiking with friends; your feet help you get from point A to point B. While you may not often think to give offer gratitude to this part of your body, it's about time you start. 
If you neglect adequate foot care, you may be left with excessive dryness, painful cracks, dense callouses, and even peeling skin. If this sounds like something you've experienced before, you've come to the right place. Here, everything you need to know about the causes, prevention, and treatment of dry and cracked feet. 
It's important to note that there is a wide range of causes for dry feet. Sometimes lifestyle habits are relevant, but other times what's going on inside the body is the primary cause. 
A few examples of the latter, according to Brooklyn-based podiatrist Greg E Cohen D.P.M., FACFAS include dehydration, anhydrous (a lack of sweat gland production), diabetes, and aging. 
There are lifestyle factors that can lead to dry feet, regardless of what's going on internally, too. Here, a few to note: 
Remedies for cracked, dry feet:
If your feet are already cracked, dry, or peeling, you have a few different options to treat them. First, pedicures can provide salon-grade exfoliating treatments. Especially if your toenails are dry and brittle, a pedicure is never a bad idea.
On the flip side, if you're one to DIY or if you consistently run into cracked, dry skin on your feet, then creating an at-home routine is definitely worthwhile. Nail expert and co-founder of Brooklyn-based clean nail salon Lili and Cata, Lilly Rojas, shared some of her favorite at-home remedies with mbg: 
You can pick one of these tools up at your local drug store for just a few bucks. The file will help exfoliate the driest patches on your feet, especially if you're prone to stubborn calluses. 
2.
Opt for a pumice stone.
If your feet are on the sensitive side, or you're experiencing minor dryness, then a pumice stone might be a better choice. These tools are a bit gentler than files, but still work wonders for sloughing off dead skin. 
For the best results, use these tools after the shower, Rojas says. This way the dead skin on your feet will be softer and thus, easier to remove. Of course, always follow up with a moisturizer (more on that in a second).  
Arguably the most important step for your skin: Hydration. No matter what steps you take before or after, if your skin barrier is compromised your your feet will feel dry and cracked.
Opt for a barrier-supporting body moisturizer for the area. (Sure you can get a special foot or hand cream if you'd like a richer texture, but if you don't want to overpopulate your routine a body lotion will do just fine.) We recommend finding well-rounded formula with humectants (like aloe vera and glycerin), emollients (like oat and moringa seed oil), and occlusive ingredients (like shea butter and coconut oil) to adequately moisturize the skin and aid in water retention. Additionally, biome-supporting ingredients and antioxidants can further improve skin's function.
How to keep your feet hydrated: 
Once you've treated your cracked and dry feet, you'll want to get into the habit of keeping them hydrated to prevent a repeat occurrence. A few reminders to keep your feet as soft as can be: 
Foot care may not be something you often think about, but it should be considering your feet help you get to where you want to go every single day. Especially if you're experiencing dry, cracked, or callused skin, it's time for some pedi T.L.C. Whether internal or external influences cause this dryness, there are plenty of things you can do to treat and prevent dry and cracked skin. A good place to start: This derm-approved DIY foot peel. 
https://www.mindbodygreen.com/articles/cracked-dry-feet-causes-prevention-and-best-treatments