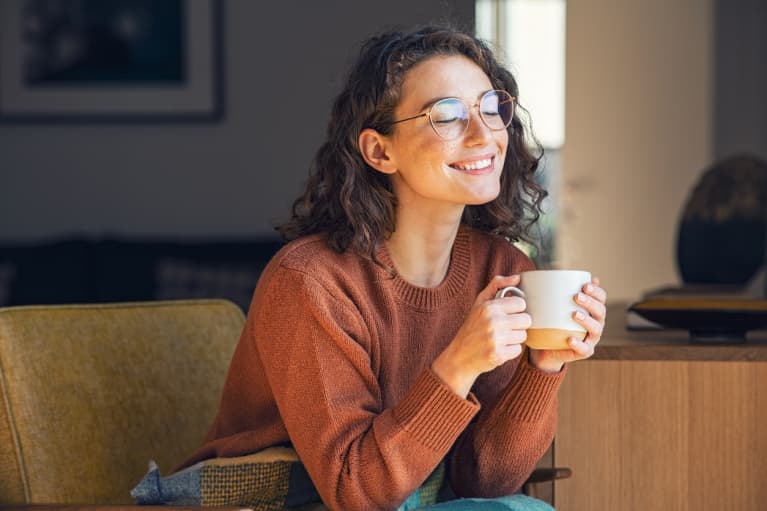 You may have a diligent skin care routine on lock, but do you consider tending to your largest organ from the inside out? See, plenty of antioxidant-rich, high-fat, hydrating foods are known for their complexion-changing properties. And when you need an extra and targeted nudge, skin-loving supplements can follow suit. 
Collagen seems to straddle both nutritional worlds: Some people choose to consume foods like bone broth, which contains native collagen (i.e., from the bones and connective tissues used to make bone broth), while others opt for a collagen powder made of hydrolyzed collagen peptides. Which option is better, you may wonder? Here's the answer. 
Should you choose bone broth or collagen?
To be frank, it's all about personal preference. While both collagen powder and bone broth are rich sources of collagen, the two are extremely different and, thus, not directly comparable. That being said, one is a bit more reliable than the other in terms of dosage.
"Bone broth contains modest and variable doses of collagen (anywhere from two to 10 grams per cup)," says mbg's vice president of scientific affairs Ashley Jordan Ferira, Ph.D., RDN. So while bone broth does contain collagen, it's not always a consistent, effective dose. 
A thoughtfully formulated collagen powder, however, contains 10 or more grams of collagen, Ferira says, making it a perhaps more reliable and potent option (like mbg's beauty & gut collagen+, which delivers 17.7 grams of collagen per scoop). This is helpful for those hoping to make collagen a regular (read: daily) part of their routine. 
The other significant difference between the two is the amount of research available. "Bone broth has a very small body of published studies," Ferira says, "Most of which are preclinical (rodents). These animal models demonstrate anti-inflammatory properties of bone broth as well as gut health and neuroprotective benefits." 
On the other hand, research on collagen peptides is both extensive and growing. "Collagen peptides have decades of research, so those clinical trials (especially in the skin health arena) are now so numerous, they've been compiled into systematic reviews and meta-analyses," Ferira explains. Indeed, the compilation of science clearly demonstrates that regular consumption of collagen peptide supplements promotes skin hydration and elasticity, while combating wrinkles head on.*
Many people consume bone broth for the additional good-for-you ingredients like hyaluronic acid and glutamine, which is why we included those functional bioactives into our collagen powder as well. This way, you're not missing out on the extra benefits.
Again, at the end of the day, this doesn't have to be a one or the other scenario. "They each deliver a unique array of mammalian protein and other functional ingredients," Ferira explains. So while one may be more researched than the other in terms of skin health, there's no need to make the two mutually exclusive. 
At the end of the day, choosing to consume bone broth or supplement with collagen powder is up to personal preference. What's more, you don't have to pick one or the other (Ferira consumes both, by the way)! However, it is important to note that collagen peptides have been more extensively researched and contain consistent, notable amounts of collagen. So if you're going to pick one for collagen-centric benefits, collagen supplements are the most reliable route. 
If you are pregnant, breastfeeding, or taking medications, consult with your doctor before starting a supplement routine. It is always optimal to consult with a health care provider when considering what supplements are right for you.
https://www.mindbodygreen.com/articles/bone-broth-vs-collagen-supplements