Whether you've already signed up to take on a Tough Mudder or you just want to get into Tough Mudder-shape — strong, lean, and incredibly fit — you've come to the right place because T-MINUS 30 was designed just for you.
Tough Mudder T-MINUS 30 is a training breakthrough from four-time Tough Mudder X champion, Hunter McIntyre.
It's 30 days designed to help you get into crazy shape; improve your strength, endurance, speed, and mobility to help you conquer Tough Mudder 5K or Tough Mudder Classic; and help you get the body to prove it.
Tough Mudder T-MINUS 30 With Hunter McIntyre
How Does T-MINUS 30 Prepare Me for a Tough Mudder?
The primary workouts in Tough Mudder T-MINUS 30 focus on building total-body strength, cardio endurance, and functional mobility, pushing you a little further each week to help make sure you're in peak condition after 30 days.
But what makes this program truly unique is the fact that it's comprehensive and can be customized depending on your goal — whether you're taking on a Tough Mudder 5K or Classic, or just doing the program to get in great shape.
Hunter is a legend in the world of obstacle course racing — and he knows exactly how to master a Tough Mudder course.
He's taken his expertise and created specialized routines focused on getting you to the finish line.
His Run Training program helps prepare you for all the miles you'll need to cover on the course.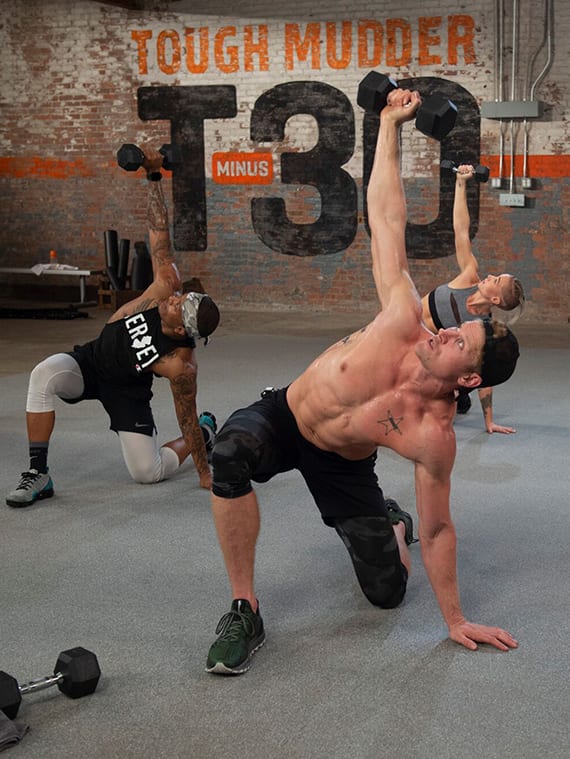 While his chin-up and pull-up routines deliver the kind of upper-body and grip-strength training that can help you conquer the obstacles on the course and carve a lean, athletic physique.
You even follow a Taper Week program that outlines what to eat and how to exercise on the last week before your event, to help you maintain your gains and help you feel fresh and rested when you get to the starting line.
In addition, Hunter shares his inside tips for hydration, fuel, proper footwear, and even what clothes to bring along on the big day.
There's also a workshop that preps you for the five key Tough Mudder obstacles — Everest 2.0, Funky Monkey – The Revolution, Block-Ness Monster, Kiss of Mud, and Berlin Walls — plus, you also get Hunter's pro tips on how to CRUSH them.
Put it all together and you've got the ultimate Tough Mudder training program.
Do it for 30 days, and you can not only lose weight, look great, and be ready to hit the course running, you can be in the best shape of your life.
What Other Benefits Will I Get from T-MINUS 30?
T-MINUS 30 isn't just the best way to train for a Tough Mudder. It's a great way to lose weight, get in crazy shape, get killer abs, and just get ripped.
So if you love a challenge and are looking for a new training program to kick your butt, you might just find that T-MINUS 30 is your new go-to program of choice.
One thing is for sure, after 30 days of T-MINUS 30, you'll have more confidence to take on any fitness challenge because you just might be in the best shape of your life.
Meet Hunter McIntyre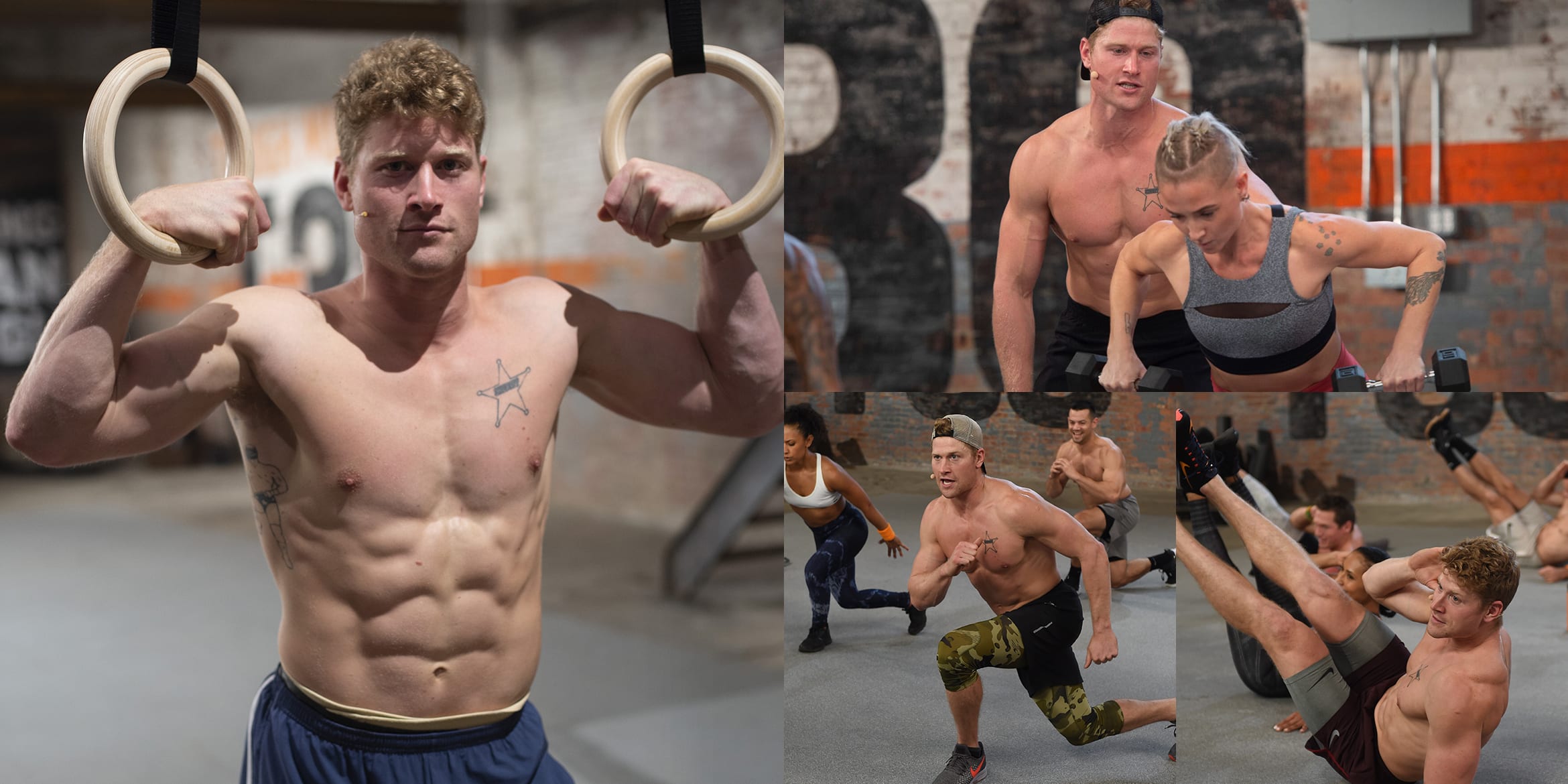 Hunter McIntyre is one of the world's most accomplished and active endurance athletes — he was named one of the 50 Fittest Athletes by Sports Illustrated in 2017 — but he's best known for his prowess in the world of obstacle course racing.
This four-time Tough Mudder champion knows exactly what it takes to be able to run, jump, crawl, carry, and endure more than most people even dream of.
Hunter has an exuberant and outgoing personality to match his passion for the sport. That makes him a powerful motivator for anyone who's looking to push themselves to a new level of fitness.
But no one knows better than Hunter that Tough Mudder is about more than individual achievement — it's a team event, and that same spirit and camaraderie is a part of every T-MINUS 30 workout.
As you'd expect from anyone revolutionizing his field, the Westchester, New York, native is just about as outspoken as they come, embracing his nickname, "The Sheriff," flexing his biceps on a regular basis for his thousands of followers on social media and putting up race results to justify it all.
Hunter competed in his first obstacle race in 2011, surprising himself with an impressive debut performance.
After that, he realized he might not need to be as skinny as the other athletes dominating the sport — he could focus on being strong and charging over the course as hard as he could.
The rest has been Tough Mudder history.
And now, with Tough Mudder T-MINUS 30, Hunter is making history all over again, by sharing his passion, motivation, and powerful strength-based approach to training.

TOUGH MUDDER T-MINUS 30 by Beachbody On Demand– Frequently Asked Questions
Here are the answers to some frequently asked questions about the Tough Mudder T-MINUS 30 program.
What Is TOUGH MUDDER?
Tough Mudder is the most epic and innovative obstacle course challenge in the world. Built with badass athletes in mind, its team-oriented obstacle races are designed to test physical strength and mental grit.
Tough Mudder Classic is a single 8- to 10-mile loop of mud-soaked terrain loaded with 25 best-in-class obstacles.
Tough Mudder 5K is a shorter (3-mile) track, but it's still a teamwork-focused, obstacle-filled event that's designed to help you get outside of your comfort zone and cross the finish line stronger than you started.
Is Tough Mudder T-MINUS 30 Designed for Tough Mudder 5K or Tough Mudder Classic?
Tough Mudder T-MINUS 30 includes calendars and training programs specially designed for both the Tough Mudder 5K and Classic, as well as a Get Fit calendar you can use to lose weight and get in crazy shape even if you don't plan on racing.
Who Is Tough Mudder T-MINUS 30 for?
It's for anyone who wants to lose weight, get in crazy shape, and get ready for a Tough Mudder or any obstacle course race.
It will help improve your strength, endurance, speed, and mobility and prepare you mentally for your Tough Mudder, so you and your team have a great time doing it!
What Should I Expect from T-MINUS 30?
Expect to work hard and sweat hard and feel like you're right on the course with Hunter and the cast.
He's going to push you hard, but he also believes in having fun! Expect to be challenged, but also to get strong, get lean, and get tough!
Do I Need to Be at A Specific Fitness Level to Do Tough Mudder T-MINUS 30?
While T-MINUS 30 is an intermediate-to-advanced-level program, we've included a modifier (a member of the cast doing an easier version of each move), so a beginner can do it and get incredible results and progress very quickly.

How Long Is Tough Mudder T-MINUS 30?
Tough Mudder T-MINUS 30 is a 30-day training program. It's 21 unique workouts, five days a week of work, and one day of mobility.
And if you're training for a Tough Mudder, Hunter recommends run training two to three days a week and grip-strength training one to two days a week in addition to the main workouts.
The program also includes a Program Guide with everything you need to know, including detailed Run Training and Grip Training programs, a Taper Week Guide for the week leading up to your Tough Mudder, Workshop Videos to help you conquer the course, and four Program Calendars (The Classic, 5K, Get Fit, and Taper Week).
Do I Need Any Equipment to Do Tough Mudder T-MINUS 30?
You only need a pair of dumbbells. If you'd like, you can use two sets of dumbbells, one lighter and one heavier, but one set will work if that's what you have. An exercise mat and a chin-up bar are optional.
Does Tough Mudder T-MINUS 30 have a nutritional component?
Your Beachbody On Demand membership includes access to two proven nutrition programs — Portion Fix and 2B Mindset.
Portion Fix with Autumn Calabrese is a portion-control program that takes the guesswork and emotions out of eating perfectly sized meals.
2B Mindset With Ilana Muhlstein, M.S., R.D.N., is a flexible approach to weight loss that lets you eat larger volumes of food to feel satisfied.
Find out which program is right for you.
Tough Mudder T-MINUS 30 also includes a Taper Week Eating Plan that gives you some guidelines on what to eat on the days leading up to and the morning of your event.
The goal is to maintain the strength you've gained, boost your performance on the course, and help you finish your Tough Mudder feeling strong.
Where Can I Stream My Tough Mudder T-MINUS 30 Workouts?
The Tough Mudder T-MINUS 30 workouts — plus the Program Guide; the calendars; the Run Training, Chin-Up Training, and Pull-Up Training workshops; and Taper Week Eating Plan — can be found within the member portal on Beachbody On Demand.
To try Tough Mudder T-MINUS 30 — or any of the fun and proven programs on Beachbody On Demand, previously on Openfit— sign up here.