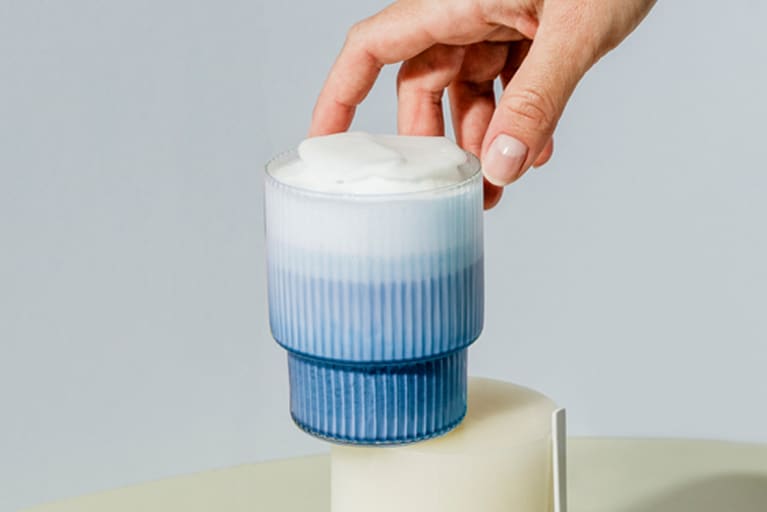 Our editors have independently chosen the products listed on this page. If you purchase something mentioned in this article, we may earn a small commission.
August 1, 2022 — 10:29 AM
This dreamy blue smoothie found fame on TikTok, where it was dubbed the "blue cloud smoothie," with its coconut cream topping mimicking a fluffy cloud set against a wide blue sky. But gorgeous aesthetics aside, the smoothie, which originated from West Coast organic market Erewhon, has more than just good looks. With protein, healthy fats, and a dose of blue spirulina, it packs a nutritional punch too.
We have the ingredients, step-by-step instructions, and a bonus tip to make this recipe even better for you and your skin. The secret? Include a scoop of collagen powder in your blend.* Don't worry, our powder of choice comes unflavored, so it won't mess with the delicious recipe, but you will be doing yourself a favor by adding some skin-loving ingredients.* Let's get into it! 
Of course, we're huge fans of the smoothie's star ingredient, blue spirulina, sometimes referred to as blue Majik. It's packed with vitamins and minerals, including calcium, potassium, B vitamins, and iron; it also contains phycocyanin, which boasts some incredible antioxidant properties (it's also responsible for giving spirulina its vibrant blue-green color).
Then to add even more skin-healthy nutrients, why not toss collagen into the mix?* Collagen supplementation has countless benefits, both for the skin and the entire body.* It promotes your skin's natural collagen and elastin production, enhances skin hydration, and supports gut and digestive health.* You can read more about collagen's benefits here if you're curious, but it's an easy addition to any recipe, especially smoothies. 
How to:
Add your frozen ingredients, collagen powder, almond butter, honey, 1 tablespoon of blue spirulina powder, and milk of choice to a blender, and blend. 
Add 1 spoonful of coconut cream and your other tablespoon of blue spirulina to the bottom of your glass.
Pour the smoothie into the glass.
Top with another scoop of coconut cream, and enjoy! 
We love adding collagen powder to daily beverages because it's a quick and easy way to get some seriously powerful nutrients. If you're looking for more collagen-packed recipes, we've created a collagen matcha latte and a chocolate shaken espresso recipe as well—feel free to shake up your morning ritual as you see fit.
If you are pregnant, breastfeeding, or taking medications, consult with your doctor before starting a supplement routine. It is always optimal to consult with a health care provider when considering what supplements are right for you.
https://www.mindbodygreen.com/articles/blue-cloud-skin-supporting-smoothie-recipe-with-collagen