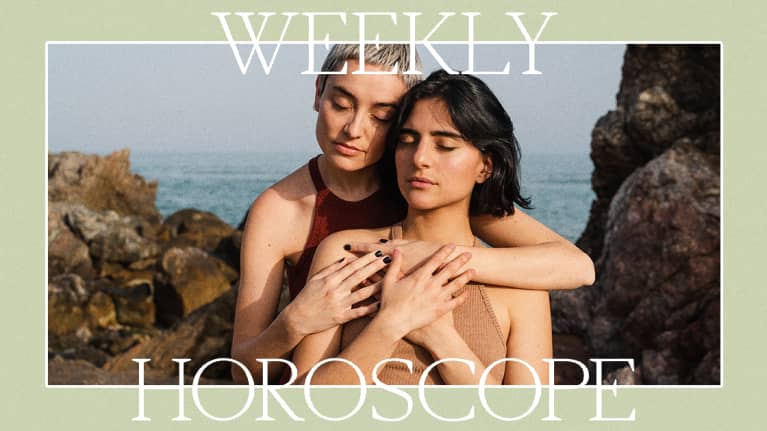 August 6, 2022 — 10:03 AM
There's a thin line between "secretive" and "self-protective," and you'll need to walk it carefully early this week. Here's your horoscope.
On Tuesday, August 9, delicate Venus in Cancer goes head-to-head with power-monger Pluto in Capricorn, churning up trust issues.
If people's motives are not transparent, you may be tempted to fire off an interrogation. Trouble is, this could set off their defense mechanisms. It may be wiser to "innocently" observe anyone who trips your emotional alarm system. Surface activity won't tell the whole story, however, so plan to dig deeper with your investigations. Do you feel like someone's gaslighting you? Don't take the bait!
Wishful thinking is encouraged (and then some!) this Thursday, August 11, as the year's only full moon in Aquarius shines the spotlight on our hopes for the future.
What would your ideal world look like—and who would be there to enjoy it with you? Take time to meditate on that and, if you feel so inspired, to make a vision board.
With this full moon squaring the lunar nodes and game-changing Uranus, whatever you arrive at could have a destined quality to it. And you may feel extra impetus to start exploring and experimenting right away! Collaborations and community ventures get a boost. Over the next two weeks, you could feel a virtual vibe or IRL click with people who share your most high-minded values. If you've already united with your soul squad in this lifetime, how can you join forces to make your corner of the planet a better place? Put your heads together and see what you come up with. If it's time to refresh your tech, start shopping around for time- and energy-saving devices that bring ease to your life while reducing your footprint.
Also on Thursday, love goddess Venus struts onto Leo's catwalk, bringing out the spotlight-stealing siren in us all. Can we get a meow, baby? Summer love goes from mild to wild—then up to scorching hot—when the planet of glamour and romance enters this fire circle every year. Don't sleep through invitations that connect you to beautiful, fabulous people. Bae-hunting could turn up prime catches, for both romantic and creative collaborations. No matter your relationship status, sincere flattery will get you far! Be generous with your praise and gracious about the accolades you receive. If you're due for a romantic reboot, this could be a "renaissance period" for amour, so wear your heart on your decorative sleeve (or your backless bandage dress, shredded tank, or slinky swimsuit).
Summon your courage! Sunday's potent trine between take-no-prisoners Mars and investigative Pluto could bring eye-opening epiphanies.
Don't be afraid to look in the shadows. That's how you'll get to the root of your stumbling blocks. Limiting beliefs may be shrouding your view of what's possible, especially if they were born out of trauma or fear. And have any self-sabotaging behaviors crept in? Get real and start making a change. Owning your issues is the way to ensure that they don't own you.
https://www.mindbodygreen.com/articles/weekly-horoscope-for-august-8-14-2022-from-the-astrotwins