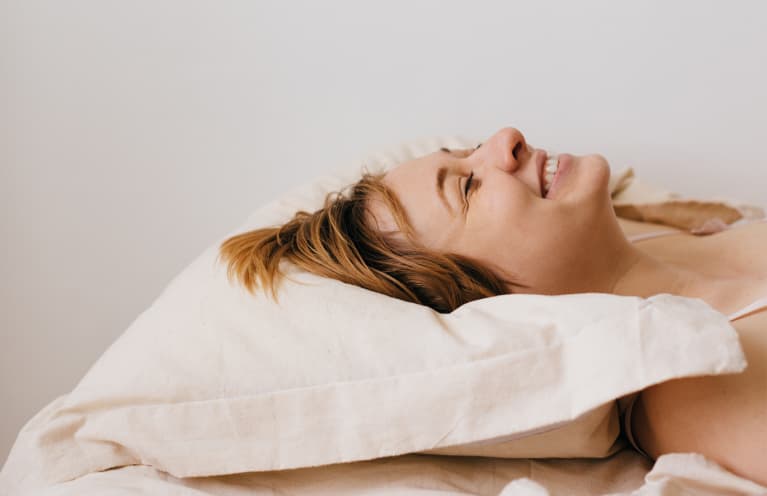 August 8, 2022 — 11:05 AM
Is there any better feeling than waking up after a night of excellent sleep? Your body is relaxed, your mind sharp, and your perspective refreshed. And you can feel good knowing you just supported your brain function, heart health, and immunity with that solid snooze. Alas, this is a feeling that is not super familiar for a lot of us, with stressful thoughts, busy schedules, and other sleep barriers keeping one in three American adults from all-important slumber on a regular basis.
While getting great sleep is by no means easy, the right supplement can make it way more doable. Here are a few reasons that hundreds of reviewers now reach for mbg's sleep support+ to help them achieve their deepest sleep and most energized mornings—sans grogginess*:
For starters, while it's helpful for quickly adjusting to a new sleep-wake cycle (say, if you're traveling), melatonin won't necessarily improve your overall sleep quality—which is part of the reason it makes many people wake up feeling groggy, like they never quite reached those deeper levels of sleep. And since melatonin is a hormone, many experts raise a red flag about taking it nightly, as it may throw off the health of your other hormones (hence why it's only available by prescription in most other countries).
It was important for mbg to keep our supplement hormone-free, so we intentionally lead the formula with magnesium—a naturally occurring essential mineral that your body needs to function (but many of us don't get enough of from food). Magnesium fuels the production of key hormones—yes, including melatonin!—and sets off a calming cascade of neurotransmitters in the brain to prep us for bed.* It's been clinically shown to help people fall asleep faster and spend more time in deep sleep, all without that dreaded morning fogginess.*
2.
It contains gentle yet powerful ingredients.
Sleep support+ is formulated with ingredients that are gentle on the body but pack a powerful sleep punch. Let's start with the magnesium, which takes the form of magnesium bisglycinate, a complex that is easy for the body to absorb and gentler on the gut than other types of magnesium supplements. From there, we added jujube—a fruit that has been used in traditional Chinese medicine to promote sleep for literally thousands of years—and PharmaGABA®—a supplemental form of the human brain's main inhibitory (calming) neurotransmitter.*
This is not a formula designed to "knock you out" or struggle to keep your eyes open. Rather, it delivers a gentle wave of relaxation that will sustain you through the entire night. It's all in the name: The supplement is there to support the sleep your body is already capable of.
3.
Its doses are research-backed.
No sprinkling here. We consulted the latest research to decide how much of each ingredient we needed to include in sleep support+ to actually deliver the intended effects. And if customer reviews are any indication, we nailed it. "It's like [sleep support+] makes me sleep harder, longer. I am in love with this product and give it my highest recommendation. Not only do I sleep much better, but my good sleep makes for a better day,"* writes one reviewer, Mallory O.
Chelsea D. echoes, "With this sleep supplement I am actually waking up at a decent hour and I feel so much better. Sleep is so foundational; this supplement has changed my life."*
Learn more about sleep support+ and how it's helping people achieve their deepest sleep here.
If you are pregnant, breastfeeding, or taking medications, consult with your doctor before starting a supplement routine. It is always optimal to consult with a health care provider when considering what supplements are right for you.
https://www.mindbodygreen.com/articles/sleep-support-for-deeper-sleep-with-no-grogginess