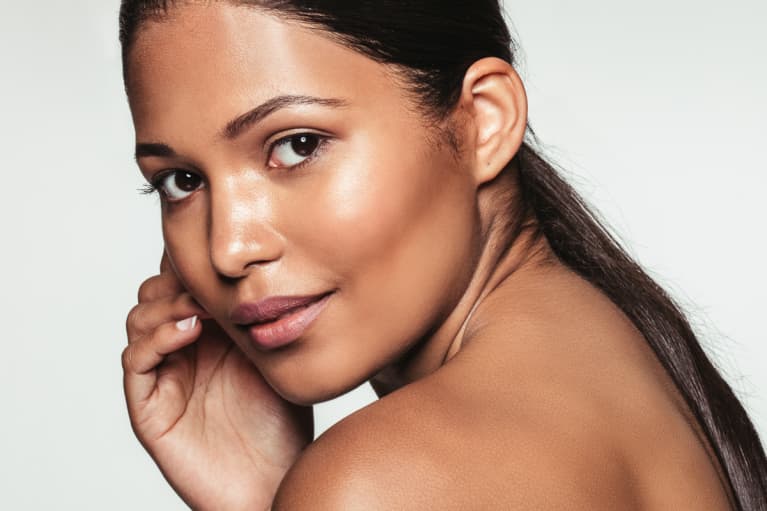 Our editors have independently chosen the products listed on this page. If you purchase something mentioned in this article, we may earn a small commission.
August 18, 2022 — 9:04 AM
What are your nonnegotiable beauty tips? In our series, Essential Beauty, we tap experts for the top three techniques they absolutely swear by. Here, you'll hear from a variety of industry professionals on the fail-safe tricks they always keep in their back pockets. We're all about simplifying your beauty regimen wherever you can, and sometimes the best routines are as easy as 1, 2, 3.
Facials are an investment, but IMO, they're 100% worth the pretty penny. You can splurge on all of the potent topicals you please, but at the end of the day, nothing compares to the guidance from expert-level hands (the massage alone is reason enough to book a treatment). An esthetician spends time with your skin in a very meaningful way, so you can figure out exactly what products, techniques, etc., will give you the best possible outcome. 
That's not to say you must carve time for a facial every single month. If it's within your budget, the pros generally recommend booking a treatment whenever the seasons change (so two to four times a year), but because each service typically comes with a steep price tag, you might be wondering how to maintain the benefits for as long as possible. And who better to ask than an influential esthetician to the stars? 
We're giving celebrity esthetician Shani Darden the floor—here, find her three tips to maximize your glowing results. 
Some treatments should always be left to the pros (like extractions or microneedling), but if you want to replicate those services at home, Darden recommends splurging on a hi-tech tool. Think: microcurrent devices, LED masks, and sculpting rollers and wands. Of course, an esthetician might use a stronger, professional-grade gadget during a facial, but these at-home tools can still yield amazing results in between sessions. 
For example, "I've used vibration therapy in all of my facials for years, so I wanted to develop a device to get those same benefits at home," Darden shares. "My Facial Sculpting Wand uses acoustic soundwaves to target wrinkles below the skin's surface, along with boosting circulation for smoother, firmer, more glowing skin. I love to use mine around my eyes especially to help lift the eyes and offset any puffiness." 
Similarly, a professional LED therapy service will likely use a stronger wavelength of light, but that doesn't mean you can't find an effective handheld tool to use on your own. Just make sure you do your research to find a high-quality device. Darden's a big fan of the Déesse PRO LED Light Mask, which includes 238 LED lights in both a red and blue option to help improve skin texture, soften fine lines, and kill acne-causing bacteria. "It's such an incredible, transformative device that helps to keep your skin glowing and youthful, and it's super easy to use as well!" she notes. 
2.
Maintain a targeted routine. 
At mbg, we often say getting a facial is a lot like seeing a nutritionist or personal trainer; a professional can help you meet your various goals, but it's still up to you to put in the everyday work. You can't completely ignore your diet and workout regimen at home and expect any miraculous changes! The same goes for skin care. 
Darden agrees: "The most important thing to remember is how important it is to maintain a dedicated home care routine," she says. "If you're not using the right products for your skin consistently, the results of a facial won't last as long."  
Everyone has a different line-up, but your esthetician should help you come up with a sustainable, long-term plan. After all, appointments are usually an hour or more, so they can really spend time with your skin and address any concerns or goals you have. They'll often suggest certain products or ingredients that will work with your skin type and even offer up a sample routine for you to follow—usually featuring some sort of targeted active, like vitamin C, AHAs, or other antioxidants.
Again, everyone's skin is different, but Darden often recommends folding in a retinol to encourage cell turnover and keep the skin firm and bright. "I always recommend that my clients use Retinol Reform at night to maintain the benefits of a facial," she notes regarding her star formula. 
OK, we just said keeping up with targeted actives is key for long-term results, but for the first few days before and after your treatment, you'll want to pare back your regimen. No matter which type of facial you get, it will provide a pretty deep clean, so you want to keep your routine gentle and nourishing to avoid stripping your skin barrier raw.
"It's important to limit the use of active products immediately after a facial and potentially for a couple days, depending on your skin," Darden adds. "The night of a facial, I recommend my clients wash their face and apply moisturizer, but nothing else!" Consider ingredients like ceramides, hyaluronic acid, glycerin, and aloe your new BFFs for the time being. 
Facials are an investment of both time and money, so you want to make sure you're not subconsciously sabotaging your results. Says Darden, high-quality at-home tools and targeted actives can help you maintain that post-facial glow long after you've left the treatment room, so you can get the most bang for your buck. 
Heal Your Skin.
Receive your FREE Doctor-Approved Beauty Guide
You are now subscribed
Be on the lookout for a welcome email in your inbox!
https://www.mindbodygreen.com/articles/what-to-do-before-and-after-a-facial-to-maximize-the-benefits