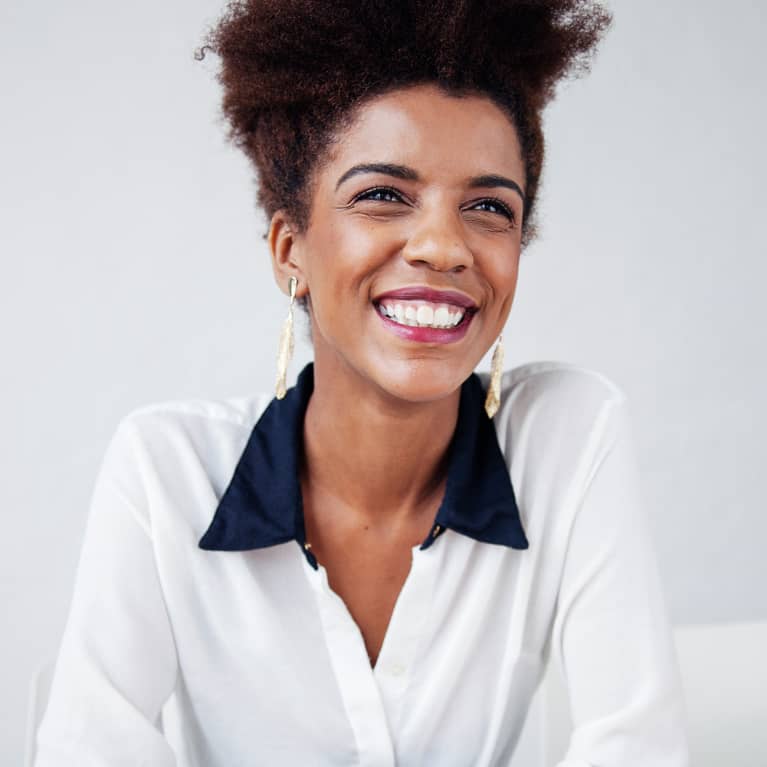 August 24, 2022 — 12:29 PM
The oral beauty bracket is certainly making a splash, with new and improved products that promise to enhance and strengthen your smile (without completely blasting your oral microbiome). Think gentle whitening strips, non-antiseptic mouth rinses, and…supplements? 
Don't scoff just yet: "I was pleasantly surprised to see my skin firmer and more supple but had the most unexpected outcomes as well," notes Lynn in a review of mindbodygreen's cellular beauty+. "I have two teeth in particular that have been seemingly stained for years from what I thought was exposure to coffee, teas, wine, etc. Those teeth are now perfectly white. Nothing a whitening toothpaste has ever accomplished."* 
We know beauty supplements are brimming with star ingredients for skin, hair, and nails, but can we add oral health to the résumé?* Perhaps—but it's not as simple as you think. 
Can antioxidant supplements promote whiter teeth? 
Here's the thing: We can't say whether antioxidant supplements (like our cellular beauty+) can lead to pearly whites. There's just no data on that front quite yet. However, antioxidants in general are super important for oral health: Antioxidants neutralize free radicals and support full body health, which includes the health of your smile. 
"Depending on whether we're under stress or other environmental factors, we oxidize a lot," says biologic restorative dentist Gerry Curatola, DDS on an episode of Clean Beauty School. That's why he recommends consuming an array of antioxidant-rich foods. A few of Curatola's favorite antioxidants for gum and oral health: "vitamin C, coenzyme Q10, vitamin E, and vitamin D3."* 
CoQ10 in particular has been shown to support oral and gum health: Research shows that people with healthy gums have sufficient CoQ10 levels, and another study found those who supplemented with the antioxidant had better periodontal health than the control group.* And when your teeth and gums are healthier, they appear less dull and dingy. 
And for what it's worth, mbg's cellular beauty+ contains 100 milligrams of ubiquinol CoQ10, which is the most bioavailable, bioactive form (the study above used 120 milligrams, but 100 certainly falls within the ballpark of magnitude). Plus, the formula features astaxanthin—a carotenoid phytonutrient and potent antioxidant—and pomegranate whole fruit extract, which is another premium botanical concentrated in antioxidants. So you're getting an array of antioxidants with each serving, which can support your health overall (including that oft forgotten oral cavity).* 
Can antioxidant supplements help you secure a whiter smile? It's difficult to make a clear connection quite yet, but antioxidants have been shown to support overall health and certain oral health parameters—and healthy, thriving teeth and gums do appear brighter.
If you are pregnant, breastfeeding, or taking medications, consult with your doctor before starting a supplement routine. It is always optimal to consult with a health care provider when considering what supplements are right for you.
https://www.mindbodygreen.com/articles/can-antioxidant-supplements-promote-whiter-teeth