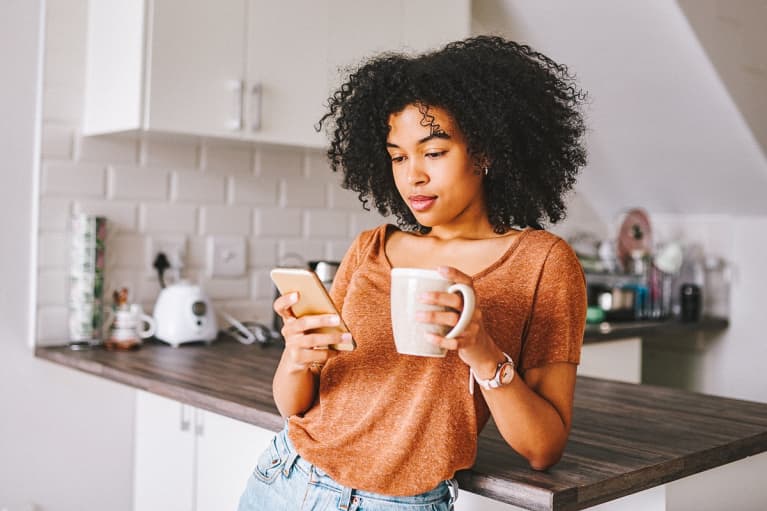 Our editors have independently chosen the products listed on this page. If you purchase something mentioned in this article, we may earn a small commission.
August 25, 2022 — 11:22 AM
If there's anything more challenging than swiping through the dating pool on Hinge, it's coming up with a profile that stands out from the crowd and that's true to who you are. If Hinge prompts have you stumped, we've got you covered, with tips on how to catch people's eye, plus the best prompts to choose and how to answer them.
How to stand out on dating apps.
Even if you're new to dating apps, the importance of standing out has likely occurred to you. There are, after all, plenty of fish to swipe through, and you want to create a profile that will attract the kind of people you're looking for.
As certified sex therapist De-Andrea Blaylock-Solar, MSW, LCSW-S, CST, tells mbg, when setting up your profile, you want to be as true to yourself as possible and know what you're looking for from the get-go. "Get really clear, even before setting up a profile, of what you're looking for—and you can even put exactly what you're looking for on your profile, whether that's a long-term relationship or you just want to go on dates," she explains.
In terms of what to include on your profile, she adds you can do a quick assessment of what's important to you as an individual and within a relationship. Things like values, interests, and hobbies are great to work into your prompt responses, for example, because it helps people find things in common with you, opening up the door to conversation. And if you can add a touch of humor, Blaylock-Solar adds, all the better.
When picking photos, choose ones that clearly showcase what you look like, she says. Group photos are OK, she notes, but if all you have is group photos, it can be hard for people to figure out which one is you.
And remember: honesty is the best policy. If someone doesn't appreciate the fullness of who you are—they ain't the one. As licensed clinical social worker Rhonda Milrad, LCSW previously told mbg, "You don't have time to waste sifting through mounds of overtures from subpar suitors. So, put the games aside and be honest and direct about who you are and what you're looking for."
13 best prompts + how to answer.
With a seemingly endless list of prompts to choose from when setting up your Hinge profile, sorting out the best options can seem impossible—which is why we went through and selected our favorites. The following prompts offer a good mix of conversation starters that allow you to showcase the real you, with room for humor or other personalization.
1.
This year I really want to…
Who doesn't love a potential suitor with goals, whether they be personal or professional? This prompt lets people know what you're prioritizing right now, and who knows? They might just want to do the same thing, too.
Potential answers:
Go on a roadtrip
Read at least one book every month
See my favorite band perform live
Sometimes it's the little things that mean the most, and a person's simple pleasures can tell you a lot about a person. Plus, there's something endearing about thinking of someone enjoying life's sweet little moments.
Potential answers:
A cool breeze on a hot day and waking up before my alarm
My morning cup of coffee and the smell of old books
The candle section of the store and perfectly ripe fruit
If you're a travel lover, odds are you'll want to be with someone who loves to travel as much as you. What better way to find them than with a prompt that, well, prompts travel talk about your favorite expeditions?
Potential answers:
Water-skiing in the Maldives
Getting lost in Croatia
Hiking the Grand Canyon
4.
Fact about me that surprises people
This is a great prompt if you have a hidden talent or interest, or if there's something else about you that people might not suspect based on photos alone. The options here are endless, so feel free to have fun with it.
Potential answers:
I was born in another country
I've broken X bones
My childhood nickname was X
Are you a brunch-er? A laundry-doer? Perhaps a lay-in-bed-all-Sunday kind of person? Whether you treat Sunday as the day of rest or the day to seize what's left of the weekend, how you spend Sunday gives a good sense of how you prioritize your free time.
Potential answers:
Cleaning house and Sunday scaries
Brunch, football, and time with family
Gym sesh and meal prepping for the week
This prompt is a classic choice because no can resist the challenge of a good guessing game—plus, there's plenty of opportunity for humor, while simultaneously sharing some things about yourself.
Potential answers:
I've been to eight countries, I'm missing a toe, and I can play guitar.
I'm originally from Australia, I have five siblings, and my favorite food is sushi.
My favorite color is orange, I can't stand country music, and I have a pet tarantula.
7.
The secret to getting to know me is…
This prompt can go a lot of ways, and in any case, it can be helpful for people to know what kind of approach works for you in terms of getting to know each other. Some people are incredibly open, after all, while others might be slower to show their cards.
Potential answers:
Looking at my Spotify library.
Patience.
8.
The dorkiest thing about me is…
Another fun one, and a good choice if you want to find someone with the same obscure interest as you. Don't be afraid to let your geek-flag fly.
Potential answers:
My Star Wars tattoo
My collection of anime action figures
My fascination with identifying plants on hikes
9.
First round is on me if…
If you want to cut right to the chase and get some dates on your calendar, consider this prompt, which also serves to help you sort out good matches. When the right person sees it, they won't be able to resist, replying that you owe them a drink.
Potential answers:
You listen to [underrated musical artist].
You know what [obscure pop culture reference you love] is.
You like [niche hobby you love].
Whether you're on Hinge for a good time or a long time, this prompt is a casual way to give an indication of what you're looking for. You could go for an answer that's reflective of your biggest goal with a partner or keep it light and even humorous.
Travel the world
Get off this app
Take our dogs on a play date
11.
You should leave a comment if…
We love this one for its straight-to-the-point directness. Why beat around the bush? If you have something specific you'd like in a partner, whether it's a quality or common interest, here's your chance to put it out there.
You're into X
You also want to X
Your favorite show is X
12.
The one thing I'd love to know about you is…
Similar to the above, this is also a great prompt for the direct types, but it can also be as serious or light as you want, whether you're asking about interests, values, or beliefs.
What your goals are
Your astrological sign
How you spend your free time
13.
Let's make sure we're on the same page about…
And last but certainly not least, as much as you'd like your profile to attract the right people, you also want to weed out those who are clearly incompatible. While it may have been a faux pas in the past to talk about politics or religion on a first date, OkCupid's chief marketing officer Melissa Hobley previously told mbg that more and more people are actually prioritizing matching with people who have similar beliefs and values.
"Get this—some of the most commented on questions of all time happen to be recent questions we added in over the last year about border control, climate change, feminism, political beliefs, and voting," she told us recently. "We know these are topics our users care about."
You can, of course, go light with this one, but don't be afraid to be honest about where you stand.
Who we voted for in the last election
Gender equality
Sleeping in on the weekends
Let's be real—there's a lot of pressure to make your profile as "perfect" as possible. And yes, there are things you can do to make your profile more appealing. But your first priority should ultimately be depicting yourself in a true and honest way.
As Blaylock-Solar tells mbg, it comes down to walking the line between reflecting who you really are, while also seeming approachable and genuine. Focus less on attracting as many people as you can and more on showcasing your true self, so the right people can recognize what kind of person you are.
2.
Be open to the possibilities.
Along with being yourself, Blaylock-Solar also emphasizes the importance of being open to people you may have otherwise not been initially interested in. It really is so hard to get a sense of someone's energy solely online, and you may find you hit it off way more in person than over messaging. Or, she says, maybe you find a new friendship in this person, rather than a romantic connection—and that's great, too!
To that end, she also adds to let go of any timeline pressures you're putting on yourself, and try to be patient if things aren't moving as "quickly" as you'd like—which brings us to our next point.
3.
Don't take things personally.
On a good day, dating apps like Hinge can give us a huge ego boost when we get new likes and matches. On a bad day, well, not getting matched back can feel like a punch in the gut. But as dating coach Andi Forness previously wrote for mbg, "There are a million possible reasons that person didn't write back, and 99.9% of the time, that has nothing to do with your attractiveness and value as a person."
Blaylock-Solar echoes this point, saying to avoid gauging your self-worth with the number of matches you get. Long story short? The apps can be a jungle, and it's best to approach the whole swiping game with an air of detachment.
Curating your Hinge profile can be tricky, but with a little trial and error, the right people are bound to resonate. Play around with different photos and prompts, and take note of which parts of your profile seem to be getting the most attention. Rinse and repeat, experimenting with your profile—and watch your likes start to grow.