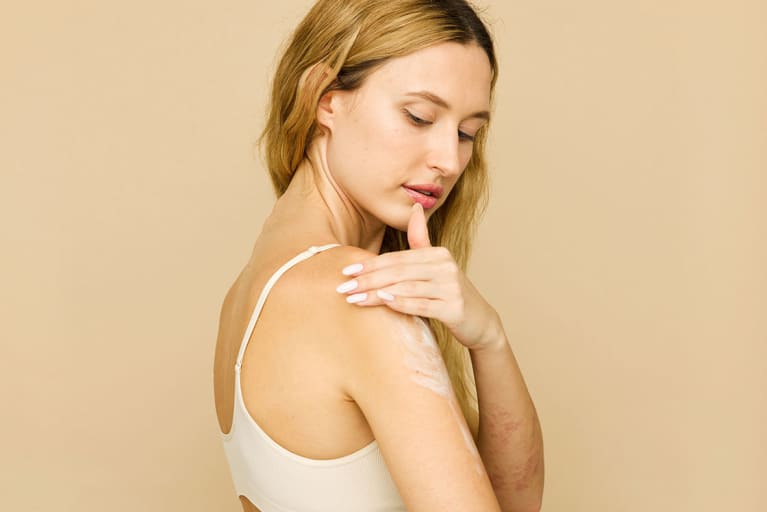 Our editors have independently chosen the products listed on this page. If you purchase something mentioned in this article, we may earn a small commission.
August 26, 2022 — 9:30 AM
Body lotion isn't just a nice-to-have item for buttery-smooth skin—keeping your skin hydrated is essential for a healthy, supple complexion over time, but we'd be lying if we said the short-term aesthetics don't matter. Who doesn't want smooth, glowing skin all over? 
To meet both goals, select a body lotion that plumps your skin short-term and improves barrier function over time. And according to reviewers, mindbodygreen's postbiotic body lotion does just that—it may even soften fine lines in just 48 hours. 
A body lotion that softens fine lines immediately & long-term.
First thing's first: Keeping the skin well moisturized improves barrier function, which is key to maintaining supple, youthful skin. But hydrating humectants (like aloe vera) can have an immediate "plumping" effect on fine lines and ease crepey skin. As board-certified dermatologist Hadley King, M.D., once told mbg about the common skin concern: "Moisturize, moisturize, moisturize—this can improve the appearance." Make sure your lotion has a blend of emollients and occlusives, too, which can fill in and soften cracks and lock in that moisture for lasting hydration (ours features shea butter, moringa seed oil, oat oil, and squalene). 
As for easing fine lines long-term, mindbodygreen's star formula includes CoQ10, which has energizing effects for the skin cells (so they literally act younger). Research has even found that topical CoQ10 can significantly decrease wrinkles, and it does so without any irritation. The star of the show, however, are the targeted-biotic ingredients, which provide deep hydration and skin barrier support. 
Specifically, our special biotech postbiotic comes from Lactobacillales, the "educational" strain of bacteria that teaches skin to act young, protect itself, and revitalize barrier function. Sounds like a tall order, but your skin microbiome is pretty powerful—that's why we always push ingredients that nourish the trillions of bugs that live on your skin—and it adapts rather quickly to whatever you're using. "At first I thought the postbiotic bit was hype, but my hands and wrists are free of fine lines after 48 hours," notes Evelyn C. in a review. "The postbiotic lotion is kind of magical." We (and 27 other reviewers) would agree. 
Fine lines are inevitable at some point, but it is possible to soften the appearance of those creases. Snag a quality hydrating body lotion, like ours, and watch the skin-enhancing magic unfold. 
https://www.mindbodygreen.com/articles/a-body-lotion-that-softens-fine-lines-immediately-and-long-term