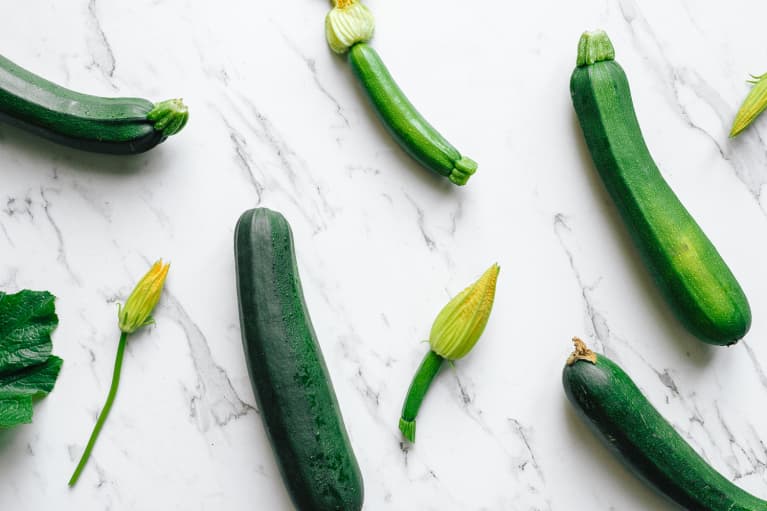 September 3, 2022 — 9:27 AM
One of my favorite things to do for weeknight dinner is gaze into the fridge and let my inspiration strike, creating a recipe with whatever I have on hand. Last week, I opened the door, and my eyes landed on the fresh zucchini from the farmer's market and homemade tzatziki. Immediately, my brain had a flashback to my travels in Greece and knew what I was going to make: zucchini fritters!
So I got to work grating the vibrant green zucchini, salting it, and squeezing as much water out as I could. I used two eggs (lightly beaten) but you could also swap in flax eggs or another egg replacement if you follow a vegan lifestyle. From there, instead of adding traditional white flour, I went for a blend of almond flour, paleo bread crumbs (I love this brand), and Himalayan Tartary Buckwheat Flour (you can read all about that powerhouse ingredient here). For some extra flavor, I added sliced scallions, salt, pepper, and a teaspoon of Earthy Herb Spice by west~bourne—but I definitely encourage you to play around with your spice blend here!
To give these fritters an extra nutrition boost, I added mindbodygreen organic veggies+. This greens powder is packed with 31 powerhouse ingredients, including organic sea vegetables, dark leafy greens, root vegetables, berries, and herbal botanicals. What's more, it contains digestive enzymes, prebiotic fibers, and probiotics to support healthy digestion and nutrient absorption.*
After pan-frying these with avocado oil, I served them on top of a bed of lettuce with a generous dousing of tzatziki, and a squeeze of lemon—and they were pretty dang delicious, if I do say so myself. Nutrient-dense and flavorful, I'm definitely adding this spur-of-the-moment dish to my regular rotation.
Zucchini Fritters with Bonus Veggies
4 cups shredded zucchini
1/4 cup almond flour
1/4 cup Himalayan Tartary Buckwheat flour
1/4 cup paleo breadcrumbs
2 large eggs, lightly beaten
1/4 cup sliced scallions
3 tablespoons avocado oil
salt, pepper, and spices of choice
tzatziki (optional)
Shred your zucchini with a box grater, then add it to a bowl, and sprinkle with salt. Squeeze out excess water using a paper towel, cheese cloth, or colander.
Add the eggs, flour, bread crumbs, scallions, salt, pepper, and spices. Stir until the mixture is combined.
Drizzle avocado oil in a pan and let it heat for a couple minutes. Scoop up a small ball of your zucchini mixture, using an ice cream scoop or your hands. Drop into the pan, and press down to flatten slightly.
Cook the fritters for a couple minutes on each side, until they're golden brown. Then, transfer to a plate lined with paper towels and sprinkle with salt.
Continue this process until you've used up the entire mixture. Depending in the size of your pan, you can make multiple fritters at once.
Serve with tzatziki or yogurt—whatever you prefer!
https://www.mindbodygreen.com/articles/easy-zucchini-fritter-recipe