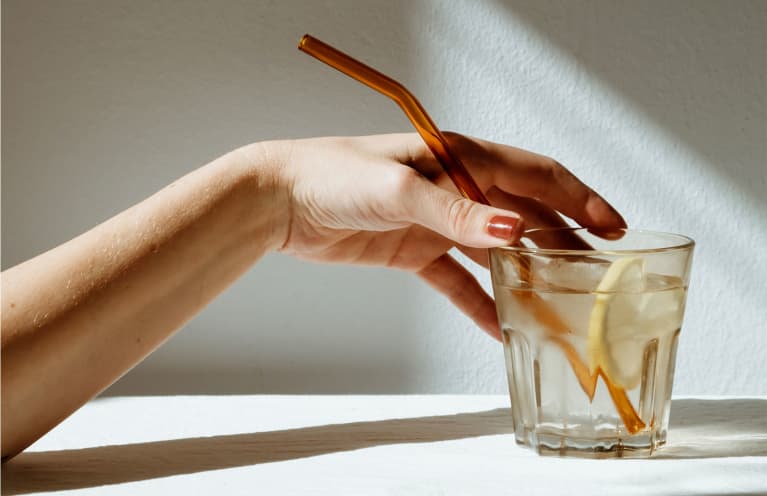 September 9, 2022 — 17:56 PM
With heat waves moving through parts of the U.S., climbing temps are making many people uncomfortable and on edge. On days (or weeks) like these, we need simple, affordable, and healthy ways to stay cool and centered. Beyond staying indoors, wearing proper clothing, and remaining hydrated, reaching for certain herbs can help us remain comfortable in the face of higher temperatures.
This three-ingredient lavender lemonade is a favorite summertime recipe in my house. Lavender is cooling and calming, and lemon's tang perfectly balances the herb's distinctive scent. In my experience, even those who aren't enthusiastic about lavender's aroma on its own tend to appreciate the pungent floral notes it brings to classic lemonade. While lavender can be bitter, here it's balanced by honey, which also offers a source of caloric energy when our appetite is lost to the heat. 
A lavender lemonade recipe fit for hot days.
Although this lavender lemonade's flavor is complex, it's delightfully easy to prepare. Simply brew, stir, and share the healthful benefits with friends and loved ones.
2 tablespoons dried lavender (or 4 tablespoons fresh)
2 cups water
½ cup honey
½ cup freshly squeezed lemon juice
Lemon wheels as garnish (optional)
Prepare your lavender: If fresh, chop the tender leaves (not the woody lower stem) and flowers into 1/4-inch pieces. If dried, crush the lavender just a little with a mortar and pestle or your hands to release the plant's volatile oils.
Put lavender and water into a pot, cover, bring to a boil, and turn off the heat. Let the lavender steep for 30 minutes to 2 hours. (The longer steep time will have a stronger flavor.)
Strain the lavender from the water and compost the spent herb.
Add honey and lemon juice and stir well.
Let cool, garnish with lemon slices, and serve over ice. The lemonade will last up to two days in the refrigerator.
How will it keep me cool and calm?
Several studies have demonstrated lavender's calming effects, showing it helps relieve emotional anxiousness.* In doing so, it promotes a state of inner contentment and has a cooling effect on irritated behavior.*
In one study out of Thailand, inhaling lavender essential oil was shown to help maintain healthy blood pressure, heart rate, and skin temperature—evidence that the volatile oils in lavender are quite literally cooling. The group that smelled lavender also reported feeling more active, fresher, and relaxed than a control group inhaling a plant oil with very little scent.
Lavender has a long history of use in folk medicine for relaxation and cleansing. As I write in my book, The Herbal Kitchen, the root "laver" comes from Latin, "to wash." Although this meaning can be taken literally (I use lavender vinegar to clean my home), in the metaphorical sense, you might think of lavender "washing" away anxiousness and irritability and cleansing the mood.* 
Note: Although rare, it's possible to have an allergic reaction to lavender. If you feel itchy or uncomfortable after using lavender (or any herb), stop using it!
Although lavender typically blooms in late spring, many lavender farms prune lightly to encourage a second flowering in late summer, making this a perfect time to use the fresh flowers in a cooling drink. If you can, take a summertime frolic to a nearby lavender field and whip up this recipe when you get home.
If that's not an option, check your local apothecary for dried, organic lavender flowers, or purchase them online (I share a vetted list of online retailers here.) Both fresh and dried lavender make wonderful tea, so no matter which option works best for you, your lavender lemonade will be infused with the fragrance and calming benefits of this plant.
Of course, you can also grow your own lavender as a potted herb or in the garden. Use any variety of aromatic lavender with a scent you like. Just avoid decorative varieties, which have been bred for larger flowers and aren't as richly fragrant. My favorite variety is English lavender, Lavandula angustifolia. 
Sipping lavender lemonade is a delicious way to stay calm and refreshed, and you can easily whip up a batch anytime you have guests. On hot days, use this recipe for a sophisticated twist on a traditional favorite for summer hydration.
https://www.mindbodygreen.com/articles/cooling-lavender-lemonade-recipe