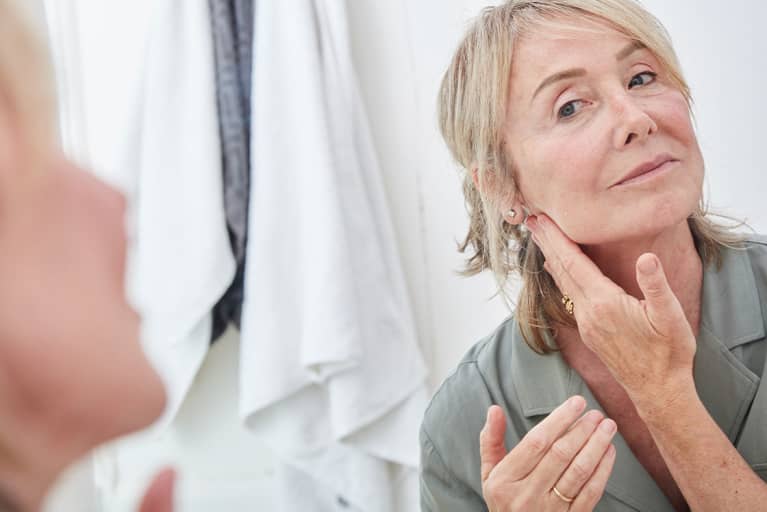 September 16, 2022 — 10:31 AM
Skin care products often don't create drastic, visible changes overnight. Whether you're looking to reduce fine lines, brighten skin tone, or address pesky breakouts, all good things come with time (and diligent use, of course). The same goes for supplements as well: You can't expect to see benefits without a daily routine.
That being said, no beauty supplement will work magically overnight—however, research has shown that some ingredients may encourage visible skin changes within only a couple of months. Here, one of the most common. 
What happens when you take hydrolyzed collagen for 90 days. 
Collagen research is very active, with more and more studies being done as we speak. That's great news for all of us wondering about the efficacy of this unique protein. There are so many clinical trials, in fact, that they've been examined in robust systematic reviews and meta-analyses; this 2021 meta-analysis, for example, combined 19 different clinical trials on hydrolyzed collagen supplements and found impressive results in the name of skin aging.* When researchers systematically vetted and analyzed the results of these 19 studies, they found that hydrolyzed collagen supplementation had significantly more favorable results than the placebo in terms of skin hydration, elasticity, and wrinkles.*
"Based on results, ingestion of hydrolyzed collagen for 90 days is effective in reducing skin aging, as it reduces wrinkles and improves skin elasticity and hydration,"* researchers concluded. Translation: In just three months, participants consuming hydrolyzed collagen supplements showed noticeable and multifaceted improvements in physical signs of skin aging.*
Not sure where to find these peptides? Try our favorite multitasking pick, mbg's beauty & gut collagen+. This supplement not only contains 17.7 grams of hydrolyzed collagen peptides (the form used in the meta-analysis above) but also provides a plethora of other skin- and gut-loving ingredients, like hyaluronic acid, biotin, L-glutamine, vitamins C and E—the list goes on.*
Let's be clear: There's nothing wrong with wrinkles or losing skin elasticity over time—both are a natural part of aging that shouldn't be feared. However, if you are looking to ease these visible signs of aging or delay them for as long as possible, the research shows that hydrolyzed collagen supplementation is one way to do just that.* 
Topical skin care products won't change your skin overnight, and neither will skin supplements. However, research does show that hydrolyzed collagen peptides can enhance overall skin hydration and elasticity and ease the appearance of wrinkles after 90 days of supplementation.* (So you'll want to give your collagen ritual adequate time to shine.) There's much more to learn about this complex ingredient, so check out this breakdown for a deeper dive into the research and benefits behind collagen supplementation.
If you are pregnant, breastfeeding, or taking medications, consult with your doctor before starting a supplement routine. It is always optimal to consult with a health care provider when considering what supplements are right for you.
https://www.mindbodygreen.com/articles/what-happens-when-you-take-hydrolyzed-collagen-for-90-days