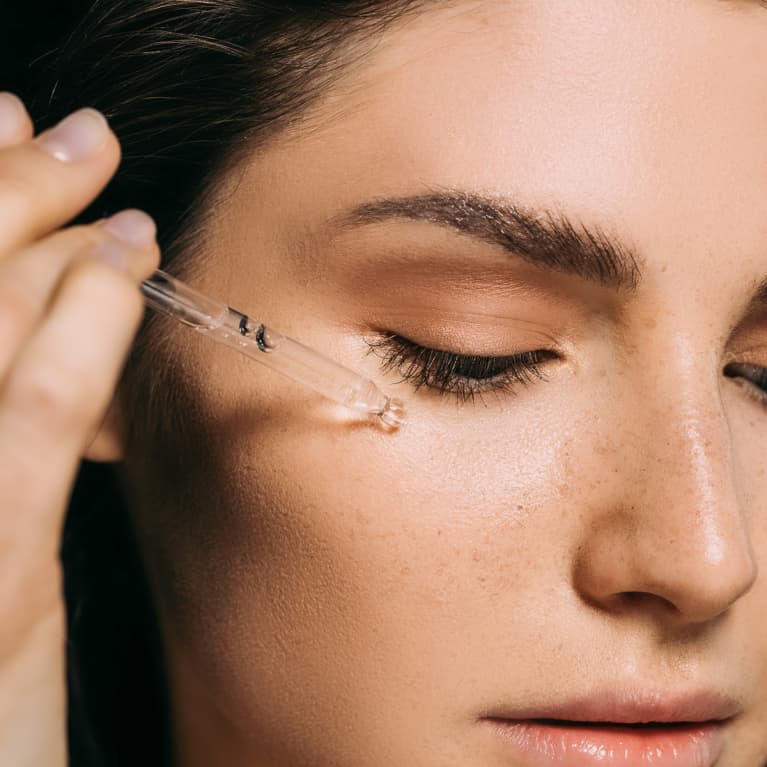 Our editors have independently chosen the products listed on this page. If you purchase something mentioned in this article, we may earn a small commission.
September 16, 2022 — 11:33 AM
As the autumn breeze trickles in, your skin might start to feel more dry than usual. And if you've recently joined the mass of TikTok skin care fans practicing "skin cycling," you may want to master one specific step in the buzzy routine: recovery night. 
In a recent TikTok video, board-certified dermatologist Whitney Bowe, M.D., FAAD (the very derm who coined the term "skin cycling"), tells her viewers how to get the most out of their recovery night during fall. Here's what you need to know. 
First, a quick definition of this buzzy term. Skin cycling is a helpful way to rotate your skin care products to ensure you avoid over-exfoliation and get the most out of each step. Bowe's classic routine consists of a four-night schedule: The first night calls for exfoliation, the next retinol, and the final two nights are meant for recovery (read: no strong actives). After that, the cycle repeats itself. To dive deeper into the why behind each step and which products to use, check out our guide here. 
How to optimize skin cycling during fall. 
A typical recovery night focuses on restoring the skin barrier and feeding it with nutrients and hydration, sans harsh actives. However, when the cooler and drier seasons roll up, it's important to pay special attention to these nights and layer properly. 
"When you start to layer your clothing and throw on that jean jacket, that's when you want to start thinking about layering your skin care," Bowe says. Here, find her full recovery night routine: 
Step 1: A hydrating serum. 
Bowe says you can either leave your skin slightly damp or pat it dry post-cleanse. After that, apply a hydrating serum. Remember to apply the hydrating serum, "within minutes of drying your skin," Bowe says, to avoid starving your skin of hydration post-cleanse. 
She recommends a serum with hyaluronic acid in it—you can find a list of our favorite clean HA serums here, if you're in the market. 
Step 2: A barrier-repair moisturizer. 
When selecting a moisturizer for the cooler months, look for one with ingredients like ceramides, peptides, squalane, sunflower seed oil, etc. "Ideally one that's going to repair the skin barrier," Bowe explains. If you have drier skin in general, you may want to opt for a thicker cream. For those with oily skin, a gel or gel-cream consistency may work better. 
Step 3: An occlusive oil or balm. 
For the final step, you want to apply an occlusive layer on top. This way, all of that hydration you just poured into your skin will stay there (as opposed to evaporating into the air). You can choose between an oil or a balm, Bowe says, depending on your preference. 
"When it comes to oils, I recommend oils that are not going to clog the pores, so things like squalane or rose hip oil," she says. However, some people still don't like the feeling of oils, despite knowing that many do not, in fact, clog pores. If that sounds like you, then a balm may be a better fit. "The mix of oils with the other ingredients in the balm is less likely to break some of my patients out," Bowe says. When shopping for your favorite balm, just be sure to use one specifically formulated for the face. 
If your skin starts to feel drier than usual, you may want to consider layering your hydrating products to lock in moisture and repair your skin barrier. Bowe is an expert on epidermal repair, and when combined with skin cycling, this routine may be the answer to keeping your skin hydrated, even while using retinol and exfoliants. 
Heal Your Skin.
Receive your FREE Doctor-Approved Beauty Guide
You are now subscribed
Be on the lookout for a welcome email in your inbox!
https://www.mindbodygreen.com/articles/what-is-skin-cycling-how-to-layer-your-products-on-recovery-night