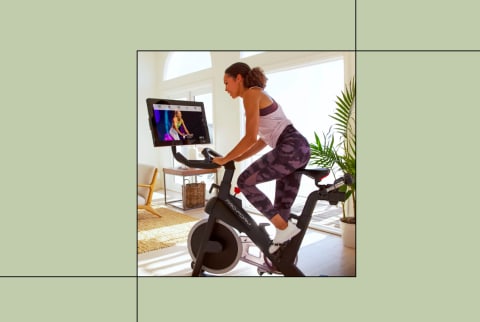 September 19, 2022
Our editors have independently chosen the products listed on this page. If you purchase something mentioned in this article, we may
From improved cardiovascular health and cognitive function to a refreshing boost of endorphins, biking has a ton of physical, mental, and emotional benefits. The best at-home exercise bikes offer a convenient way to reap these benefits without ever leaving your home—no fitness studio required. 
At-home workout equipment is typically not cheap, so we've found the best exercise bikes to fit many different budgets, which means there are a wide variety of features, add-ons, and accessories to consider. Some bikes come equipped with dumbbells, exercise mats, water bottle holders, and mounts, and ports for your tablet or phone. Many have companion apps with access to live or on-demand classes, and a few even have the ability to connect with additional fitness and health apps via Bluetooth.
Here are the best indoor exercise bikes to help you achieve all the benefits of cycling without having to leave your home.
How to choose the right exercise bike.
"If you are someone who loves to see numbers and track your performance, you will want to look for a bike with a performance monitor," says Stevie Vladic, cycling instructor with CycleBar XPRO for Xponential+. "Different bikes track different stats, like mileage, output of power, how much resistance you have on, etc."
Another consideration, according to NASM-CPT, cycling instructor, and certified group fitness instructor Susane Pata, is the space you will dedicate to your bike. "It doesn't even have to be an expensive renovation of space—just a mental acknowledgment that this sacred space is where the work and fitness gains happen," she explains. "If you have a space dedicated to this mentality where there is a certain activity that is going to happen, you are less likely to skimp out and more likely to be consistent with workouts that really count."
How we picked:
Positive customer feedback helped us determine which bikes were worth considering and which ones weren't.
At-home bikes are notoriously expensive, which is why this list ranges from affordable to splurge-worthy picks.
Resistance is what makes indoor cycling so hard. How you add or remove the resistance can make or break whether you like a bike. Some bikes even adjust the resistance on their own without you having to touch a thing.
When purchasing an exercise bike, tracking and tech capabilities are among the most important features to consider (if you're prepared to spend a little more). We considered the type of stats that each of these bikes tracks, such as heart rate, resistance, distance, output, etc.
Our picks for the best exercise bikes of 2022:
Pros:
Access to coaching
Comes with dumbbells
Real-time metrics
Cons:
Toe clip-ins are SPD®-specific
JRNY membership required for classes
Belt type: Magnetic
Resistance levels: 100
Adjustable seat: Yes
Weight capacity: 330 pounds
Screen: Yes
Cost of subscription plan: $149, (first year free with purchase)
Warranty: 10 years
In-home assembly: Yes
One of the best things about the Bowflex C6 bike is that it connects via Bluetooth with some of the most well-known cycling apps, including the brand's app JRNY®, Peloton®, Zwift®, and more—which makes it a great choice for anyone who needs coaching to get through a workout. (Purchase of C6 bike includes one year of free access to the JRNY app, where you can choose from an on-demand library or real-time coached classes.) 
Track your progress with the backlit LCD metric console that displays your time, calories, distance, RPM/cadence, heart rate, speed, and resistance level throughout your ride. The bike has dual water bottle holders and a convenient device holder to keep your phone or tablet secure while you ride. 
It comes with two 3-pound dumbbells, with the option to add on additional weights and accessories, including a padded bike seat (which reviewers say is a must). With nearly 3,000 reviews on the Bowflex website, the C6 has a 4.7 out of 5.0 rating, and 97% of respondents said they would recommend this bike.
Pros:
Sleek design
Free app
No subscription required
Cons:
Reviewers say it can be loud
Screen not included
Belt type: Magnetic
Resistance levels: 100
Adjustable seat: Yes
Weight capacity: 330 pounds
Screen: No
Cost of subscription plan: Free
Warranty: 1-5 years
In-home assembly: No
This sleek at-home exercise bike offers advanced, innovative features that have earned the design numerous awards. Its Bluetooth-compatible bike-powered computer console measures RPM, level of resistance, watts, calories, distance, and speed—all on a small screen about the size of a smartphone. 
While we recommend this bike for advanced riders, due to the price point, it's also a great choice for those trying to increase their cardio fitness, thanks to the Coach By Color® feature. It automatically sets customized training zones for you in each ride based on your heart rate and previously input weight, gender, and level of fitness. (Settings are still adjustable on the fly if a ride is feeling too easy or too difficult.).
Shipped directly to you with optional assembly service for an added charge, the bike's handlebars and saddle can be adjusted both vertically and horizontally if needed. The flywheel design also has a 1:11 gear ratio—i.e., you won't feel the bike move between gears—which gives a smoother, faster ride.  
"These beautifully crafted and sturdy bikes have changed the game of indoor cycling. They feel like one of the smoothest rides I have ever experienced," says Pata.
Pros:
Live & on-demand classes
Sleek design
Pairs with Apple Watch
Cons:
Expensive (+added cost for membership)
Delivery can be slow
Belt type: Magnetic
Resistance levels: 100
Adjustable seat: Yes
Weight capacity: 297 pounds
Screen: Yes
Cost of subscription plan: $12.99/month app membership, $44/month all-access membership
Warranty: 1 year
In-home assembly: Yes
Peloton is a leader in the at-home cycling space, between its sleek, durable design and stellar classes led by some of the best instructors in the game. First launched in 2013, the bike revolutionized at-home cycling by bringing the excitement of a studio class into your home—and it's only been improved over the last decade. 
The current model, the Peloton Bike+, offers auto-resistance adjustment and a rotating touchscreen (so you can easily transition from cycling to floor exercises). The screen displays real-time metrics—cadence, resistance, output, heart rate, etc.—throughout your ride, as well as the legendary leaderboard, which connects you to other riders around the world.
The only downside? To maximize the full benefits of your Peloton, you'll need to pay for the Peloton All-Access membership. The $39 fee adds up, but it also gives you access to thousands of classes including non-cycling optional like stretching, strength training, cycling, running, yoga, and more.
Pros:
Affordable
Emergency break lever
Cons:
No special technology
No high-tech tracking for overall output of workout
Belt type: Friction
Resistance levels: Infinite
Adjustable seat: Yes
Weight capacity: 270 pounds
Screen: No
Cost of subscription plan: N/A
Warranty: None
In-home assembly: No
If you're looking for a straightforward, more budget-friendly bike, this one's for you. The most affordable option on this list by far, this bike has over 13,000 perfect five-star ratings on Amazon, with thousands of reviewers commenting on the value you get for the price. 
Of course, for less money you get fewer tech capabilities and won't see all the bells and whistles of other bikes, such as access to classes or Bluetooth connectivity capabilities. Although there's no screen or app to stream classes on, there is a mount for your tablet or phone, as well as an LCD monitor to measure your ​​time, speed, distance, and calories. The bike has a resistance knob with an emergency brake lever and traditional cage petals.
Setup is easy, but even the best reviews comment on the fact that it is not the sturdiest option and that there can be a slight wobble to the handlebars.
Pros:
Smart resistance (controlled by coaches)
Quiet
Cons:
Pedals are toe straps instead of clip-ins
Some reviewers say the touchscreen could be more sensitive
Belt type: Magnetic
Resistance levels: 24
Adjustable seat: Yes
Weight capacity: 250 pounds
Screen: Yes
Cost of subscription plan: From $39/month
Warranty: 1-2 years, (added fee)
In-home assembly: Yes
Hate adjusting the resistance while you cycle? The ProForm Studio Bike Pro 22 takes that off your plate by allowing the trainer to take control of the resistance on your bike in real-time. That means no more stressing about hitting the right buttons or dialing any knobs. Plus, it has a massive 22-inch smart touchscreen for streaming classes via an iFIT membership, which is free for the first 30 days after purchase. 
The front-mounted wheels make this bike incredibly easy to move within your space, and the bike itself utilizes the brand's patented SMR™ (Silent Magnetic Resistance), providing a quieter riding experience your neighbors will thank you for. Another awesome feature: the SmartBeat™ Forearm Heart Rate Monitor, which helps you accurately track your heart rate and stats.
Pros:
Screen rotates 180 degrees
Pairs with third-party entertainment apps
Cons:
Membership is expensive
Lever adjustment can be tricky
Belt type: Magnetic
Resistance levels: 32
Adjustable seat: Yes
Weight capacity: 300 pounds
Screen: Yes
Cost of subscription plan: From $29/month
Warranty: 1-10 years
In-home assembly: Yes
Access to daily live classes and on-demand workouts is fairly common in most high-end, at-home bikes—but Echelon takes entertainment one step further with themed rides (Pitbull, anyone?), a robust music library (over 23 million songs and artists), and streaming service access for apps like Disney+, Hulu, and Netflix. 
Of course, the bike itself is also a standout. The swiveling 22-inch HD touchscreen rotates 180 degrees, so it can also be used for non-cycling classes within the Echelon app. Similar to Peloton, the bike streams real-time classes with leaderboards (though you can always opt out) and calculates your performance with an output number, which is calculated by a combo of your speed and resistance. 
Simply adjust the handles and saddle to suit your dimensions, slip or clip your feet into the pedals (you don't need spin shoes to use this bike, though we recommend them), and get ready to work. You'll find the flywheel design not only makes an impossibly smooth ride, but the experience is also comfortable between the extra-large seat, water bottle holders, and power ports for your phone or tablet.
Pros:
Fan to keep you cool
Auto-adjusting resistance & incline/decline
Belt type: Magnetic
Resistance levels: 24
Adjustable seat: Yes
Weight capacity: 350 pounds
Screen: Yes
Cost of subscription plan: From $39/month
Warranty: 1 year
In-home assembly: Yes
Most cycling classes have you drastically increase and reduce the resistance to replicate the feel of going up and down hills—but this NordicTrack design actually inclines and declines. This unique feature gives your rides more range and better mimics real-life terrain.  
Other tech perks include an auto-adjusting resistance and incline, which only requires a touch of a button to change the difficulty of your ride. Or you can skip the button altogether with a live or on-demand class in the iFit membership app, as the curated courses automatically adjust the resistance and incline to match the selected course. 
Even the screen is top-notch, rotating 360 degrees and boasting the brand's most advanced sound system to blast the jams (or your instructor's encouraging words). And small details are no exception either, with an AutoBreeze fan to keep you cool and an included set of 3-pound dumbbells stored right by the handlebars. As expected, the S22i Studio Bike has over 42,000 reviews and a 4.7 out of 5-star rating.
Pros:
Holds up to 350 pounds
Sleek design
Cons:
Resistance levels limited
Membership required for classes
Belt type: Poly-V belt drive
Resistance levels: 8
Adjustable seat: Yes
Weight capacity: 350 pounds
Screen: Yes
Cost of subscription plan: From $39/month
Warranty: 1-2 years, (added fee)
In-home assembly: Yes
The MYX II is hands down one of the sleekest-looking bikes. Available in two colors to match your aesthetic, the stylish pick takes up about the same amount of space as a standard yoga mat—but it offers plenty of perks for this prime real estate.
The bike tracks all your metrics in real time, including your speed, cadence, distance, and heart rate. The latter is done via an included Polar monitor, which ensures you get one of the most accurate reads of any pick on the list.
It also holds up to 350 pounds—one of the most inclusive—and comes with a stabilizer mat and EVA foam roller. The pedals are also wider than average (18 mm vs. 14.3 mm) for an easier clip-on or slip-in experience. No more struggling!
Use the 21.5-inch touchscreen to follow on-demand cycling in the BODi app (monthly subscription required) or swivel it 360 degrees for other workouts, such as barre, yoga, or strength training, for a holistic workout program.
Pros:
Can connect with other fitness apps
Free rides available
Cons:
Handlebars are not adjustable
Not compatible with Google Play
Belt type: Magnetic
Resistance levels: 100
Adjustable seat: Yes
Weight capacity: 350 pounds
Screen: Yes
Cost of subscription plan: From $29/month
Warranty: 1 year
In-home assembly: No
The STRYDE bike is another super-sleek design (4 feet long by 2 feet wide) that's great for small spaces—and reviewers say it is well made and sturdy, too. The large 21.5-inch screen is high-definition and can be paired with other fitness apps (including Peloton) or health-tracking apps via Bluetooth. Cycling shoes are optional thanks to toe cages, and the magnetic resistance is super smooth and adjusts with ease.
A STRYDE app subscription provides access to tons of rides and classes, including a selection of free classes to skip an extra subscription charge. Each membership supports up to four profiles and provides access to the leaderboard and workout history. 
With nearly 500 reviews, the STRYDE has 4.7/5 stars overall. One reviewer says, "I've tested other bikes and feel the construction of the Stryde bike is superior. It's extremely quiet and very comfortable."
The takeaway.
While an at-home exercise bike is a large investment, it is a great way to stay in shape and stay mentally healthy. Having a bike in your home can be highly motivating, and it can save you time and money in the long run. And with many of these companies offering classes beyond just cycling, an at-home exercise bike can be like having a full-on gym membership in your own home—especially if you add on a compact treadmill.