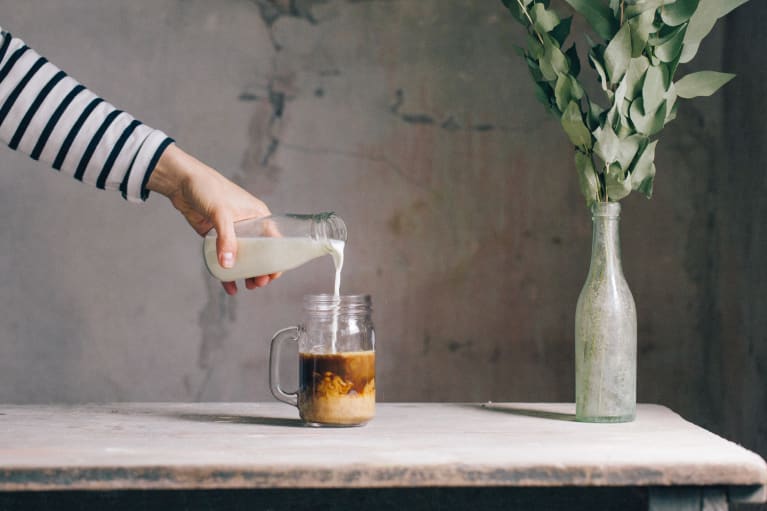 September 21, 2022 — 11:31 AM
I wouldn't exactly consider myself a coffee connoisseur. I'll basically gulp down whatever source of caffeine I can get—just a splash of oat milk, please, and I'll be set. So forgive me if this hack is something the coffee community has known for years, but I recently had the creamiest iced concoction of my life (I swear, I'm not exaggerating), and it's all thanks to one very underrated doodad: a martini shaker. Allow me to gush about my new favorite ritual. 
How to make a creamy, shaken iced coffee. 
Here's the thing about iced coffee: It's difficult to mix in your milk of choice without winding up with an uneven coffee-to-milk ratio or the beverage all over your countertop. Sure, you could refrain from filling your brew up to the brim to avoid spillage, but who wants to waste precious sips of caffeine? Not me. 
So I always stuck to a hot cup of joe for the sake of time and ease, until I stumbled into a corner coffee shop (the name escapes me; I must do some detective work to find the place that changed my coffee routine!), and the barista performed some martini shaker magic before handing me a perfectly blended, frothy iced beverage. 
It makes total sense when you think about it: These cocktail shakers simultaneously mix ingredients and chill the drink way faster than simply stirring in some ice. With coffee, it instantly delivers an icy, blended beverage topped with some delicious foam, for good measure. It can be difficult to achieve that creamy, frothy consistency without loading the drink with milk and sugar, which gives this hack extra points in my book. 
All you have to do is add your coffee, milk of choice, and ice into the tumbler and give it a good shake. To make the concoction a smidgen creamier (if that's even possible), you can add a scoop of mindbodygreen's beauty & gut collagen+ before closing the lid. There's just something about our nutrient-rich, skin-loving blend that froths up like a dream.* Plus, with a martini shaker, you won't even need a handheld milk frother to incorporate the powder—just a few shakes and you'll have a frothy, foamy, barista-level beverage. 
I'm usually not one to rant and rave about coffee—I've always been a bit of a minimalist when it comes to my caffeine routine. But I recently learned how to make the creamiest iced beverage, and I'm never looking back. Now, I know I love my coffee shaken, not stirred. 
If you are pregnant, breastfeeding, or taking medications, consult with your doctor before starting a supplement routine. It is always optimal to consult with a health care provider when considering what supplements are right for you.
https://www.mindbodygreen.com/articles/why-you-should-make-iced-coffee-with-martini-shaker