Writer, Reiki Master, and meditation teacher
Writer, Reiki Master, and meditation teacher
Jessie Quinn is a Los Angeles-based wellness, fashion, beauty, and lifestyle writer with words published in Shape Magazine, NYLON Magazine, Chopra, Brides, Byrdie, and more.
October 9, 2022
Our editors have independently chosen the products listed on this page. If you purchase something mentioned in this article, we may
Meditation is one of the most recommended mindfulness practices for mind-body well-being. Whether you're new to meditation or you're deepening your practice, spending even just a few minutes going inward can have lasting benefits. Meditation apps up the ante by making the practice all the more accessible. Apps like Headspace and Calm offer libraries of guided meditations and other mindfulness tools, to help you achieve stillness and balance in the hustle and bustle of everyday life. 
We took a deep dive into the world of on-demand meditation, comparing these two top mindfulness apps—Headspace and Calm—to help determine which one might be best for you.
Keep reading for the pros and cons of each, and to learn how downloading a meditation app can take your health and well-being to new heights. 
What are the benefits of meditation? 
In the fast-paced and often stressful world we live in, meditation has become one of the most buzz-worthy terms in our vocabulary—and rightfully so. While mindfulness practices date back thousands of years, modern scientific research has shown meditation to be an impactful way to boost mental clarity, regulate emotions, and improve sleep and focus.
"Anxiety management is a primary reason people find themselves meditating," says Jen Stavitsky, certified meditation teacher, Reiki Master, and founder and CEO of Cultivate Meditation and Wellness. "MRI scans have shown that mindfulness meditation moves our brain activity out of the amygdala (where stress activity shows up) and into the prefrontal cortex and limbic system, which are the regions responsible for focus and emotional regulation," she adds. Through this transformation, Stavitsky says we can actually create new neural pathways that "rewire our stress response to be less reactionary."
Meditation can also have a profound impact on the way we show up in the world (for others and for ourselves). "By regularly turning our awareness inward and shifting our relationship with the thinking mind, we can gain nonjudgmental insight into our thoughts, beliefs, and even habits," says Stavitsky. "Such profound awareness provides us with the opportunity to make more aligned choices instead of repeating subconscious patterns," she adds.
How do meditation apps work?
"Meditation apps are a great way to supplement one's meditation practice," says Vibay Chandran Weisbecker, holistic wellness and mindfulness expert and wellness council member at Mindbody and ClassPass. Chandran explains that meditation apps are incredibly useful for those who are on-the-go, or have busy schedules, by allowing them to easily select programs and keep track of their progress. "There are recent studies in which meditation apps are recommended to patients who suffer from anxiety, PTSD, and depression as a way to improve their mental well-being," Chandran adds. 
Fast facts on Headspace:
Pros:
Breathing exercises are also available
Great for beginners
Less expensive monthly plan
Cons:
No lifetime subscription available
No free content
Heaspace is a mindfulness app with a beginner-friendly interface and guided programs categorized into four buckets: sleep, focus, meditation, and move. The app is subscription-based and offers no free content.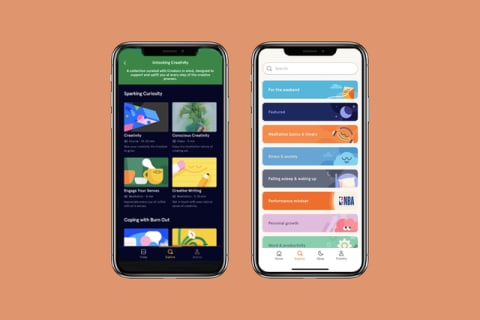 How It Works:
When you download Headspace, you'll first be prompted to create an account, so you can keep track of your meditation progress. From there, you'll unlock access to Headspace's meditation content—which includes meditations for sleep, movement, and focus. Headspace is one of the more structured meditation apps available, with guided programs that take you through a series of meditations and longer courses. However, if you wish to meditate in a more one-off way, you can select single programs, too. 
Features: 
Headspace has some amazing features, all organized into its meditation, sleep, move, and focus categories. You can choose single programs or courses that focus on a topic and are developed to guide you through a journey of growth through mindfulness. The meditation app also moonlights as a daily tracker, allowing you to see your progress and build up meditation streaks as you grow your practice. 
The sleep offerings are particularly impressive. In addition to sleep meditations, the app features lengthier Sleepcasts, which are designed to help you drift off to sleep—much like an adult bedtime story. Headspace can act as an on-the-go noise machine, with a ton of different eight-hour soundtracks, designed to help you achieve a restful night's sleep. The Move section boasts a variety of mindful exercises designed to strengthen the mind-body connection. Lastly, for those who might have trouble focusing on a task at hand, the app's Focus feature includes meditation music designed specifically to help you feel less distracted. 
Cost:
Headspace offers an annual subscription of $69.99, which breaks down to $5.83 per month. Monthly subscribers pay $12.99, which adds up to $155.88 annually. The app also offers a $9.99 annual student rate. If you're interested in trying Headspace, the annual plan selection will grant you a 14-day free trial. With the monthly plan, you'll get a 7-day trial. At the end of your trial period, the company will charge you whichever rate you selected at sign-up.
What Customers Say:
Considered one of the top meditation apps, Headspace currently has a 4.8 rating in the Apple App Store and a 4.3 rating on Google Play. Users love the meditation app for its ability to bring a sense of calm and mindfulness to their lives. "I often joke with people that Headspace is the one thing I would want to take with me to a desert island," one person says. "This app has given me tools to deal with constant change," another adds.  
The app is best known for its ultra-beginner-friendly design, which helps make mediation more accessible even for people who are brand new to the practice. That said, Headspace does not offer any free content (with the exception of its free trial period), and no longer offers a lifetime subscription—which drives the value down for some long-time users. 
Fast facts on Calm:
Pros:
Breathing exercises are also available
Some free content available
Lifetime subscription available
Cons:
All kids' meditations are behind paywall
Not very beginner-friendly
Calm is geared more toward people who are already familiar with meditation. The app offers expert-led master classes, adult and kid-friendly meditations, and sleep stories. It's subscription-based, with some free content available.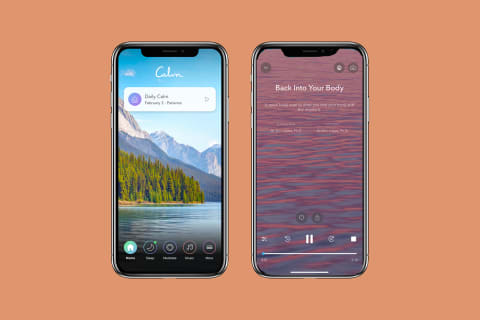 How It Works:
When you first download Calm, you're prompted to sign up for the platform. Once your account is established, the app greets you with a quick breathwork exercise to help get you in that mindful state. From there, it prompts you to answer a series of questions, which helps tailor your experience specifically to you. While the app's offerings are not as intuitive for beginners, the content is well-organized. It has categories like focus, self-improvement, and sleep front and center for you to easily tap and explore. 
Features: 
Calm allows you to create the meditation experience you want, with both guided and unguided meditations. With easy-to-navigate categories, you can choose the practice that best suits your needs. Whether it be stress, inner development, anxiety, or sleep, there are plenty of topics for everyone to explore. The app also features a few programs, such as the 7 Days of Calm series, that are designed to help beginners get the most out of the app. 
In addition to its meditations, Calm offers breathwork practices to help reset your nervous system. There are also sleep stories to take you on a meditative journey as you drift off, and musical soundtracks for relaxation, focus, and more. One of Calm's most impressive features, however, is its Masterclass offering, which is led by mindfulness experts such as Tamara Levitt and Elizabeth Gilbert. 
Cost:
The annual subscription for Calm is $69.99. This is one of the most affordable options and breaks down to $5.83 per month. Those who wish to subscribe monthly will pay $14.99 per month, which adds up to $179.88 annually. Like Headspace, the app also offers a student plan, at a slightly more affordable price of $8.99 per year. If you love Calm and plan to make meditation a regular practice, you might want to upgrade to the lifetime subscription. With a one-time payment of $399.999, you'll have access to the app forever. 
What Customers Say:
Calm is renowned for its more flexible approach to meditation, with guided and unguided offerings, as well as an impressive Masterclass lineup of excerpts. Its current rating is 4.8 in the Apple App Store, and 4.4 on Google Play, with customers raving about the content offerings, excellent sleep stories, and calming playlists. Many also praise the app for easing their feelings of anxiety and helping promote better sleep. "Calm allows me to find hope in my current predicaments and is amazing at calming me down," one user notes.
The app is best known as a platform for experienced meditators, but it does have several programs in place designed for people who are newer to the practice. Additionally, there are several free offerings, which you can try without any subscription. While the app does have an excellent kids meditation offering, all of those meditations are behind the paywall—so you'll need to go the free trial route if interested in testing out content with your kids.
Still want more information? Check out our full Calm App review.
Are Headspace and Calm legit?
Headspace is one of the top meditation apps available, with a focus on making mindfulness practices more approachable, easy to follow, and accessible for the masses. The company has partnered with thousands of companies and healthcare providers to provide coaching, therapy, and psychiatry (as well as meditation and mindfulness) to employees and members. The content on this app is backed by science, and the company has focused on studying the benefits of meditation for mental health and well-being. To this day, Headspace has published 40 papers and studies, with even more in progress.
Similarly, Calm bases its programs and offerings around credible research, and even has a division (Calm Science) dedicated to creating evidence-based resources. According to its internal research, 84 percent of users saw mental health improvements, 81 percent reported less stress, and 73 percent said they experienced a higher quality of sleep when using the Calm app more than five times per week.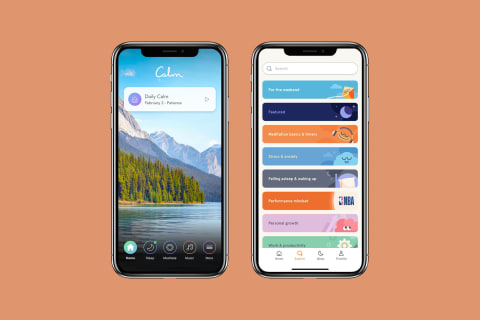 calm app interface on phones on background
Image by mbg creative
How to choose the right meditation app for you.
In the case of Headspace vs. Calm, which meditation app is right for you depends on a few factors. Headspace is an excellent pick for brand-new meditators who want some hand-holding, since the app offers impressive guided meditations and courses. Calm, on the other hand, has a few qualities that could be more appealing to someone with meditation experience. The Calm app is also great for those who want to learn from experts through its Masterclass feature. 
Meditation apps are a personal experience, and choosing one is really a matter of trial and experience. "When it comes to finding the right meditation app, your experience trumps all else," Stavitsky confirms. "The only real way to discover what resonates for you is to give it a try for yourself." That said, let those free trials be your best friends. Use them as an opportunity to spend some time with the apps, and to get a feel for what you like (and what you don't), before determining a subscription plan.
FAQ
Is Headspace or Calm better?

When determining which meditation app is best, it comes down to personal experience and what you are looking for. Headspace is an excellent choice for beginners who have no meditation experience since the programs are developed to guide you through your meditation journey. Calm doesn't have as much structure to it, so it could be more enjoyable for those who are more familiar with meditation or already have a consistent practice in place.
What is the number one meditation app?

Both Headspace and Calm have their pros and cons. According to a study that evaluated meditation apps in January 2022, Headspace had the best average rating. 
Is Headspace or Calm cheaper?

It depends on the plan you select. Headspace and Calm are both $69.99 for an annual subscription. However, each app offers incentives that make them cheaper. If you don't wish to pay for an annual subscription to Headspace, you can select the month-to-month option for $12.99, which is cheaper than Calm's monthly $14.99 subscription. Calm also offers a lifetime subscription for $399.99—which gets you access to the app forever. Both apps offer student pricing. Headspace's student rate is $9.99 annually, and Calm's student rate is $8.99 (but you'll need an Amazon Prime account for access to Calm's student deal).
Do meditation apps really work?

According to Stavitsky, you can absolutely experience benefits from meditation apps. However, there can be limitations to your meditation experience. "If you're looking to alleviate stress, improve focus, or get a better night's sleep, an app can be a convenient and effective option," she explains. "If you're interested in personal development, deeper healing, or spiritual growth, I recommend seeking out a targeted program or private guidance that will connect you with a teacher who can deliver proper support for more profound transformation," she adds.
The takeaway.
Both Headspace and Calm are excellent apps for meditation and mindfulness practices. Headspace is a bit more inclusive in terms of skill level, while Calm offers more advanced features that may be more appealing to those with more meditation experience. No matter which platform or method you choose, developing a mindfulness practice can have an incredible impact on your overall health and wellbeing.