Contributing writer
Contributing writer
Jamey Powell is a writer and editor living in Brooklyn, NY. Previously the senior market editor at Healthline.com, she has years of experience scouring endless product reviews and testing out the latest and greatest products in the sleep, fitness, and nutrition markets.

Medical review by
Physician
Dr. Bindiya Gandhi is an American Board Family Medicine–certified physician who completed her family medicine training at Georgia Regents University/Medical College of Georgia.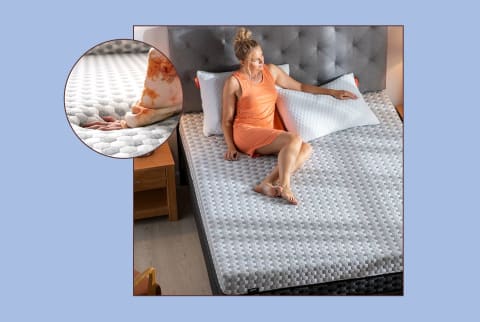 October 10, 2022
Our editors have independently chosen the products listed on this page. If you purchase something mentioned in this article, we may
High quality sleep is essential for everyone—but people with scoliosis have to pay particular attention to their sleep set up, due to the abnormal curvature of their spine (which is often curved in an "S" or "C" shape). While the best mattress for scoliosis won't solve the condition, finding the right bed to support your spine can have a huge impact on your sleep quality, and therefore on your overall quality of life. 
The American Association of Neurological Surgeons says scoliosis affects an estimated 6 to 9 million people in the United States. To find out what people with scoliosis should look for in a mattress, and to determine the best mattresses for scoliosis, we consulted Cameron Yuen, DPT, CSCS, and director of rehab and training at Bespoke Treatments Physical Therapy in New York City.
Keep scrolling to learn more and to shop our picks for the best mattresses for scoliosis.
According to Yuen, the severity of your scoliosis is a determining factor when it comes to sleeping positions. Here's what to consider for each position:
Side sleeping
"When the spine curves sideways, it's important to give extra padding on the areas that are more convex, and support for the areas that are more concave, especially if you will be lying on your side," Yuen explains. "If you have a more severe scoliosis, you will likely benefit from also using small or soft pillows to fill in and support the more concave areas." You can place the pillows between your knees or under your hips—whichever makes you feel most comfortable.
Back sleeping
The CLEAR Scoliosis institute and Yuen agree that the best sleep position possible for people with scoliosis is on your back. "The forward and backward deviations of the spine are generally less severe, so sleeping on your back can be a great option if it is comfortable," Yuen explains. 
Back sleepers may also consider supplementing with a pillow under the knees to relieve any additional pressure in the lower back.
Stomach sleeping
Because sleeping on your stomach causes your head, neck, and hips to twist out of alignment, this position is not recommended for people with scoliosis.
Preferred sleep position
Back sleepers will benefit from a medium-firm or firm mattress, particularly a hybrid for its responsive support. If you're a strict side-sleeper, on the other hand, a firmer surface might end up causing more pain on your pressure points.   
"A softer mattress would be preferable if you tend to sleep on your side," says Yuen. "This is because there will be greater pressure on certain areas due to the spine curving outwards or inwards. A softer mattress will have more give for these convex areas."
Responsiveness
Combination sleepers will want a bed that makes it easy to switch positions throughout the night, without disrupting your sleep (or your partner's sleep). That likely means a hybrid or innerspring bed, as opposed to a memory foam mattress (which can feel a bit like quicksand when you want to roll over). 
Customization
All the beds on our list are reputable mattresses, but there's no denying that comfort and support are subjective. If you're concerned about whether a mattress will be the right fit for you, consider a brand that lets you exchange firmness models or comfort layers within the trial period. 
Trial period
Mattresses are expensive—and trying to relieve scoliosis pain can put extra pressure on the success of an already sizable purchase. Thankfully, most companies do offer generous trial periods. If you prefer to err on the side of caution, a longer sleep trial can help take the pressure off.
How we picked:
Comfort is subjective, of course—but we made sure to pick mattresses that are supportive, yet plush enough to cradle sensitive spines, per our expert's recommendations.
Each of these mattresses is made in the United States, using nontoxic, CertiPUR-US certified materials. Some even go above and beyond with their sustainability efforts, which is a big plus in our book.
We read hundreds of reviews, with a focus on those from folks with scoliosis, to make sure these beds stack up to their claims.
Mattresses are expensive, so we made sure to pick a range of beds for a variety of budgets. These beds also all have risk-free sleep trials so you can make sure it's a right fit before committing.
Our picks of the best mattresses for scoliosis
FAQ
What kind of mattress is best for someone with scoliosis?

For people with scoliosis, hybrid mattresses are typically the most supportive and pressure-relieving, as they use a combination of responsive coils and cushioning foams. Memory foam can also be a good pick for strict side-sleepers who like to feel cradled in bed
What is the best mattress firmness for someone with scoliosis?

Back sleepers will need a medium-firm to firm mattress to stay aligned, while strict side sleepers will prefer a medium to medium-firm mattress with cushion for the shoulders and hips.
Can you get scoliosis from sleeping wrong?

"It is very unlikely that you will develop structural changes to your spine due to sleeping positions," says Yuen. "That being said, if you sleep in a very rotated position, you will develop decreased mobility in certain directions, simply because you are spending 6 to 8 hours in that position. This can be easily balanced by a mobility program that focuses on the spine moving in all directions."
Finding a comfortable sleeping position can be particularly difficult for people with scoliosis, but the right mattress or topper can be extremely helpful. Just remember, a new mattress isn't a cure-all for scoliosis, but it can definitely improve your sleep hygiene and overall energy levels. If you're experiencing regular back pain and are concerned about scoliosis, it's best to be examined by a doctor or physical therapist.