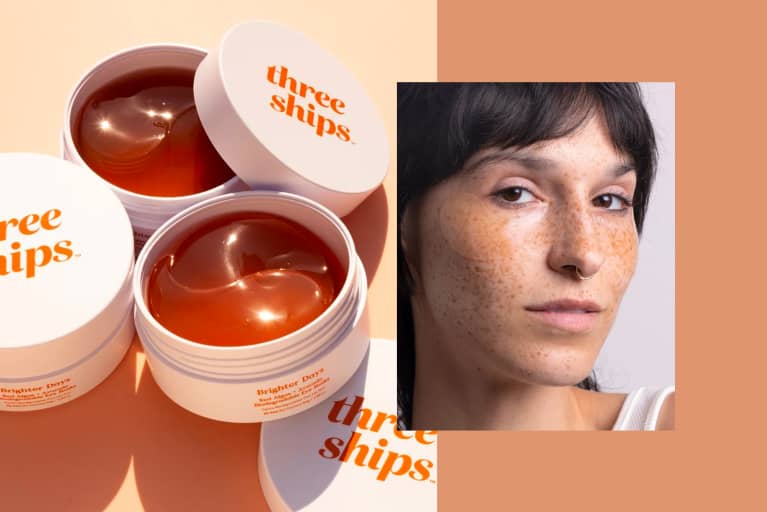 Our editors have independently chosen the products listed on this page. If you purchase something mentioned in this article, we may earn a small commission.
October 12, 2022 — 12:02 PM
Eye masks have received a major face-lift over the last several months. Just think about the slew of new, reusable silicone options on the market—simply apply a thin layer of your favorite eye cream or serum, slap on the patches, then wash them with warm water after you're done. Piece of cake! Or, if you love the ease of a single-use eye patch but don't necessarily love their environmental impact, you could opt for a 100% biodegradable option, like the Brighter Days Red Algae + Avocado Biodegradable Eye Masks from Three Ships Beauty.
These serum-soaked swishes aren't just more eco-friendly—they seriously work. I'm someone who deals with stubborn shadows and a puffy eye area, and these have become my secret weapon for bright, dewy under-eyes.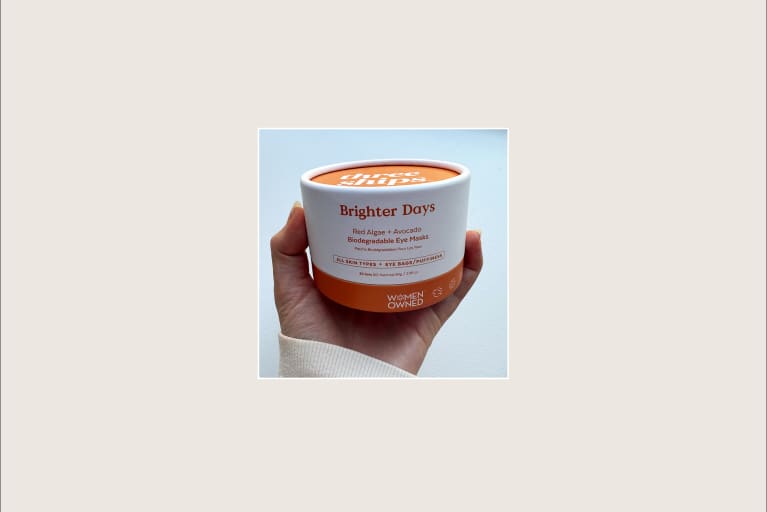 My under-eyes: sensitive, shadowed & swollen.
My under-eye area is super sensitive and prone to puffiness, and as I've admitted before, I'm a proud member of the "Dark Circles Since I Was a Small Child" club. Since the skin around my eyes is naturally so thin (thank you, genetics!), the underlying blood vessels are way more visible, which contributes to discoloration. What does this mean? Unfortunately, no product can nix my dark circles completely (aside from my ride-or-die color corrector). 
So as you can probably guess, I'm not easily impressed by most under-eye elixirs—eye creams, eye patches, and the like. However, eye patches do provide some instant gratification, since the cocktail of nourishing ingredients can temporarily plump the delicate skin with hydration, similar to how a sheet mask drenches the skin in moisture post-cleanse. Will these patches permanently erase your fine lines and under-eye shadows? No, not quite, but they can certainly make the skin appear more supple and hydrated for the day—and nothing has worked quite like this Three Ships Beauty pick.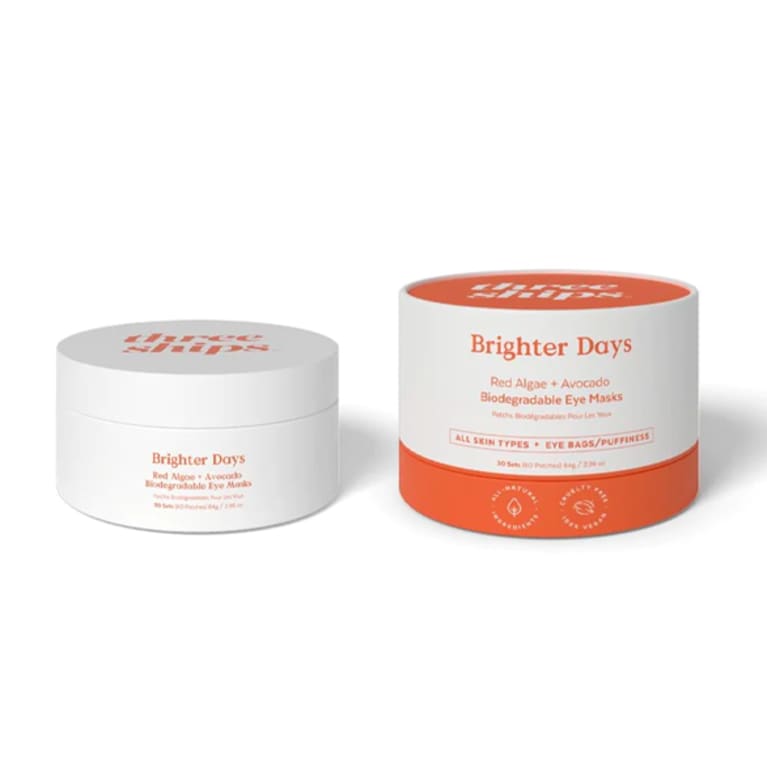 Three Ships Beauty
Three Ships Beauty Brighter Days Red Algae + Avocado Biodegradable Eye Masks
$29
Why I love these biodegradable eye patches. 
Like many eye patches, this hydrogel set comes drenched with hydrating serum; the patches are practically swimming in the jar. Specifically, the goop contains glycerin and red algae extract, which are both beloved humectants that draw water into the surface of the skin and plump it up with hydration; allantoin, which is a super skin-soother great for reducing inflammation; and upcycled avocado extract, which delivers conditioning fatty acids that further soften and soothe the area.  
This quality combination helps instantly brighten, hydrate, and de-puff my under-eyes. Not to mention, the masks are quite cooling, which also dials down inflammation and constricts blood vessels (this, in turn, helps deflate a swollen area). After my very first use, I was floored by how bright my under-eyes looked—no concealer necessary—and since then I honestly can't stop gushing about them. Suffice it to say, I was itching to review them for our Talk of the Team series.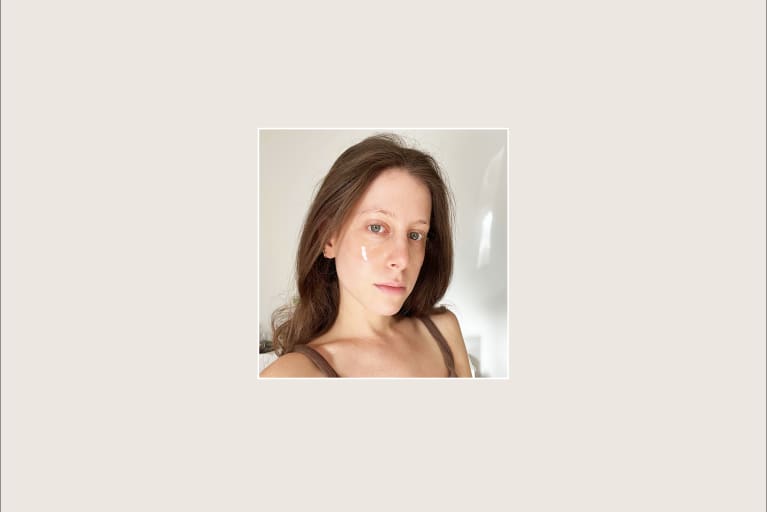 And just as the name suggests, these eye masks are 100% biodegradable. After letting them marinate on your skin for around 10 minutes, pop them in warm-hot water for another 10 minutes so they can dissolve; then you can pour the remaining liquid down the drain. Neat, no? You don't even have to take my word for it—check out the video below to see this science-slash-magic in real time.
Eye masks have typically felt like more of an indulgent treat whenever I have time, but these Three Ships Beauty swishes have become main characters in my morning routine. They're effective, easy to use, and better for the environment—what's not to love? Plus, you can snag 30 pairs for just $29; a little mental math, and that shakes out to around $1 per set. For brighter, smoother, and supple under-eyes, I'd call that quite the bargain.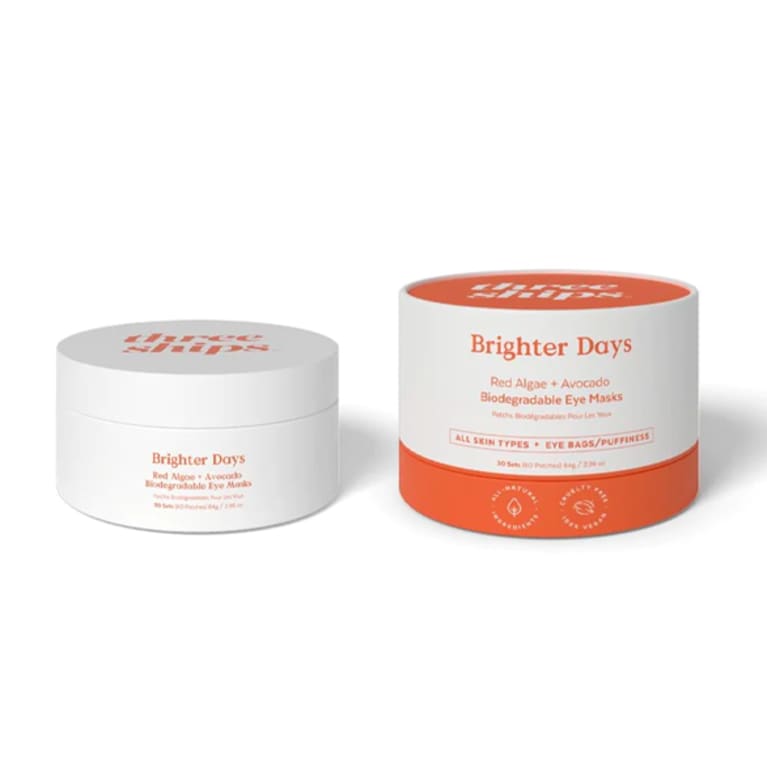 Three Ships Beauty
Three Ships Beauty Brighter Days Red Algae + Avocado Biodegradable Eye Masks
$29
https://www.mindbodygreen.com/articles/three-ships-beauty-eye-masks-review-from-beauty-editor