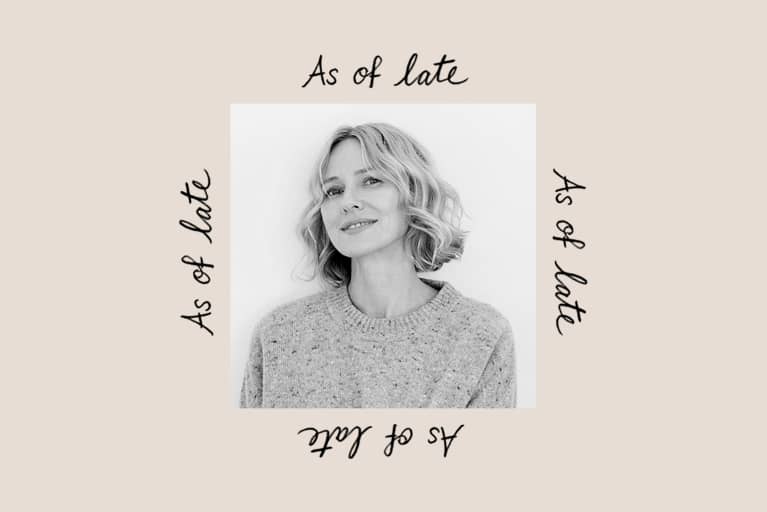 Our editors have independently chosen the products listed on this page. If you purchase something mentioned in this article, we may earn a small commission.
October 18, 2022 — 14:01 PM
Beauty routines are never truly stagnant—practices evolve and change like we do. In As of Late, we chat with influential folks about their current products and rituals. Here, we get a snapshot of what they're doing right now: the sacrosanct formulas they use until the last drop, the fresh launches they've got their eyes on, and of course, the why behind it all. 
Your beauty routine should always reflect and serve whatever stage of life you are in. This can mean something as simple as adding a face oil to account for the colder seasons or switching to a new foundation because you want something with less coverage during the summer months. It can also mean bigger, more robust changes—like opting to get those monthly facials to help clear breakouts or revamping your entire skin care collection while pregnant.
One stage of life that will likely call for some routine changes is menopause. During perimenopause and menopause, hormonal shifts in the body often mean changes in the skin. For most people, this means drier and more sensitive skin; for others it can mean breakouts or a flushed appearance. Even though half the population will go through this at some point in their lives (and deal with these skin concerns because of it) it's not often reflected in the beauty media—or at least not as often as other topics.
Actress and Academy Award nominee Naomi Watts' newest endeavor aims to support people entering this stage of life. Stripes is a menopause brand, offering holistically designed products (from skin care to supplements) to help manage these shifts. And with it, she hopes to open the conversation up so people feel more comfortable talking about how their bodies, skin, and mental health may be affected while in perimenopause or menopause.
And in case you're curious about how Watts is caring for herself during this time, here are some of her routine steps at the moment.
The tried-and-true: Clean, gentle formulas.
"I switched onto clean ingredients at the point when I entered perimenopause. And it was because I was having very reactive and irritable skin. I want to use classic ingredients like hyaluronic acid and lots of antioxidants that have proved to be good for skin and tried and true. Because my skin started to become drier and more irritated, I wanted plant-based ingredients that were hydrating, efficacious, and also more inclined to help sensitive skin.
"I will say another thing about clean, natural products is that I love a natural, soft smell—I don't want any product that's too fragranced. Not to bring it back to menopause and perimenopause all the time, but your sense of smell becomes more sensitive too. All of a sudden, smells that you once loved become intolerable."  
The surprise hit: A very hydrating ingredient combo. 
"[With my new brand Stripes,] we made this serum that is so good it can stand on its own. We called it Power Move, and honestly it's just all in the title. When you think of serums, typically you think of something that needs to be layered under a moisturizer. And, sure, in the winter I'll probably use it with something else on top. But I've found it can really be used alone.
"It's packed with five different weights of hyaluronic acid, a mushroom extract in there, and the pairing of these two ingredients, squalane and ectoine. Squalane is quite well known, but ectonie is not. Honestly, it's becoming a bit of a star ingredient for me. It's soothing, deeply nourishing and hydrating, and strengthens the skin barrier. What's really impressive about it is that it's really getting to the cellular level of the skin, where it finds the proteins, attaches to them, and makes space for and holds onto water molecules.
"It really addresses dehydration issues in the skin, which definitely occurs in women of my age group. As you lose estrogen, the skin becomes drier and you need that support."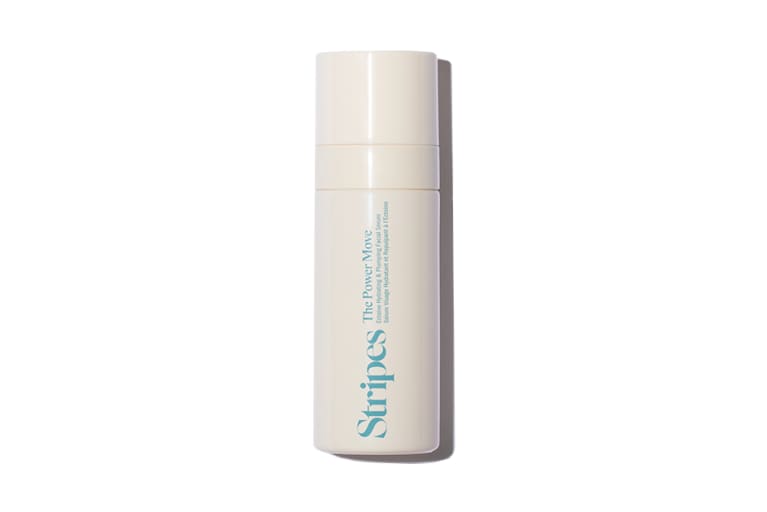 Stripes
Stripes The Power Move Ectoine Hydrating & Plumping Facial Serum
$85
This plush serum contains five different sizes of hyaluronic acid, which helps hydrate different layers of the skin. In addition, it has a powerful and underutilized ingredient that's particularly useful in barrier support. The serum is rounded out with a mushroom extract to help enhance skin's firmness. It's all housed in a refillable glass bottle, with PCR plastic refills and cap and an airless pump to minimize product waste.
The secret: An evening ritual.
"For me, I love having a bath nightly. I love that experience of making time for a ritual and unwinding from the stresses of the day. I might even indulge myself more by putting on a mask, playing a podcast, or putting on relaxing music. You know, really make a whole thing of it.
"Honestly, I tend to really just want to sit in a tub of water at the end of the day. And I always prefer baths to showers. Some people never have baths, which is always a surprise to me."
The up-and-coming: An honest, open dialogue about menopause. 
"Let's face it, menopause is where every woman is headed at some point. By the year 2025 there will be more than 1 billion people in menopause. But there's been a stigma around it for generations after generations; whenever there's a stigma, it needs to be broken down.
"I hope that more and more people will be open to talking about it: It's a natural phase of life, so why not talk about it? That way, we can bolster each other through community, and share education and experiences. This can help people understand what changes they might go through, learn how to advocate for themselves, and embrace this transition. Collective support is necessary.
"When I was entering it, I didn't even know the word perimenopause. I had the information that mother had gone into menopause early—she was 45 when she had her last period—but I didn't know that they could be all kinds of experiences leading up to that. For example, I didn't know that it could affect fertility; I heard the word uttered to me right when I was ready to start making children, and it caused great confusion and panic in me.
"It feels like one of the last conversations that's been left untouched, which is ridiculous because it's kind of a big one. We got perfectly set up back in forth or fifth grade when we learned about puberty, but then the rest of the story just went away. Instead, women just felt like we had to deal with it in silence—like they've been told to suck it up and cope. Which feels unbelievably unfair.  
"It's so important now to embrace this time because we live for decades longer after menopause. We're now living into our eighties, nineties, and more. So we have to start treating it as the beginning of a new time: Set yourself up with good health care and a good mindset. And again, the best way to do that is through community and education." 
The splurge: High-tech at-home tools. 
"I'm very interested in light and laser therapies. They can be really, really great treatments—but they cost a lot of money. But if you're thinking about splurging on a skin care item, they're good tools to invest in.
"At ONDA, there's a really great LED therapy mask that you can just strap on. It's portable, so you can move around the house while wearing it. You can also keep your eyes open with this one, so you can read or do things you might need to get done, like on the computer.
"And recently I started using another tool called LYMA that I was sent. I've been using it and I see an incredible reaction with my skin. But it's a very pricey piece of equipment, so it's not for everyone."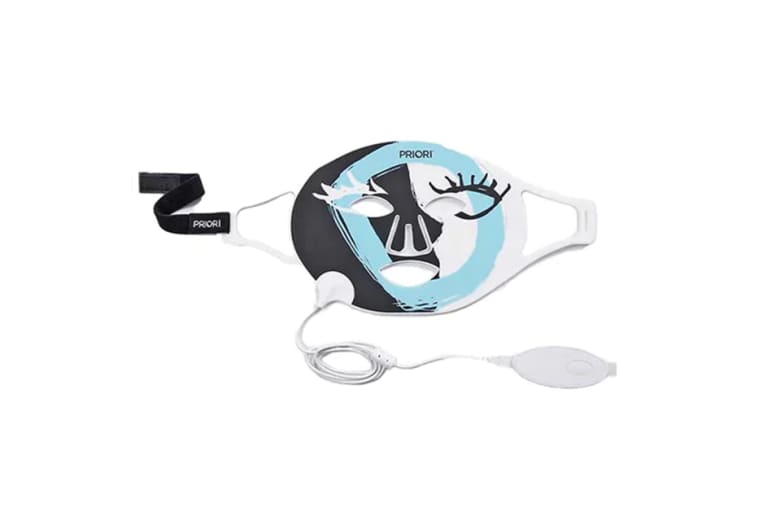 PRIORI SKIN CARE
PRIORI SKIN CARE Unveiled LED Mask
$430
This is a lightweight, silicone-based LED face mask that's as easy to use as it is effective. Wear it for only 10 minutes a day, and the temperature-controlled red and near-infrared light work with the skin to reduce redness, stimulate collagen production, improve collagen density, and enhance the overall tone.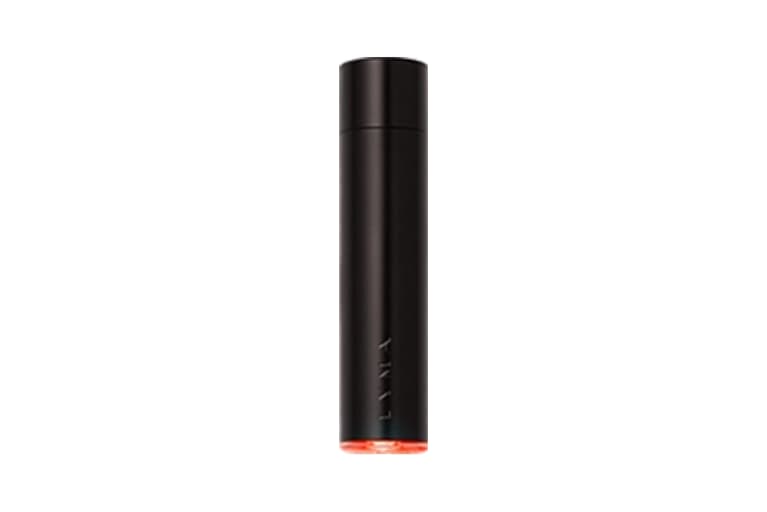 LYMA
The LYMA laser
$NaN
This is the world's first at-home cosmetic laser. The FDA-approved tool is 100x more powerful than LED therapy, and helps target fine lines, discoloration, collagen loss, and overall elasticity. Of course, it has a hefty price tag, so they also offer to pay in installments for up to 12 monthly.
"I love those little ice rollers that you pop in your freezer. You can find them at all price points, but there are several you can get at Target or Amazon for really cheap. Or just grab some ice and roll it up with a paper towel if you don't want to spend any money. 
"Honestly, in menopause they come in handy. I use them to wake the face up—skin just doesn't wake up as easily as it used to. I also use it when my face feels extra puffy, or I'm going to be on camera. I used them this morning. Can you tell?"
Editor's note: Her skin was toned and radiating through the Zoom screen—so, yeah, I could tell.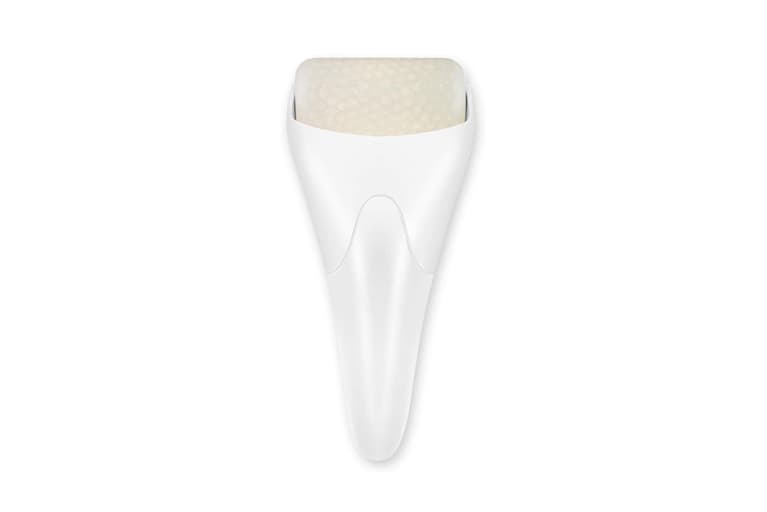 Fronner
Fronner Ice Roller
$8
Looking for an inexpensive ice roller to mimic Watts' camera-ready ritual? This Amazon favorite find has 2.5K positive reviews to back it up—and it comes in 5 different colorways in case you want a pop of color while rolling.
The signature: A compassionate spirit. 
"I would hope that people would identify me with compassion. If people say that I've listened well and have been kind, that would make me feel very good. But I don't know if that's the truth—I guess that's for other people to say and decide. But I certainly try to be.
"But right now maybe the thing that people most identify me with is menopause—Ha! I'm definitely screaming menopause."
Heal Your Skin.
Receive your FREE Doctor-Approved Beauty Guide
You are now subscribed
Be on the lookout for a welcome email in your inbox!
https://www.mindbodygreen.com/articles/beauty-products-naomi-watts-uses-for-glowing-skin