Writer
Writer
Courtney Leiva is a writer whose work has been featured in HuffPost, The Daily Beast, BuzzFeed, Women's Health, Business Insider, Yahoo Lifestyle, Well + Good, and more.
November 24, 2022
Our editors have independently chosen the products listed on this page. If you purchase something mentioned in this article, we may
If your child has outgrown their toddler bed, or simply wants to upgrade from their twin bed to bunk beds, chances are you have a lot of questions on your mind. For starters: what's the best mattress for bunk beds? Quality sleep is essential for kids and adults of all ages, and moving from a crib or toddler bed to a twin or full size is a big change. Research shows that a lot of factors impact your child's sleep quality1, but, no matter what kind of bed they're in, finding the right mattress is one big step toward a better sleep (and a happier, healthier kid).
To learn what kind of mattress works best in bunk beds specifically, we spoke with experts and scoured the market, researching every viable option. Below, find the seven best mattresses for bunk beds that will satisfy any budget, comfort and material preference. But first, what we learned on how to choose the best bunk bed mattress.
A peek at the best bunk bed mattresses of 2022:
How To Choose The Best Mattress For Bunk Beds:
Size:
Sleep coach and nutritionist, Annika Carroll, says your first line of business should be giving thought to the mattress size. Most bed bunk frames are best supported by twin, twin XL, or full-sized mattresses, so bear in mind that you only have a few options.
While these sizes are great for younger sleepers (and those looking to save space), it can be limiting for larger sleepers or people who want more room. "Bunk bed mattresses are generally smaller in size as most bunk beds fit twin-sized mattresses," Carroll confirms. "That is the only limitation you might have when it comes to selection."
Materials:
Just like you would with any mattress, Carroll advises considering the materials used in your mattress. "I recommend looking for certified organic mattresses to avoid toxins (or chemicals) being used in manufacturing them. These will off-gas or even get absorbed by the skin during sleep."
Weight and Thickness:
Finally, take account of mattress weight and thickness, especially since the top bunk mattress should be lightweight and easy to carry. "Changing the top bed mattress can be a bit challenging if the mattress is very thick and thus heavy," Carroll says. "What's more is that bunk beds also have weight restrictions, so make sure the mattress will accommodate this as thicker mattresses are significantly heavier."
Edge support:
Although the frame should have rails regardless, edge support is especially important for that top bunk. Typically, beds made with coils (innerspring and hybrid models) offer the best edge support, and latex is a good option, too.
How we picked:
We looked for mattresses available in bunk compatible sizes (Twin, Twin XL, and Full), and prioritized thinner units with a lower weight that makes it easy to hoist onto the top bunk, when possible.
We prioritized mattresses containing materials with extensive certifications, whenever possible. We also included non-toxic options for conscious shoppers who want an eco-friendly option.
Since everyone's budget is different, we selected mattresses at a variety of price points, paying close attention to trial periods and warranties.
We combed through hundreds of reviews to find out what people love (or don't love) about each of these mattresses, referencing reviewer feedback whenever applicable.
Our picks of the best bunk bed mattresses of 2022:
Best Full Size Bunk Bed Mattress: Helix Kids Mattress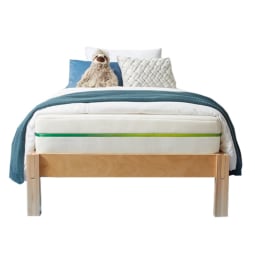 Pros:
Flipple design with a firm side and soft side
Purchase comes with two free pillows
Cons:
Not available in a Twin XL size
Materials: Individually-wrapped coilsCertiPUR-US® certified foamsTENCEL™ cover
Sizes Available: TwinFull
Trial Period: 100 nights
Warranty: 10-year
This eight-inch, bunk-friendly mattress is available in two bunk-friendly sizes: twin and full. It features a flippable design with two firmness levels, which allows kids to grow with the mattress for years to come. The firmer side is meant for ages 3 to 7 years old, and the softer side is best for ages 8 to 12 years old. The core of the mattress is made from coils, with polyfoam on the firmer side and gel memory foam on the softer side. On top, there's a hypoallergenic, breathable cover.
All Helix products are made with CertiPUR-US® certified foams and sustainable latex, and each Helix Kids mattress undergoes additional lead and phthalate testing to avoid any exposure to harmful chemicals.
The mattress ships in a box and is delivered to your doorstep with free, no-contact delivery. To fully eliminate any odors from your mattress, the brand recommends allowing the mattress to breathe and come to shape for a few hours before sleeping on it.
Reviewers love the flippable design, and the fact that this is a thinner mattress (8 inches), noting that it's a great pick for the top bunk.
Best Hybrid: Brooklyn Bedding Signature Hybrid Mattress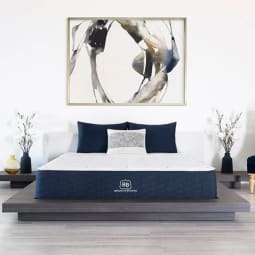 Pros:
Available in short and split sizes
Three firmness options
Cons:
Some off-gassing odors detected
Materials: Individually-wrapped coilsCertiPUR-US® certified foamsTENCEL™ cover
Sizes Available: TwinFull
Trial Period: 120 nights
Warranty: 10-year
One of the best hybrid mattresses available today, this model offers an extensive size range plus three firmness levels (soft, medium, and firm). It's made from memory foam and coils, with five durable layers and a cooling top, offering the perfect combination of comfort, support, and breathability. The smallest twin size starts at 55 pounds and is easy to set up on the bottom and top bunks. The perimeter of the mattress has higher gauge coils for added edge support: a must-have for bunk beds.
Brooklyn Bedding does not offer white glove set up service (or old mattress removal) at this time, but reviews do suggest that mattress set up is a cinch. The brand does recommend giving your mattress enough time (3 to 5 hours) to expand before sleeping on it.
On the fence? Take it from this five-star reviewing parent: "We purchased the short full for custom bunk beds and wanted something that was comfortable for adults. This mattress is so soft and cozy! Very impressed."
Best Affordable: Nectar Memory Foam Mattress
Pros:
Lifetime warranty
Lightweight
Cons:
May be too soft to those who prefer a plusher mattress
Materials: CertiPUR-US® certified foams
Sizes Available: TwinTwin XLFullQueenKingSplit KingCalifornia King
Trial Period: 365 nights
Warranty: Lifetime
An affordable, no fuss, memory foam mattress with single action cooling and supportive cushioning, this mattress uses CertiPUR-US® certified foam, and is a good option for stomach or side sleepers. It also has a breathable cover that's great for hot sleepers, with minimal motion transfer—so even the sleeper on the top bunk can move around without disturbing anyone else.
The mattress is lightweight and fits bunk beds easily. With a generous 365 night trial and lifetime warranty, you'll have plenty of time to test it out before making a final decision.
The Nectar Memory Foam Mattress is compressed into a box and is shipped to your doorstep via FedEx. Once it arrives, the brand recommends unboxing allowing your mattress to full inflate for a total of 24 to 72 hours.
Providing the right amount of thickness and comfort, reviewers say this mattress is a must for bunked sleepers . "My boys have these mattresses in their bunk beds. They said it's the best sleep they have ever gotten. Very thick and comfortable," touts one five-star reviewer.
Best Twin: Avocado Eco Organic Kids Mattress
Pros:
Organic and sustainable materials
Cooling, supportive, and low-profile
Cons:
Firmer than others on our list
Materials: Pocketed coils100% GOLS certified organic latex100% GOTS certified organic cotton100% GOTS certified organic wool
Sizes Available: TwinTwin XLFull
Trial Period: 100 nights
Warranty: 10-year
Calling all eco-conscious parents: this is the mattress to shop. Not only are Avocado's mattresses non-toxic and sustainable, but they come in three bunk-friendly sizes: twin, twin XL, and full. This is a low-profile hybrid mattress that will handle top and bottom bunks no problem. And, since all three mattress sizes are reasonable in weight (the full size is 69 pounds), moving it won't cause a back ache.
Above all, this mattress is comfortable and supportive. It's made from GOLS certified organic latex and individually pocketed recycled steel coils, with a breathable organic cotton and wool cover. The latex is naturally cooling, and the coils provide substantial motion control that's great for kids who tend to move around a lot in their sleep. Keep in mind, the medium firmness level may be too firm for those who prefer a super cushioned feel. However, it's particularly beneficial for back or stomach sleepers, who need a little extra support.
The mattress is shipped to your doorstep for free via FedEx. White glove delivery and mattress removal are available for an added cost, depending on your location. There should be no off-gassing required post-setup, thanks to the non-toxic and organic materials. It's best to let your mattress expand for several hours before sleeping on it.
Best For Loft Bed: PlushBeds Botanical Bliss Organic Latex Mattress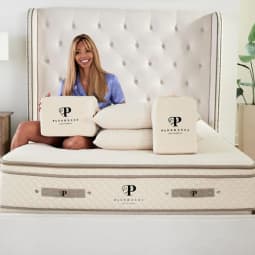 Pros:
Three heights, with custom and split sizes available
Fits RV bunk and loft-style beds
Made with sustainable and organic materials that are Control Union Certified
Materials: GOLS certified organic latexGOTS certified organic cottonGOTS certified organic wool
Sizes Available: TwinTwin XLFullQueenSplit QueenKingSplit KingCalifornia KingSplit California King
Trial Period: 100 nights
Warranty: Lifetime
Got a loft bed that is in desperate need of a new mattress? This eco-friendly latex model is a great pick. Not only does its size range support bunks adequately, but it also utilizes sustainable and organic materials that are Control Union Certified. With three heights (9, 10, or 12 inches) and two firmness options (medium or medium-firm), you're bound to find the perfect fit. Regardless of the height and firmness you choose, the GOLD-certified Dunlop latex gives this mattress a bouncier, more responsive feel than a memory foam model would have—but it's still one of our top picks for a soft mattress. We've recommended this as a great option for couples, as well, so you may want to upgrade the whole family.
This bed arrives compressed in a box, and may require some off-gassing time to ensure odors are eliminated. However, reviewers really like that it ships quickly, is easy to box, and that it comes to shape quickly.
Shoppers love the customization options, too. Mattresses can be designed to fit your unique sizing needs. And yes, this mattress is the most expensive on this list. However, because of its high-quality materials, size range, and customization option, it's worth the extra splurge. Besides, bedding is an investment buy, after all!
Best Foam: Tuft & Needle Original Mattress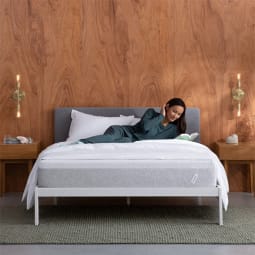 Pros:
Compatible with slatted frames, bunkie boards, and adjustable bed frames
Firm, supportive, and pressure relieving
Supports back, stomach, and side sleepers
Materials: CertiPUR-US® Certified Adaptive® foamCooling gel and heat conducting graphite
Sizes Available: TwinTwin XLFullQueenKingCalifornia King
Trial Period: 100 nights
Warranty: 10-year
Another memory foam option, this mattress keeps things simple with three layers of memory foam that provide adequate cushioning and support for every sleeping position. All foams are CertiPUR-US®, paired with cooling gel and heat-conducting graphite to keep body temperature just right. Best of all, this bed is compatible with slatted frames, bunkie boards, and adjustable bed frames, so it's the perfect fit for top and bottom bunks. It's one of our favorite twin mattresses for toddlers, too.
The Tuft & Needle Original Mattress is vacuum-sealed in a box with no excess packaging. Customers have the option for professional set-up, which costs TK and includes old mattress haul away. If you prefer to set up your Tuft & Needle Mattress on your own, reviewers it's a fairly easy process from start to finish. Just be sure to give it least 48 to 72 hours to ensure your mattress fully expands.
Parents appreciate that this mattress is the perfect fit for any bunk bed frame. "We love Tuft & Needle mattresses and now have six, one king, two queens and three fulls for bunk beds, guest rooms and our master bed rooms – comfortable cozy and great nights of sleep," one customer writes.
Best Spring: Naturepedic 2-in-1 Organic Kids Waterproof Mattress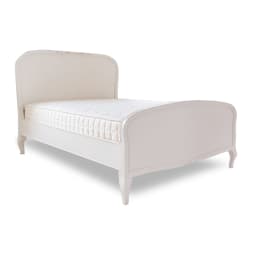 Pros:
Organic and sustainably-sourced materials
Fits in bunk beds, platform beds and trundles
Cons:
Mattress sides are not waterproof
Materials: Organic cottonLDPE waterproof coatingPLA plant-based synthetic fiberCoils
Sizes Available: TwinTwin TrundleTwin Trundle ShortFull
Trial Period: 100 nights
Warranty: 25-year
This innerspring mattress offers four sizes that support bunk, platform, and trundle bed—so gone are the days of guesswork of finding the perfect bed fit. Naturepedic prioritizes safety and sustainability, with organic materials that reduce the environmental impact of synthetic pesticides and fertilizers. The materials are GOTS-, Made Safe-, and UL/GREEDGAURD-certified.
It's also dual-sided and can support young sleepers through their growing years. One side is quilted, and the other has a smooth, waterproof surface. Depending on your child's age and preference, simply flip the mattress over. At the core, an open innerspring design provides comfort, airflow, and temperature-regulation.
Mattress setup services are available, depending on your location. Though, if you prefer to set this mattress on your own, reviewers assure that the process is easy: simply take your mattress out of the box, remove the plastic cover, and let it expand into shape for a few hours.
Since this mattress successfully marries sustainability with support, reviewers say it's a great bunk bed-friendly mattress overall. "The quality of the mattress is better than I expected for a top bunk mattress that needs to be thin. My son says that it is very comfortable," one parent writes.
While most reviewers appreciate the waterproof protection this mattress provides, others give a reminder that the waterproof protection doesn't extend to both mattress sides. To properly safe-guard your mattress, it may be helpful to add a waterproof mattress cover on top for an extra layer of protection.
FAQ:
How thick should a mattress be for a bunk bed?

The best mattress for a bunk bed should be six to eight inches thick, with careful attention placed on the thickness of the top bunk, advises Carroll. "You'll want to make sure the top bunk mattress is thin enough, so there are still at least five inches between the mattress and the rail. Otherwise, there is a risk that the railing will not provide sufficient support protection."
Do bunk beds require special mattresses?

While bunk beds don't require special mattresses, Carroll says to prioritize materials and comfort. "You can choose any material you (or your kids) feel comfortable sleeping on," she adds.
Do you use a box spring on a bunk bed?

Since many bunk bed frames have included slat kits for support, a box spring is not necessary to complete the bed.
The takeaway.
Bunk beds and loft beds can be a great transition bed for small sleepers, those who travel in an RV, and people who are looking to save room space. When searching for the best mattress for bunk bed, keep size, materials, plus weight and thickness in mind as you shop. These considerations will help you find the perfect mattress fit for your needs. And, if you want some more options for your child's twin bed, check out the best twin mattresses for toddlers.