Expert review by
Personal trainer & holistic nutritionist
BB Arrington is NASM-certified personal trainer, holistic nutritionist, and sustainability advocate.
January 1, 2023
Our editors have independently chosen the products listed on this page. If you purchase something mentioned in this article, we may
Developing a fitness routine can be tough, but the benefits of regular exercise far outweigh the hurdle it might take to get there. With new advances in the fitness industry, you can now achieve these benefits without even leaving your house. The best workout mirrors feature technology that allows you to stream life-like classes, receive real-time feedback, and enhance your physical and mental well-being through exercise.
The Mirror, the original wall-mounted home gym, hit the fitness scene in 2018. Since then, brands have continued to launch innovative takes on the newest home gym essential. The game-changing equipment can bring your favorite aspects of an in-studio workout to your living room, or pack the power of a personal trainer with smart A.I. that corrects your form in real time. Below, we unpack the pros and cons of the current workout mirrors available on the market—and tap experts for their take on the smart workout equipment.
The best workout mirrors of 2023:
What is a workout mirror?
Love the convenience of exercising from home but miss the energy of an in-person fitness class? Workout mirrors solve this issue by providing a full-length display that allows you to view live and on-demand classes in a truly immersive environment. The dual-functioning screen is reflective, meaning you can watch the workout while you watch yourself. Most of these mirrors have built-in cameras which allow either the instructors or smart technology to give real-time feedback on form.
Some workout mirrors also have two-way communication features so you can interact with your favorite instructors. Others use cameras and AI technology to automatically adjust your weights or suggest new workout classes and goals. Many models can be mounted to your wall to take up a minimal amount of space. There are a few freestanding options on our list as well, along with some that have an option for either freestanding or mounted.
While a few of our picks entail just the workout mirror itself, others are more of an all-in-one fitness solution, with weights and additional equipment included. Each mirror has its own features and capabilities, which we'll outline in our list below.
Who should use a workout mirror?
People who want access to an immersive fitness experience from home would likely enjoy a workout mirror. "Several of my patients really enjoy the workouts they get on their Mirrors," says dual board-certified doctor Seema Bonney, M.D. "Without leaving their homes, they can observe a fitness instructor and themselves at the same time so they can copy exactly what the trainer is doing."
Bonney adds that exercise is not a one-size-fits all experience, so what works for one person will not necessarily work for another. That's why it's helpful that each of our picks includes a free trial of at least 30 days.
"I'm a fan of anything that makes it more convenient to exercise," Bonney says of exercise mirrors. "Exercise is vital for staying fit and improving your overall well being, especially as you age. Not exercising regularly comes with high health costs and is inherently a pathologic state." Research has shown even just 10 minutes of exercise per day can improve longevity. "A study published earlier this year in the esteemed JAMA journal estimated that 110,000 deaths per year would be prevented1 if US adults greater than age 40 increased their physical activity intensity to moderate, for just 10 minutes per day," Bonney explains, noting that even greater benefits were seen in those exercising for 20 to 30 minutes per day.
If you don't have enough time in your day (or the desire) to commute to the gym, don't want to pay for frequent boutique exercise classes, or simply want to step up your already existing home gym setup, a workout mirror could be a great choice for you. "Many years ago, exercising = going to the gym, but [that's] not the case anymore," Bonney says. "Pelotons, treadmills, at home gyms, online classes, gadgets like the Tonal and Mirror are helping people exercise and gain all the benefits that come with regular use!"
How we picked:
No matter which model you choose, your workout mirror is going to be a prominent fixture in your designated exercise area. We prioritized mirrors with aesthetically-pleasing designs that do not take up too much space and will blend with the rest of your room.
These devices are not cheap, but they're an investment in your health. We looked for products of the highest quality, with clear visuals and audio.
We only included workout mirrors from brands that offer a free trial of at least 30 days. Each brand also offers a warranty.
Customer feedback is important, so we scoured hundreds of reviews to make sure we were choosing workout mirrors that the majority of people are pleased with. We included feedback from negative reviews as well.
Our picks for the best workout mirrors of 2023:
Best for weightlifters: Tempo Studio
Pros:
High-quality coaching & class format with form feedback
Wide range of workouts, including strength, HIIT, recovery yoga, and meditation
A ton of equipment included
Cons:
12-month membership commitment
Tracking sometimes misses reps if you're out of range
Takes up a lot of space
Dimensions: 72" H x 26" W X 16" D
Warranty: 1- to 3-year limited
Trial period: 30 days
Additional equipment included: Studio starter: 1x exercise mat, 1x set of 7.5-pound dumbbells, 4x collars, 75 pounds of weight plates
Weight: 52 pounds
Freestanding or mounted: Freestanding
When it comes to an all-in-one fitness solution, you can't beat the Tempo Studio. No matter which set you get (starter, plus, or pro), you'll receive a slew of exercise accessories, such as dumbbells, collars, weight plates, squat racks, foam rollers, and more—and you'll be shocked to find that most of it fits in a sleekly-designed, free standing piece of equipment.
The Tempo offers a heavy focus on strength-training, making this a great choice for weightlifters. Even so, it's equally fitting for beginners, as 3D sensors in the screen track your movements and provide real-time feedback on how to improve your form. The included exercise equipment is also tracked by the program, which counts reps and weight amount to track your progression. Not only is the equipment smart, but it's high quality, too, with Olympic weight plates and a floating system that allows the plates to rotate on the handlebar, protecting your wrists from strain.
The closest thing you'll find to having a personal trainer in your home, the program allows you to either follow a trainer's predesigned program or curate your own workout routine based on your fitness goals. Either way, the Tempo app will autoload the next class in your progression onto the screen and provide the recommended weight and goal based on previous data. (Don't worry! You can always drop down the weight on days where your body needs a break, and the program will automatically adjust).
The screen itself is 42-inches with an HD display so clear it feels almost life-like, and reviewers rave about strong sound quality, too. As with most smart workout equipment, you'll need a membership to maximize your mirror and partake in classes, such as boxing, yoga, HIIT, cardio, meditation, and mobility. A free 30-day trial is included with your purchase, starting the day your Tempo Studio is delivered. 1:1 coaching is available, which you can explore through a free 30-minute video consultation.
Delivery includes installation and set-up, so all you need to do is make sure you are home to direct the team into your room of choice.
If you're low on space, it's also worth considering the Tempo Move. A favorite of our deputy commerce editor Braelyn Wood, it uses the iPhone's camera to track your movement instead of a mirror with a hockey-puck sized processor that connects to your television screen. You'll still get the same quality weights and a sleek holding case, but save money and space.
Subscription cost: $39 monthly
Best for small spaces: Echelon Reflect Touch Smart Fitness Mirror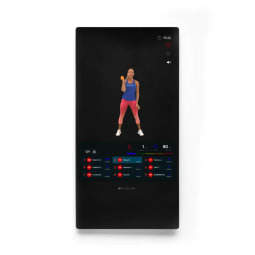 Pros:
Takes up a minimal amount of space when mounted to the wall
Option to make it freestanding (must purchase stand)
Access to live and on-demand workout classes & personal training
Cons:
Mirror is heavy, so self-installation can be tricky
Quality could be better (sound & visual)
Dimensions: 50" H x 20" W X 2" D
Warranty: 1-year
Trial period: 30 days
Additional equipment included: Mirror only
Weight: 52 pounds
Freestanding or mounted: Option for either
The Echelon Reflect is a great compact piece of equipment that can be mounted to your wall or set up as a freestanding mirror, if you purchase the optional stand. The entire 50-inch display is a touchscreen, offering access to live and on-demand classes for all fitness levels. On the screen, you can also view your class history, leaderboard, and, of course, yourself. The well-made product has a sleek design, but the sound and visual quality could be a bit clearer, per reviewers.
You'll need an Echelon Connect membership to access the classes. If you opt for the money-saving 2-year Echelon Connect membership, you'll also get free shipping. With any other membership, you'll need to pay $200 for delivery—and even at that cost, you're on your own with installation. While reviewers say installation is fairly quick, the mirror is quite heavy (52 pounds), so you'll likely need an extra set of hands to lift it up to the wall, as well as a stud finder.
With 85 reviews on the Echelon website, this smart fitness mirror has a 4.1 out of 5 overall rating. The lowest ratings are still three stars, most of which focus on the desire for more classes. However those comments are from nearly a year ago or longer, and more recent reviews note a wide selection of classes, with options that "continue to grow." Many rave about the ability to search by class duration and workout type, including cardio, HIIT, pilates, barre, and yoga.
Subscription cost: $40 monthly, $400 annually, $600 for 2 years
Advertisement
This ad is displayed using third party content and we do not control its accessibility features.
Best mounted: Forme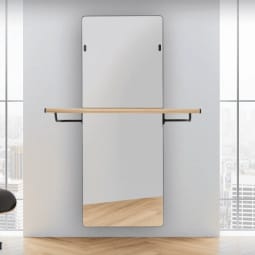 Pros:
Very clear display
Two-way communication
Personal training available
Mat, camera cover, & heart rate monitor included
Cons:
Delivery and installation not included
Arms cost extra
Dimensions: 68" H x 27" W X 3" D
Warranty: 1-year limited
Trial period: 30 days
Additional equipment included: Yoga matHeart rate monitorCamera coverCleaning cloth
Weight: 70 pounds
Freestanding or mounted: Mounted
If you want to feel fully immersed in a workout class (but don't want to leave your home), this mirror is for you. You'll receive a non-slip exercise mat, a cleaning towel, and a heart rate monitor with your purchase—but any additional exercise equipment will need to be purchased separately. The brand does offer another model, Studio with Lift, which has resistance cable arms attached, but it is currently sold out. There's also a Sculpt Bundle you can purchase separately if you'd like to add dumbbells, ankle weights, a resistance band set, and a dumbbell rack to your home studio.
Whether you prefer yoga, strength training, mobility, barre, or HIIT, you'll find something in the workout library. Barre fans can opt to add a wooden barre attachment that truly brings the studio feel to life. But what's most impressive about this mirror is the crisp, clear display and two-way communication function. Yup, you can even interact with your favorite Barry's instructors, thanks to a recent partnership between the two brands.
Right now, your purchase will come with a free 30-day personal training package. You can choose between the custom training package which includes personalized, on-demand sessions, or the custom + live, which also gets you 1:1 live trainings. After the trial ends, the custom package is $149 per month and the custom + live package is $399 per month.
Delivery and installation are not included with your purchase and cost an additional $250.
Subscription cost: $52 monthly
Best free standing: Fiture Core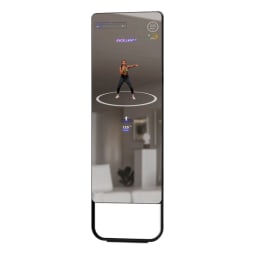 Pros:
Smart display with AI sensor provides form monitoring and correction
Looks like a normal mirror when not in use (+5 color options)
New classes added weekly
12-month membership trial with purchase
Cons:
No weights included
No live classes or personal training
Dimensions: 68" H x 23" W X 2" D
Warranty: 1-year limited
Trial period: 60 days
Additional equipment included: Mirror only
Weight: 60 pounds
Freestanding or mounted: Option for either
Fiture is one of the most aesthetically pleasing exercise mirrors on the market. When it's not in use, your houseguests will think it's just a standard (yet very attractive) mirror. The equipment is freestanding, rather than mounted to the wall, but still takes up minimal space.
The display is quite large (43-inches) and the reflective screen shows your full body. You'll have to use the corresponding app to scroll through classes, as the device has no touchscreen. However, the app houses a huge variety of workout programs, such as HIIT, barre, boxing, pilates, cardio, yoga, and strength training. There are no live classes or personal training sessions available yet, but new classes are added weekly.
Parents with active kids will enjoy the built-in games that help children learn balance and coordination. Adults of all ages can benefit from the mirror's AI sensor, which helps the device give feedback on your form and tracks your number of reps.
Installation is included in the $100 delivery fee, which is significantly less than other brands that charge north of $200. If you're short on space, you might consider the Fiture Mini, which is a bit smaller (63" H x 20" W X 2" D) and more portable.
There are currently about 50 reviews on the brand's website, all of which are positive. The mirror has a 4.9 overall rating (out of 5), with strong praise about its design, the app, and the variety of workouts. Many people mention how "spot on" the body scanning is, the crystal-clear visuals, and how seamless the delivery process is—plus, kids seem to love the gamified features.
Subscription cost: $39 monthly
Advertisement
This ad is displayed using third party content and we do not control its accessibility features.
Best design: Tonal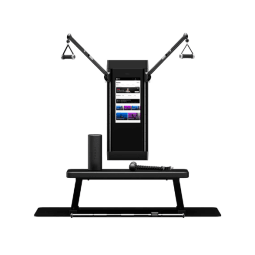 Pros:
Automatically adjusts weights according to progress
High weight capacity (up to 100 pounds on each side)
Compact design with large screen
Cons:
Doesn't blend with room aesthetic as easily as other options
No freestanding option
Dimensions: 51" H x 22" W X 6" D
Warranty: 1-year limited
Trial period: 30 days
Additional equipment included: HandlesBarRopeBenchRollerWorkout mat
Weight: 150 pounds
Freestanding or mounted: Mounted
A few things set this machine apart from your average workout mirror. It has a built-in smart bar and a set of handles with cables that offer up to 100 pounds of resistance for each arm. The smart technology also adjusts the weight based on your progress, and offers spotting when it senses you need the support.
Another surprising selling point is the initial strength assessment. When you set the Tonal up, you'll be prompted to go through a series of exercises that will set the bar, if you will, for future workouts. You can redo this assessment at any time if you feel the machine is not properly adjusting to your progress, but reviewers say the weight adjustments are "spot on."
You'll need a membership to access classes (and there is a one-year commitment at sign-up), but enrollment will get you access to strength training, HIIT, yoga, barre, cardio, breath work, meditation, and more. You'll be pleased to learn that this machine does have a touchscreen, so while there is an app you can connect with, pretty much everything can be done through the wall-mounted mirror. Just note, there is no option to make this mirror freestanding, and it does clearly look like exercise equipment, as opposed to other options that tend to blend in more with the room's aesthetic.
This machine is extremely heavy, weighing in at approximately 150 pounds. The good news? Professional installation is included in your delivery charge. As soon as your order is processed and confirmed, you'll receive an email to complete a pre-installation survey and your order will be shipped within 1 to 3 weeks. Installation tends to take about an hour, but you can just sit back and relax and tell the team where to mount it.
Subscription cost: $49 monthly
Best class variety: Lululemon Studio Mirror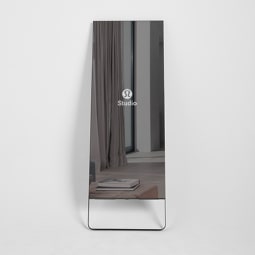 Pros:
Can interact with trainers through two-way audio function
Personalized modifications
Camera for live interaction during classes
Cons:
Not touchscreen
Setup not included in delivery
Dimensions: 56" H x 23" W X 2" D
Warranty: 1-year limited
Trial period: 30 days
Additional equipment included: StandLens cap
Weight: 70 pounds
Freestanding or mounted: Option for either
Now owned by Lululemon, this was the first workout mirror on the scene, and it still offers a ton of value. There are a number of packages available if you desire additional equipment (yoga blocks, mat, etc.), but every purchase includes the mirror itself, a mirror stand, and a lens cap for the built-in camera. The camera, paired with a two-way audio function, allows for live interaction during workouts. Choose to mount the mirror on your wall or use the stand to keep it freestanding. It has a sleek carbon steel frame that will elevate the design of any room.
With a monthly membership, you'll have access to over 10,000 classes, which you can filter by instructor, duration, workout type, and other parameters.
Barre, boxing, dance, kickboxing, pilates, pre- and postnatal exercises, strength training, and other workouts are all offered. There are also options for personal training. You'll be able to track your workouts and progress through the corresponding app, which you can sync with Strava or Apple Health.
One major callout is that this mirror does not have a touchscreen, so any navigation will need to be done in the app. And while delivery is free, the team will not install your mirror for you. It weighs 70 pounds, so we would not recommend trying to set it up without an extra set of hands.
There are over 600 reviews for the mirror on the brand's website, and it still maintains a 4.9 out of 5-star rating overall. People call it a "game changer" and say that the mirror has helped them gain confidence and stay energized and motivated.
Subscription cost: $39 monthly
Advertisement
This ad is displayed using third party content and we do not control its accessibility features.
How to choose a workout mirror.
The right workout mirror for you will depend on your preferences, home setup, and budget. First, consider the amount you are willing to pay on this piece of equipment. Keep in mind, if you are using it as a replacement for in-person classes or other online memberships, you'll be saving the money you had been spending on those expenses. How often you plan on using your mirror will help inform what you might be open to spending.
You'll also want to consider the types of classes you're looking for and make note of the options available through each of these devices. Do you want a mirror that comes equipped with everything you need to work out from home, or do you already have a large selection of equipment?
Lastly, make note of the dimensions of each product and whether it is freestanding, mounted, or has the option for both.
FAQ:
Are exercise mirrors worth it?

As is the case with any exercise equipment, an exercise mirror is worth it if you plan to use it properly and frequently. Per our expert, daily exercise is extremely beneficial for our health and longevity—so if a workout mirror will help you meet your daily exercise goals, it is absolutely worth it.
What is the difference between Tonal and mirror?

Tonal and Mirror are very similar workout mirror options, with some key differences. To name a few: Tonal has a touchscreen and The Mirror does not; Tonal has a built-in smart bar and a set of smart handles with cables, while The Mirror is just a freestanding (or wall-mounted) mirror; The Mirror has the option to mount it to the wall or stand it up, and Tonal must be mounted.
The takeaway.
The best workout mirrors have features that make any home feel like a fitness studio. With access to live and on-demand workouts, personal training sessions, real-time form feedback, and more, these devices help hold you accountable to your fitness goals. Not sure if this is the right equipment for you? Check out our picks for the best home exercise equipment—and don't sleep on the best gym shoes, either.