Contributing writer
Contributing writer
Jamey Powell is a writer and editor living in Brooklyn, NY. Previously the senior market editor at Healthline.com, she has years of experience scouring endless product reviews and testing out the latest and greatest products in the sleep, fitness, and nutrition markets.
February 4, 2023
Our editors have independently chosen the products listed on this page. If you purchase something mentioned in this article, we may
Whether for Valentine's Day, an anniversary, or simply to brighten someone's day (or your own!), sending flowers is a timeless gesture. In fact, a 2021 study found that having flowers around can have a positive impact on our overall mood1. The best flower delivery services make it easy to send a quick-yet-thoughtful gift, or to liven up your own space.
Sure, you can always grab a bouquet or houseplant at your local grocery store, but there's something to be said for receiving a thoughtful, well-designed arrangement or an elegant flowering plant. Since there's no shortage of online options, we scoured the market for the best flower delivery services, keeping an eye on factors such as sustainable farming and variety of blooms. We even found some budget-friendly options that don't compromise on quality. Find our list of the best flower delivery services below.
The best flower delivery services of 2023:
Why order flowers online?
While shopping at a local florist (or even growing flowers yourself!) is our preferred method of acquiring farm-grown flowers, there are cases when online flower delivery services can be extremely helpful.
Distance: If you'd like to gift flowers to someone who does not live nearby, shopping for arrangements online is an easy way to have a meaningful gift sent straight to their doorstep.
Variety: Large online flower distributors often have a larger variety of flowers and arrangements than a grocery store or bodega. These options can be helpful if you're after something specific, or have a picky recipient to shop for.
Subscription offering: Maybe you love having fresh flowers in your home but don't have a preferred florist nearby. With flower subscription services, you can have beautiful bouquets sent your way (or to someone else) on a monthly, weekly, or bi-weekly basis.
Discover local florists: Some brands (like Teleflora on our list) work directly with local florists to get fresh blooms sent out same-day. This is a great way to support and discover local flower shops, as well as cut out the variable of using middleman shipping companies.
How we picked:
At mindbodygreen, we care deeply about our environmental impact. Most of the picks on our list make an effort to use sustainable farming practices and minimize waste. As we've noted, some brands (such as The Bouqs, Farmgirl Flowers) make this more of a focus than others (i.e. Amazon).
Floral preferences vary greatly by personality, so we focused on companies that offer a wide range of options. Whether you're looking for a traditional arrangement, a timeless bouquet of roses, or something a bit more unique, we've got you covered.
Cost varies by bouquet size, flowery variety, etc., so we measured starting prices by looking at each brand's smallest mixed bouquet (typically 12 to 22 stems). We also considered the average delivery cost for shipping—although it's important to note that this is likely dependent on location.
Real customer feedback is important, so we read plenty of reviews for each brand we considered. That said, third-party shipping can have an effect on the final product people receive. We mostly set aside comments geared primarily toward the shipping service.
Our picks of the best flower delivery services of 2023:
Best sustainable: Bouqs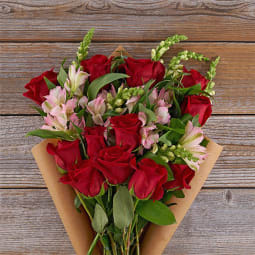 Pros:
Sustainable farming practices
Great variety
User-friendly website
Cons:
Not as much flower variety as some other brands
Shipping can be pricey
Size options: Typically 3 sizes per bouquet
Personalized message: Yes
Delivery price: $25
Vase starting price: $10
Bouqs partners with farms that pride themselves on sustainable growing practices, minimizing waste, and recycling water. The brand's offerings include mixed bouquets and single-flower bouquets (such as sunflowers, roses, and tulips), as well as a few potted plants, gift sets, and dried arrangements. When browsing the options, you can filter by occasion, shipping speed, flower type, and color—there's even a one-click button for Valentine's Day roses. Once you've picked your bouquet, you'll choose from three sizes and decide whether you'd like to add on a vase. Most arrangements offer 2 to 3 vase options.
If you're in a rush to send some blooms, there's a same-day delivery option that sources bouquets from local florists. Just note: the selection may vary and the starting price is often a little higher. Bouqs also offers a subscription discount of up to 30% off, plus free shipping. You'll first select a frequency (from weekly to every other month). From there you, either customize your bouquet for each delivery or let the brand take care of the decision-making.
Best for dried flowers: UrbanStems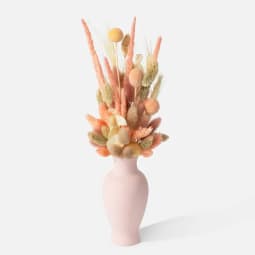 Pros:
Vase is included
Partners with Rainforest Alliance Farms
Size options: One size per arrangement
Personalized message: Yes
Delivery price: $15
Vase starting price: Included
UrbanStems has a great selection of fresh bouquets, but we're calling the brand out here for its small-but-mighty selection of long-lasting dried arrangements. These dried flowers are an excellent way to add a bit of flora to your space that you won't need to say goodbye to after a week or so. The bouquets come in a modern vase and include a fun selection of dried blooms such bunny tails, eucalyptus, orchids, and wheat spikes.
Prices range from $44 to $115 on these dried bundles, which is considerably lower than other dried arrangements we found in our search (Bouqs has a great selection of affordable dried arrangements worth checking out, too!). On the con side, customization on UrbanStems is limited—you can't change the colors of the arrangements or the vase it comes in. The brand does offer overnight shipping, making for a quick gift that will last for months, if not years.
Best budget-friendly: Amazon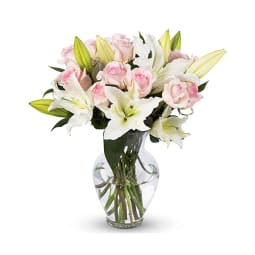 Pros:
Lower-priced bouquets from Whole Foods
Some vendors offer free shipping with Prime membership
Cons:
Inconsistent shipping pricing
Less variety and minimal customization
Size options: Varies by bouquet
Delivery price: Varies, some are free with Prime membership
Vase starting price: N/A
Honestly, what can't you get on Amazon these days? As it turns out, there are a handful of vendors on the site that sell fresh-cut flowers for next-day or scheduled delivery. The selection is far less versatile than the other picks on our list, but if you need a low-priced bouquet in a hurry, it's worth a peek. And, since the e-commerce giant purchased Whole Foods, Prime members can also select fresh flowers as a grocery item for same-day delivery.
Some Amazon vendors (such Arabella Bouquets, which focuses on sustainably-sourced blooms in recycled glass vases) are a bit more expensive, but offer free delivery with a Prime membership and the option to tag on a personalized message. Be sure to read all the details when shopping for fresh flowers on Amazon, because the standards seem to vary pretty drastically by vendor.
Advertisement
This ad is displayed using third party content and we do not control its accessibility features.
Best for the plant parent: The Sill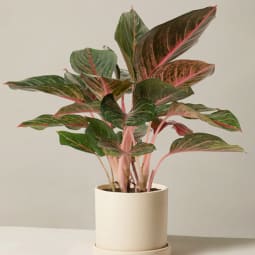 Pros:
Excellent variety
30-day guaranty
Cons:
Pot customization and size options vary by plant
Personalized message: Yes
Delivery price: Free
Vase starting price: N/A
There's no denying it: fresh flowers don't stick around forever. That's why a potted houseplant can make an extra special gift (albeit one that comes with a little extra responsibility). The Sill has a generous variety of potted plants, as well as a selection of care tools and planters. If you (or the person you're gifting to) are really not to be trusted with a living plant, there are a bunch of faux and preserved options.
Prices vary by plant type and size, and some have more customization options than others. But shipping is free, which is huge, and The Sill has a 30-day guarantee on every plant. If the plant doesn't arrive happy and healthy, the brand will replace it for free. Don't feel like shopping online? The Sill has a handful of storefronts where you can shop IRL or order plants for curbside pickup. Best of all, shipping is carbon neutral—meaning The Sill pays a fee per package to help offset its emissions footprint.
Best for roses: Grace Rose Farm
Pros:
Uses organic farming practices
Wide selection of colors and rose types
Size options: 12, 24, or 36 stems
Personalized message: Yes
Delivery price: $25
Vase starting price: N/A
If dull, plastic-wrapped grocery store bouquets have skewed your perception of roses, Grace Rose Farm is about to change that. The company—owned by couple Gracie and Ryan Poulson—specializes in ethical farming and harvesting of over 90 types of garden roses, offering a range of varieties and colors. The brand uses organic farming practices and provides year-round employment for farmworkers in Ventura County, California.
When selecting a bouquet, you can choose based on variety (such as David Austin or Japanese roses), color (i.e. peach, lavender, or cream), or leave it up to the pros with the "Grower's Choice" bouquet, the most affordable option. Most arrangements are 12-stem bouquets, although there are a few larger options online as well. Just keep in mind, not all arrangements have the option to add a vase. One other noteworthy feature: if someone in your life has a green thumb, Grace Rose also sells rose bushes to plant at home.
Advertisement
This ad is displayed using third party content and we do not control its accessibility features.
Best flower subscription: BloomsyBox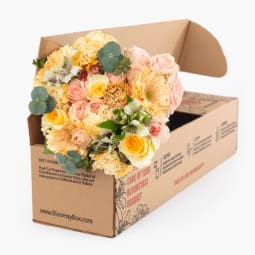 Pros:
Partners with Rainforest Alliance farms
Large variety
Cons:
Subscription arrangements can't be customized
No vase options
Size options: 3 subscription size options
Personalized message: Yes
Delivery price: $7
Vase starting price: No vase options
A flower subscription is the gift that keeps on giving. BloomsyBox has a relatively budget-friendly range of monthly, bi-weekly, or weekly subscription plans. There are three arrangement sizes to select from: original, deluxe, and premium. The smallest option comes with a generous 22 to 24 stems of sustainably-grown flowers.
While you can't customize your bouquet, BloomsyBox says it prides itself on creating unique, seasonal arrangements each month, promising you'll never see the same bouquet twice. There's even an option for a "Pet-Safe Blooms" subscription.
The best part? You can pause or cancel your subscription at any time and switch over to one-time orders with BloomsyBox's wide selection of mixed and single-variety bouquets and small plants—just note the company does not sell vases. One big pro worth noting: for both the subscription bouquets and one-time orders, BloomsyBox has the lowest shipping prices of all the brands on our list (to Brooklyn, NY it was $7 for next-day delivery).
Best for quick delivery: Teleflora
Pros:
Great for same-day delivery
Connects you to local florists
Size options: 3 options per arrangement (for most)
Personalized message: Yes
Delivery price: Varies by location
Vase starting price: Included
Did you forget your anniversary? Did someone you love just get a big promotion? When you need flowers ASAP, Teleflora is a great place to turn. The Los Angeles-based company partners with over 30,000 florists across the world to cut out the variable of shipping and source bouquets directly from flower shops in your area. In other words, think of it as Doordash or GrubHub for flowers.
Almost every arrangement is available in three sizes and comes in a vase. One qualm is that you're not able to swap the vase design out. But you can add on balloons, chocolates, or a stuffed animal if you so desire.
Because each arrangement comes from a local florist, most are eligible for same-day delivery. While you won't need to worry about shipping costs, there is a service fee that varies by date and location (for example, to our address in Brooklyn, New York it was $18). All-in, it's one of the more affordable picks on our list for traditionally-styled arrangements.
Advertisement
This ad is displayed using third party content and we do not control its accessibility features.
Best for unique blooms: Farmgirl Flowers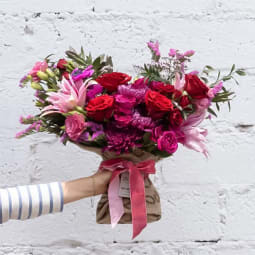 Pros:
Unique flower variety
Uses recycled burlap
Gorgeous presentation
Cons:
Less customization options
Size options: Varies by bouquet
Personalized message: Yes
Delivery price: $25
Vase starting price: N/A
Female-owned Farmgirl Flowers creates unique, custom arrangements. Instead of choosing a bouquet based on the blooms, the brand asks you to trust that it will design a seasonal, showstopping bouquet with the freshest flowers its farm partners have available. While that means there's a little less control over the final product, the result will no-doubt be something fresh and gorgeous.
If you'd rather have some say in the matter, there are a few single-variety arrangements, too, such as hyacinths, ranunculus, roses, or delphinium. Whatever you choose, the bouquets come in a vase or wrapped in an aesthetically-pleasing (and recycled!) burlap coffee sack, tied with a satin ribbon.
A note from the author: I've received Farmgirl Flowers and can attest, they knock it out of the park presentation-wise. My blooms lasted well over a week and I loved the whimsical, hand-picked vibe of the arrangement that I received. Of course, I received the flowers as a gift, so I didn't get to experience the checkout and shipping process. In my research I did note that, beyond the smallest bouquet, the prices are generally higher than some other brands on our list. Also, you must select a two-day delivery window versus a specific delivery date, which might not work for all gifters, and delivery dates might vary by bouquet.
Best for the aspiring florist: Poppy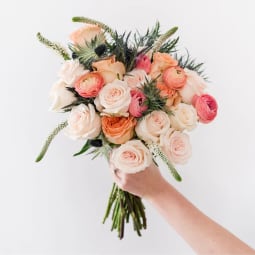 Pros:
Fun DIY activity
Sustainably-farmed flowers
Cons:
Less options to choose from
No single-variety arrangements
Size options: Medium or large (30 to 55 stems)
Personalized message: Yes
Delivery price: Free
Vase starting price: $10
Primarily a wedding florist service, Poppy aims to keep costs low and quality high. The brand provides couples with a floral designer, sustainably-farmed flowers, and a local arranger for day-of installation. Beyond these wedding services, Poppy offers a handful of at-home arrangements you can design by following the brand's instructions or watching a video tutorial. There are 10 kits to choose from, each including 30 to 55 stems (depending on whether you choose medium or large). Adding a vase is optional.
Comments from reviewers are overwhelmingly positive, particularly about the quality and quantity of blooms in the Poppy DIY kit. Several people say their flowers lasted well over a week.
If this is a gift, you'll want to be sure the person receiving the flowers is up for playing florist.
Advertisement
This ad is displayed using third party content and we do not control its accessibility features.
Best luxury flower delivery: High Camp Supply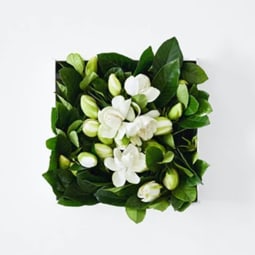 Pros:
Sensory experience boxes make for a unique gift
Cut-to-order from a sustainable farm in California
Cons:
Only offers gardenias and lilies
Size options: N/A
Personalized message: Yes
Delivery price: $30
Vase starting price: N/A
Ready for something completely unique? This flower delivery service specializes in packaging fragrant gardenias into a sensory gift with a luxury feel. Its baseline offering, the Vine & Bloom Discovery Box, is a bundle of cut-to-order loose gardenia blooms and nine budding vine gardenias in a black or white box.
Larger boxes expand on the Discovery Box by adding Casablanca Lilies, cylindrical vases, or one of the brand's luxury candles. You can float the blooms in a bowl of water (where they'll last for 3 to 4 days) and place the vine gardenias in vases (they'll blossom over 2 to 3 days).
It goes without saying that this is the most expensive flower delivery service on our list. And, because the gardenias are cut-to-order, selecting a specific delivery date will cost you an additional $15 (on top of a $30 delivery fee). But if this fits into your budget and you're looking for a truly unique gift, these boxes are sure to impress.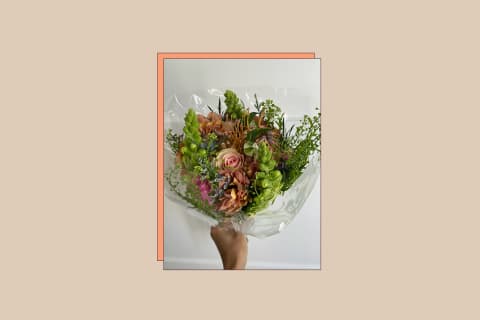 Image by Carleigh Ferrante / mbg creative
How to choose
When it comes to picking a flower delivery service, there are a few important factors to consider:
Budget: Once taxes and delivery costs are accounted for, the price of flower delivery can add up quickly. While browsing bouquets, consider how much you'll be spending on top of the arrangement itself. With most services, it's safe to assume the total cost will net out to at least $20 higher than the listed price of your flowers.
Delivery time: How quickly do you need your blooms delivered? Some options on our list offer same-day delivery, while others are more restrictive with shipping windows. It's best to click on the delivery date options before falling head over heels with a bouquet. With some brands (like Farmgirl Flowers above) delivery dates vary by arrangement.
Variety: Whether it's a wild and rustic bouquet to a dozen elegant roses you're after, everyone has a different preference—and every flower is unique. Some brands offer more variety than others, while a few on our list require you to sit back and trust the professionals with the final result.
Sustainability efforts: Some picks on our list shine brighter than others in the sustainability department. Determine how important transparency and eco-friendly farming practices are to you before making your choice. From our list, Bouqs, Grace Rose Farm, Farmgirl Flowers, and BloomsyBox are all great about sharing information about their farms and sustainability efforts.
FAQ:
What is the cheapest flower delivery service?

Prices vary based on a number of factors, including the amount of stems in a bouquet, the uniqueness of the flowers themselves, and whether the arrangement comes in a vase or not. Telefolora and Bouqs offer the least expensive mixed bouquets, but charge higher shipping prices. BloomsyBox has moderately-priced bouquets and cheaper shipping prices. Amazon has the lowest prices, especially through Whole Foods grocery delivery (however, it offers the smallest variety).
How long does flower delivery take?

Delivery speeds vary, but most online flower delivery services on our list offer next-day delivery, or at least within the week. Just remember faster delivery speeds may be more expensive. If you're in a pinch, Teleflora and UrbanStems work with local shops to get your flowers delivered same-day (note: UrbanStems only does same-day delivery in NY and DC).
Is it better to buy flowers online or in a store?

While shopping directly at a local florist means supporting small businesses and likely having more control over customization, there are some cases in which online flower delivery can be incredibly helpful. If you're gifting flowers to someone far away, using an online flower delivery service help get the arrangement safely to their door. Online shops often offer more variety than storefronts, which is helpful if you're looking for something specific.
The takeaway.
Whether you're treating yourself to flowers or sending them to someone you care about, there are plenty of online flower delivery services that specialize in getting gorgeous blooms directly to your doorstep. And, if flowers aren't the move, we have a handful of gift ideas to explore. Check out our anniversary shopping guide, gifts for the environmentalist, and for the most stressed-out person in your life.