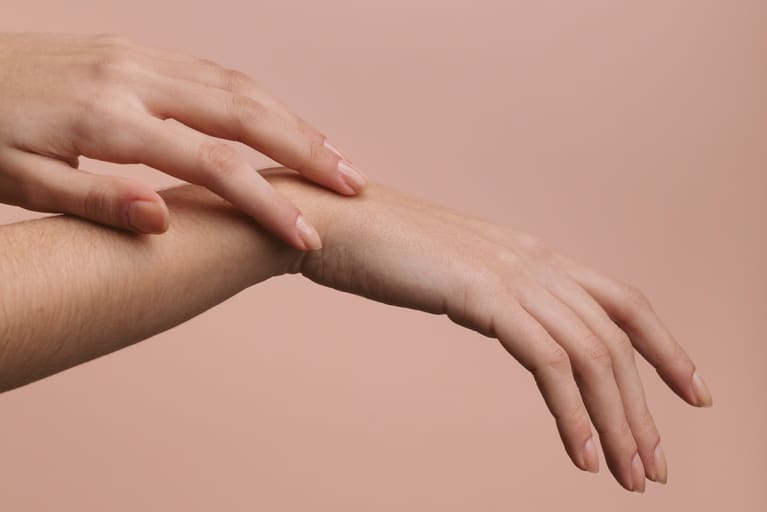 Our editors have independently chosen the products listed on this page. If you purchase something mentioned in this article, we may earn a small commission.
I remember walking through the shopping mall with my mother as a young girl and being bombarded by salespeople looking to buff our nails and douse our cuticles in oil. Each one wanted to convince us that their products were revolutionary in the world of at-home nail care. 
While our nails were certainly more glossy than normal (likely thanks to the hefty amount of oil on them), the actual long-term results weren't significant. These overpriced systems were what my mother and I like to call a scam. 
Finally, after trying countless products claiming to strengthen, restore, transform, or elevate my dull, breakable nails, I've found a holy grail that's backed by science instead of salespeople: Dr. Dana's Nail Renewal System.
Why this nail care system stands out. 
The 3-step system was created by board-certified dermatologist Dana Stern, M.D. Not only is Stern an experienced dermatologist, but she's also a part of a small group that specializes in the diagnosis, treatment, and surgery of the nail. (You could say she knows a thing or two about nail care.)
Way more than a buffing bar and a cuticle oil, this system pairs three powerful products into one treatment designed to overhaul your dry brittle nails in just 10 minutes. Here's the full breakdown:
Step 1: Exfoliating serum
Glycolic acid derived from sugar cane acts as a natural exfoliant for the nails (yes, your nails need exfoliation too). Simply twist the bottom of the pen to release the exfoliating serum, then paint it onto your nails. Let this fully soak in before moving on to the next step.
Similar to a classic buffing bar, the wand has three surfaces with different abrasive properties. Start with side one (the roughest side), and move your way up to surfaces two and three for a full buff. 
These rough textures will gently prime the nail surface, remove damaged nail cells, and allow for maximum absorption of the final product.
Step 3: Hydrating formula
Like the skin, your nails also need hydration to thrive. The final step is a gel-oil liquid, which nourishes and reinforces delicate nail cells. The end result is a stronger nail that's less prone to breakage, peeling, or brittleness. 
Simply twist the bottom of the pen and brush the formula onto your nails—and prepare for smooth, shiny, and hydrated nails for the week to come. 
If you're looking to paint your nails afterward, wait an hour to let the hydrating formula fully soak in. Think of it like letting your skin care set before applying makeup. Otherwise, you can rock the no-polish look with confidence thanks to instant results. 
Dr. Dana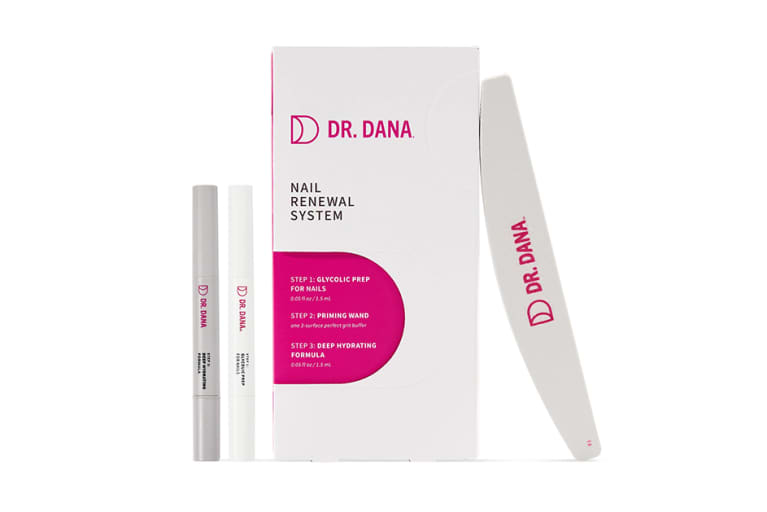 Dr. Dana
Nail Renewal System
$30
This nail treatment single-handedly transformed my nails over the three months—and I'm not alone. A consumer study of 30 participants echoed my positive experience with this system. 
After just one application, 100% agreed their nails appeared smoother and healthier, 93% agreed their nails appeared less discolored, and 90% agreed the surface of their nails appeared to have fewer ridges. These numbers only climbed with more applications over the following weeks. 
Best of all, the system lasts for three months. If you're someone that partakes in regular manis, that's the equivalent of 12 treatments. And unlike a trip to the nail salon, this system costs only $30. 
After spending years trying out underwhelming yet overpriced nail systems, I finally found an option that's backed by science and delivers glowing results in just 10 minutes. This 3-step system can be used every week either before applying polish or on its own to combat brittle, dull nails. And if you're looking to support your tips from the inside out, check out this list of the best vitamins for strong, healthy nails. 
https://www.mindbodygreen.com/articles/dr-danas-nail-renewal-system-editor