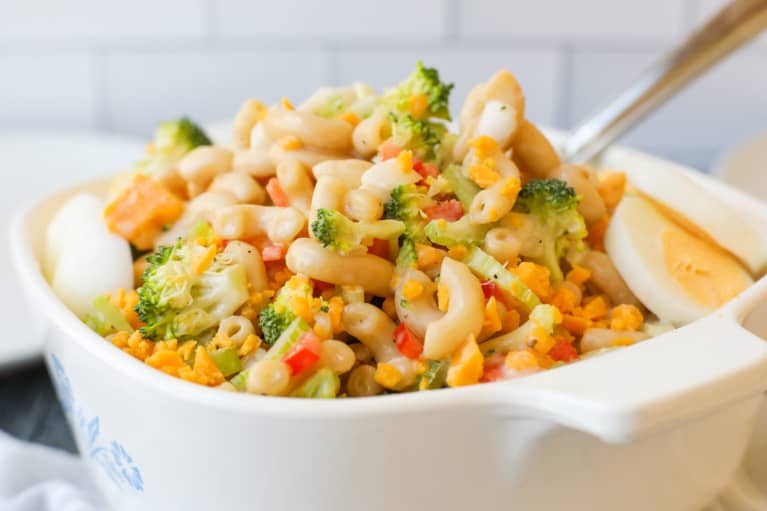 Our editors have independently chosen the products listed on this page. If you purchase something mentioned in this article, we may earn a small commission.
If pasta salad hasn't already made it to your summer menu, you're surely missing out. A filling and flavorful alternative to traditional salad, pasta salads are both highly customizable and nutritious, making for the perfect lunch when you're low on time or a quick dinner as you're running out the door. 
I've personally been in a Greek salad kick over the last several weeks, so when recipe developer and cookbook author Rachel Mansfield shared her creamy feta pasta salad to Instagram last week, I was eager to try it…but with a twist. While the recipe is already loaded with a variety of fresh veggies from red onion, to cucumber, and roasted red pepper (my favorite), any dish can always do with a little extra boost of nutrients, which is where mbg's organic veggies+ comes in. 
Adding just one tablespoon of this USDA certified organic greens powder to the already flavorful whipped feta dressing will provide a powerhouse blend of organic sea vegetables, leafy greens, berries, herbs, digestive enzymes, prebiotics, and probiotics to your meal without any extra thought. These ingredients comes with a wide array of health benefits, such as support for your body's gut microbiome, digestion, and nutrient absorption.*
Looking to get a little extra fiber in your diet? organic veggies+ is a good source that mixes easily into your pasta salad for some significant health offerings that will add a savory twist to your meal. And if you're not yet sold, this blend can even help balance blood sugar levels, leaving you feeling sustained throughout the day.* 
Creamy Whipped Feta Pasta Salad
8 ounces pasta (or gluten-free pasta) of choice
1/2 cup kalamata olives, chopped
1/3 cup tomatoes, chopped
1/2 cup cucumber, chopped
1/4 cup red onion, chopped
1/3 cup roasted red peppers, chopped
1/2 cup feta cheese
1/4 cup plain yogurt
1/3 cup olive oil
1 lemon, juiced
1 tablespoon chives, chopped
sea salt and black pepper to taste
1 tablespoon organic veggies+
Cook pasta per instructions
Run under cool water when ready in a strainer and let it strain the pasta
Add the pasta and pasta salad ingredients to a large bowl and mix together
In a blender, add the dressing ingredients and blend until smooth and creamy
Dress pasta salad with desired amount of dressing (I used it all) and enjoy! I love to let it set and marinate for a couple hours too before serving if I have time.
If you are pregnant, breastfeeding, or taking medications, consult with your doctor before starting a supplement routine. It is always optimal to consult with a health care provider when considering what supplements are right for you.
https://www.mindbodygreen.com/articles/feta-pasta-salad-with-hidden-veggies