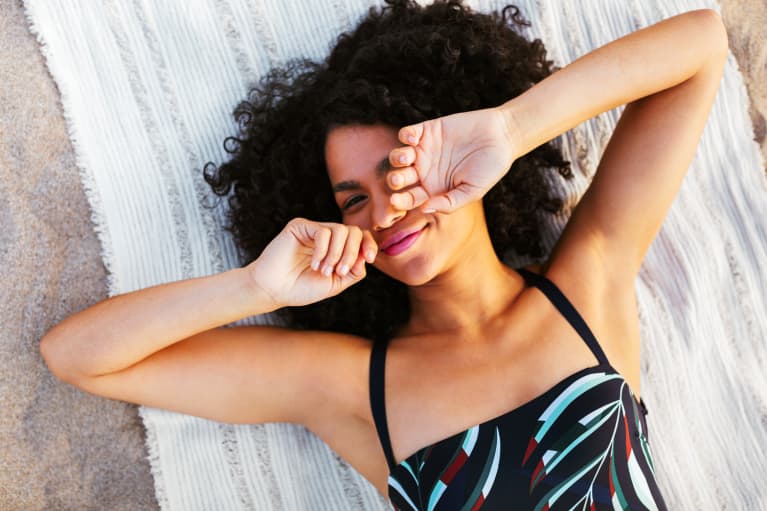 As the seasons change, so do our routines, our habits, and our go-to products. When it comes to skin care, you'll likely incorporate a stronger SPF or at least begin to apply it more often when summertime rolls around. This easy swap will help you get ahead of the common woes that come with too much sun exposure. 
While SPF is essential for topical protection, you can add one other product to your summer bag to help enhance photoprotection on the inside. Here, meet the supplement that was practically made for a beachy, summertime glow.*
Why this skin supplement is perfect for summertime.
If you didn't already know, certain foods can help combat photoaging from the inside out. Generally speaking, these are foods rich in antioxidants. When consumed, antioxidants can help buffer the skin against photoaging by absorbing UV rays, combating oxidative stress, and signaling certain pathways in our bodies. Pretty cool, right? It's a well-known fact that fruit is especially high in antioxidants (namely, those tart, deeply hued berries), but we believe one fruit stands out amongst the rest: pomegranate. 
Studies show that polyphenols, phytochemical compounds abundant in pomegranates and pomegranate fruit extracts, can enhance photoprotection in the skin.* Translation: When you consume polyphenols, your skin cells are better equipped to react to UV rays and the effects they can have on the skin.* Clinical research, including randomized controlled trials, have even found that the pomegranate extract can increase our skin's resilience to UVB rays.*
And if it's an even skin tone you're concerned about, pomegranate can assist, too: Clinical trial research shows that taking pomegranate extract in an oral supplement can actually help with sun-induced hyperpigmentation as well.* 
Not sure how to incorporate pomegranate into your daily life? (Well, other than cutting open the delicious fruit, but that can become quite tedious; not to mention, you might need to eat a large amount of the seeds often to reach a clinically efficacious serving of those polyphenols each day.) Enter, a polyphenol powerhouse like mbg's cellular beauty+. This daily skin supplement will help you protect your skin from the inside, while your trusty SPF will work wonders from the outside.*
Sun care is something that should be taken seriously, and this supplement can serve as another science-backed step in the ultimate safe sun kit for summer. 
Increasing your SPF or using it more frequently is rule No. 1 when it comes to summer skin care. If you want to elevate your sun protection for the warmer months, consider adding a skin care-focused supplement to your routine that contains antioxidants to help buffer those UV rays from the inside out.* And if you want to learn all the ins and outs of proper sun care, start here. 
If you are pregnant, breastfeeding, or taking medications, consult with your doctor before starting a supplement routine. It is always optimal to consult with a health care provider when considering what supplements are right for you.
https://www.mindbodygreen.com/articles/why-this-skin-supplement-is-perfect-for-summertime