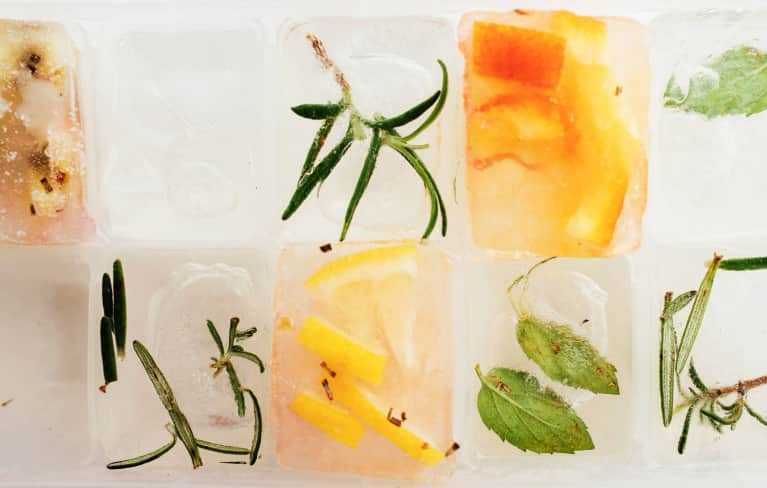 At mbg, we often talk about clever tricks for filling our days with plenty of nutrients—like starting the day with a green smoothie or green juice, or even packing dessert with brain-supporting ingredients. But for a more steady influx of nutrients throughout these hot summer days, may we suggest trying spruced-up ice cubes?
"Making herbaceous or citrus-infused ice cubes is another fun (and beautiful!) way to spruce up your water while keeping it cool," shares registered dietitian Maya Feller, M.S., R.D., CDN. It's one of the strategies she mentions for how she stays hydrated on even the warmest days—by making the hydration just a little more fun with flavor and color.
How to make your ice cubes more nutritious.
Now, hear us out: You may have tried adding citrus, herbs, or even edible flowers to ice cubes to boost the flavor of your beverages (or maybe for the aesthetics), but have you ever considered it could be a way to infuse your drinks—be it water, a juice, or maybe iced tea—with extra health benefits?
To make it extra easy, we reach for a superfood powder, like mbg's organic veggies+. This particular organic blend offers dark leafy greens and harder-to-get sea veggies (like kelp and chlorella) alongside berries, vegan digestive enzymes, prebiotic fiber, and probiotic bacteria. And, by mixing it with water, you can make a base for ice cubes that add micronutrients and more to your hydration routine.*
Here's how to make them, with only a few ingredients (and a little patience, of course).
Extra-Nutritious Ice Cubes Recipe
16 oz water
1 tbsp mbg organic veggies+
Optional additions: lemon juice, herbs, or berries
Equipment: a screw-top jar and an ice cube tray
Pour water into a jar (or cup) with an easy-to-seal lid.
Scoop in the tablespoon of greens powder, and add any extra mix-ins you may want. Close the lid and shake the container until well mixed.
If you're adding whole fruit slices or other things you want to keep whole, consider adding them directly to the ice tray and not to the jar you're mixing in. Pour the mixture into an ice cube tray and pop it in the fridge for 4 to 5 hours or overnight.
Want to do even more to make the most of your beverages for maximum hydration? Try adding some chia seeds to your water (surprise—it can make it 10 times more hydrating, according to an M.D.).
If you are pregnant, breastfeeding, or taking medications, consult with your doctor before starting a supplement routine. It is always optimal to consult with a health care provider when considering what supplements are right for you.
https://www.mindbodygreen.com/articles/greens-powder-infused-ice-cubes