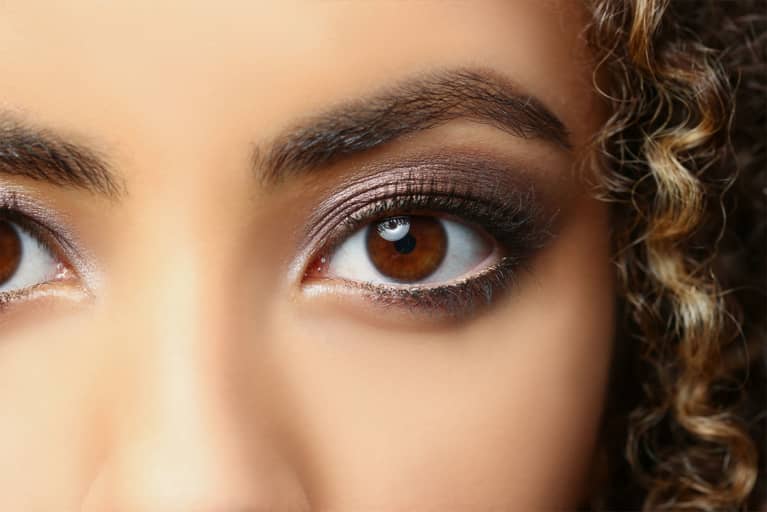 Our editors have independently chosen the products listed on this page. If you purchase something mentioned in this article, we may earn a small commission.
What are your nonnegotiable beauty tips? In our series, Essential Beauty, we tap experts for the top three techniques they absolutely swear by. Here, you'll hear from a variety of industry professionals on the fail-safe tricks they always keep in their back pockets. We're all about simplifying your beauty regimen wherever you can, and sometimes the best routines are as easy as 1, 2, 3.
The eye area is the thinnest, most sensitive region of your entire face—the first to betray a night of poor sleep, a salt-heavy diet, or overall dryness—so it requires a bit more detailed care. You may be familiar with swiping on an eye cream or concealing under-eye bags, but what about addressing the orbs themselves? Beauty fans, it's time to talk about caring for your corneas. 
Just like a lack of sleep can exacerbate dark circles, aggravating the eyeballs themselves can result in irritation, dryness, and a sleepy appearance. And according to board-certified ophthalmologist Diane Hilal-Campo, M.D., founder of twenty/twenty beauty, your makeup routine can easily become the culprit: "Sensitivity to makeup is often confused for seasonal allergies," she tells mbg. "You might notice redness, irritation, dry eyes, blurred vision, a burning feeling, a scratchy sensation in your eye (like something is in it), or tired eyes." Not only can this lead to issues with eye health over time, but the area may also appear bleary and puffy—for those who frequently grab a soothing or tightening eye cream, doesn't this seem like an important factor to consider?
It's time we discuss the bigger picture with eye care, starting with Hilal-Campo's nonnegotiable tips to keep the orbs bright and healthy: 
1.
Take care of your lashes.
You might prioritize lash care to keep your set of flutters long and full—but let's not forget that eyelash health extends far beyond a Bambi-eyed look. "Your eyelashes are important. They keep dirt and dust out of your eye," says Hilal-Campo. "When they are broken or absent from damage, your eyes become more susceptible to infections, which can be vision threatening." 
Now, there are myriad ways you can keep those tiny wisps strong and thriving (find our full guide to lash growth here), but according to Hilal-Campo, a few common mistakes can seriously mess with your lash goals, and in turn, your eye health:
First up: Please don't hold your lash curler with a death grip. "Lash curling should be done gently, so as not to damage the lashes," she says. All you need is a gentle squeeze to encourage the curl. Additionally, she suggests being very, very careful with heated lash curlers, as these can cause breakage (similar to any hot tool you might use on your mane). 
She also recommends being diligent with lash extensions, if you have them. "Many avoid cleansing them to preserve them, which can lead to infection as well as infestation of demodex, or lash mites," she says. Plus, constantly dolloping glue onto your sensitive lash line can lead to irritation and even lash loss, making it even more important to gently scrub off all the grime at the end of the day and give your eyes a breather.
Finally, make sure you keep the lashes hydrated. She recommends opting for a lash serum with minimal, conditioning ingredients—twenty/twenty beauty's Get Growing Lash Serum, for example, contains castor oil, coconut oil, and argan oil to coat the tiny hairs in moisture and keep them strong.
For those who love a bold liner look, this tip might break your heart just a little bit. But according to Hilal-Campo, consistently running eyeliner along the inside of your waterline (aka "tightlining") can block the meibomian glands, which are tiny glands that release oil onto the surface of the eyes and keep them hydrated. This blockage can actually kill those meibomian glands over time. "Once they're gone, they can't be revived, and this causes dry eye, leaving the eyes feeling gritty, sensitive, and uncomfortable," Hilal-Campo says. 
Now, lining your eyes with precision every once in a while shouldn't kill those glands, but you might not want to make it your everyday look. (Don't worry; you can still master a graphic liner game without tightlining.)
3.
Replace your old makeup. 
Many makeup products can get away with a pretty long shelf life (experts generally recommend checking on your cream formulas every 12 to 18 months unless otherwise stated on the label)—but mascara is not one of those products. "I'd recommend throwing out your mascara every one to three months," says Hilal-Campo. Since you're pumping the wand in and out of the tube before applying it to your eye areas (and repeat), it's easy for bacteria to sneak its way into the formula. 
Mascara may have a notoriously short shelf life, but it's important to make sure anything you use on the eyes (makeup brushes included!) stays clean and sanitized. You should be washing your makeup brushes at least once a week, or at least spritzing them with a gentle sanitizing spray if you're in a time crunch. 
Hilal-Campo offers her Easy On The Eyes Calming Face Mist, which includes hypochlorous acid to sanitize skin, lids, lashes, and makeup brushes. Hypochlorous acid is also produced naturally in the body and has been shown to help relieve a number of eye conditions, including dry eye.
The eye area may be tiny, but it dominates a sizable chunk of the beauty conversation. As for eye health? Not so much. But make no mistake: The health of your corneas can affect the entire eye area, and a few makeup blunders can easily irritate them over time.
Heal Your Skin.
Receive your FREE Doctor-Approved Beauty Guide
You are now subscribed
Be on the lookout for a welcome email in your inbox!
https://www.mindbodygreen.com/articles/ophthalmologists-must-have-makeup-tips-for-eye-health