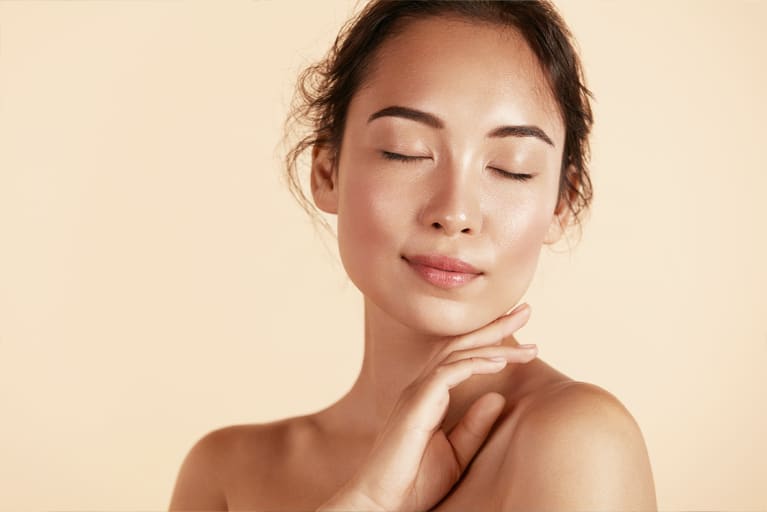 It's an age-old trick for addressing dark spots and even chapped lips: Break open a vitamin E capsule and use the contents as a leave-on skin serum. Pure vitamin E oil is quite thick and gel-like, so it makes sense why people would want to use the hyper-concentrated oil on their skin in hopes of a glowing complexion. In fact, the hack has taken over TikTok as the latest beauty "trend" to hit our algorithms.
Dermatologist Muneeb Shah, D.O., took to TikTok as well to answer the question we've all been wondering: Is this hack worth the hype?
Should you apply vitamin E oil on the skin?
In some of the more popular videos reviewing this technique, fans claim that using the capsulated version of vitamin E will offer a higher concentration of the nutrient, compared to other face oils and moisturizers that already contain vitamin E (and typically come buffered with other added ingredients). 
The truth is, "studies show very few benefits," Shah explains. In fact, it may actually do more harm than good when used in this form: Again, the oil is incredibly thick and goopy, which can be pore-clogging for some. (That's why it's common in oily, waxy formulas, like lip balms.) It's very uncommon, but topical vitamin E can also irritate sensitive skin, which is why experts always recommend patch-testing vitamin E oil before applying it directly to your face. 
However, Shah does state that, "vitamin E has a ton of antioxidant benefits," which is one of the reasons why many people ingest those vitamin E capsules TikTokers are breaking open. 
How to use vitamin E for antioxidant benefits. 
While applying vitamin E oil directly on the skin might not be the best idea, ingesting it via supplements can help provide the beauty benefits you're after, thanks to its antioxidant content.* This is precisely why we included vitamin E, along with vitamin C, in our beauty & gut collagen+. 
In case you need a reminder: Vitamin E is an essential fat-soluble vitamin. In terms of skin health, vitamin E is essential for normal collagen cross-linking. Vitamin E also helps stabilize the skin barrier, which functions to protect the body from irritants, allergens, and excess water loss.* 
What's more, sun exposure and aging increase the need for antioxidants, and vitamins C and E are well-known antioxidant nutrients that scavenge free radicals and combat oxidative stress to help maintain healthy skin and gut health, while promoting healthy aging.* So if you're thinking about applying straight vitamin E oil for a healthy barrier and brighter skin, consuming the vitamin instead might be the best way to go.*
While breaking open vitamin E capsules and using them as a serum might not be worth the trouble, ingesting vitamin E as a beauty supplement is another story. This fat-soluble vitamin is packed with antioxidant power, which have benefits that are far more than skin deep.* You can read all about antioxidants here and find out which ones are top notch for glowing skin.
If you are pregnant, breastfeeding, or taking medications, consult with your doctor before starting a supplement routine. It is always optimal to consult with a health care provider when considering what supplements are right for you.
https://www.mindbodygreen.com/articles/should-you-apply-vitamin-e-to-face-better-option