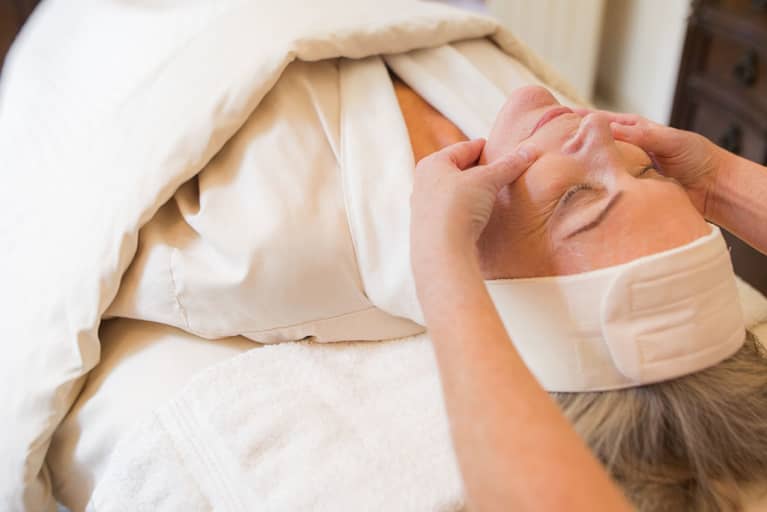 Our editors have independently chosen the products listed on this page. If you purchase something mentioned in this article, we may earn a small commission.
There's much you can do on your own to promote skin longevity, including but not limited to: a diligent skin care routine, lifestyle habits (like regular movement and quality sleep), and even targeted supplements. Still, sometimes it helps to consult the pros. Professional facials are an investment, no doubt, but if there's a specific aging concern you'd like to address, these services can prove quite helpful. 
A ton of spa menus offer some version of an "anti-aging" facial—while there is nothing that can truly halt the aging process (and you shouldn't want to! Aging is living!), these facials target specific signs of aging so you can secure long-term skin health. What does this facial entail, exactly? So glad you asked—allow us to dive in below. 
What is an aging facial? 
"An aging facial is a targeted, specific facial that combines a range of non-invasive modalities to provide effective results on wrinkles, skin-tightening, hydration, brightening pigmentation, and overall signs of aging," says master esthetician Sarah Akram. The term does seem a bit vague, as it casts a rather wide net; essentially, an "aging" facial is really just any type of rejuvenating facial that promotes collagen production and increases cell turnover. 
Think firming or microcurrent to lift and tone, LED light (especially red LED light) to support elasticity, lymphatic drainage to improve circulation—it covers basically any common concerns someone with mature skin might have. 
Every aging facial looks a bit different, depending on what specific concerns you have, be it tone and texture, fine lines and wrinkles, or sagging. However, here are some of the most common services the pros will provide: 
"I always start by asking a lot of questions during the first few minutes of the facial, especially if it is the first time I am seeing the client. It's important for me to know things like how much someone is outdoors, if they are experiencing high levels of stress, and even sometimes what their diet is," says Juli Garrido, esthetician at Face Haus. "From there, I can make an informed decision when choosing between a chemical peel to improve texture and [ease] sun spots, microcurrent to address sagging skin, or cupping and gua sha for improved circulation and detoxification." 
Microdermabrasion is a micro-targeted exfoliation technique that involves crystals or a metal grit to suck debris from your skin—imagine a mini vacuum, suctioning up all the gunk. This method can help smooth skin texture and even tone, if you're hoping to address dark spots and signs of photoaging.     
"A few steps I always incorporate while treating a client with skin aging concerns are a lifting/toning facial massage to mechanically lift, followed up with microcurrent to really enhance that lift and tighten the muscles," says Akram. During this step, an esthetician will use a handheld electromagnetic device that sends gentle jolts of energy to stimulate your skin cells—this, in turn, can "exercise" the facial muscles and make them appear more toned and lifted. 
You can read all about microcurrent facials here. 
Many aging facials will include a few minutes of LED light therapy, as the technology works in tandem with other treatments and can even enhance certain results. Red light, in particular, is great for stimulating collagen production and addressing aging concerns: "[It goes] deep into the dermis layer and is great for healthy aging, targeting wrinkles and fine lines," says Akram. 
Find everything you need to know about LED light therapy facials here. 
A lifting and toning facial massage is an important step for aging facials, says Akram, but for those looking to further encourage circulation, focusing on specific meridians of the face via lymphatic drainage can help drain excess fluid, encourage flow, and improve the skin's appearance. An esthetician or licensed acupuncturist might use their hands, a gua sha stone, or facial cupping tools, but the point is to clear lymph buildup and help vital nutrients reach the skin cells—and nourished, happy skin cells appear way more radiant. 
Find our full guide to lymphatic drainage facials here. 
Perhaps this goes without saying, but anyone with skin aging concerns can benefit from an aging facial. And because the pros can customize each facial to target your particular skin type, even those with sensitive or breakout-prone skin can benefit from this type of service. Essentially, this facial is a generalist: "Anyone who is living is aging, so anyone can benefit!" says Garrido. 
Even those without specific skin aging concerns might want to dabble in this type of facial every once in a while. After all, addressing potential concerns early-on is the key to warding off signs of aging for as long as possible. No, you cannot avoid fine lines and wrinkles forever, but you can delay their arrival; and early intervention "is so much more effective than waiting until after the effects of time and our environment begin to show up on the skin," Garrido adds. 
Aging facials consist of multiple approaches, but you should know your limits. Just like you wouldn't layer on a retinol serum after using an AHA toner and cleanser (ouch), you might not want to opt for all of the above treatments in a single session, lest you overwhelm your skin. Don't worry; you and your esthetician will select the best services during the consultation step. "I am usually able to incorporate at least one thing into a session that leads to improvement," says Garrido. 
Other than that, it's best to consult your doctor if you have any lingering concerns or questions, especially if you're thinking about lymphatic drainage or microcurrent—remember, the lymphatic system is part of the immune system and microcurrent devices deliver electrical pulses to the body. 
"I usually ask my clients to stop using any exfoliants (retinols, AHA/BHA serums and creams) and avoid excessive sun exposure 72 hours before their [facial]," says Garrido. Akram agrees: You may even want to take a picture of your entire skin care line-up to show your esthetician beforehand, she says. 
And after any kind of facial, be sure to follow general best practices: Go easy on potent exfoliators and retinoids for the time being, nourish your skin with hydrating ingredients, and protect your freshly cleansed skin from the sun. 
Finally, don't expect lasting results after just one session. "You will definitely notice a difference in the way your skin feels after your first treatment, but lasting change happens over time," says Garrido. Results are cumulative, which is why experts recommend you opt for a professional facial every four to six weeks, if you can swing it. "It took years for these signs of a life well lived to emerge, so patience and consistency are the secret ingredients to great results," Garrido adds. 
And at the end of the day, it's also up to you to put in the work between facials. That said, you can address aging concerns (and see noticeable improvements) with your regular skin care routine. Think: retinol, AHAs, daily SPF, and powerful antioxidants. You may also want to consider daily beauty supplements to support the skin internally.* "As with anything in our bodies, it is what we do each day that makes the most difference," says Garrido. The facial just provides a bit of a boost. 
Aging facials are super general, since they target a variety of skin aging concerns, and an esthetician might perform different services depending on what exactly you'd like to address. However, that means aging facials can provide tons of benefits, even for those who might not be dealing with signs of aging quite yet. If you don't think an aging facial is right for you (totally fine!), feel free to check out the six other types of facials to find the service best suited for your skin goals. 
If you are pregnant, breastfeeding, or taking medications, consult with your doctor before starting a supplement routine. It is always optimal to consult with a health care provider when considering what supplements are right for you.
https://www.mindbodygreen.com/articles/anti-aging-facial