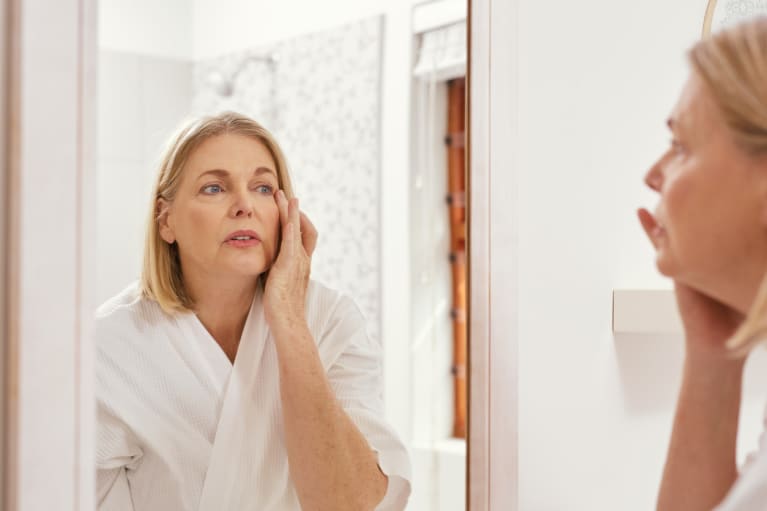 Crepey, loose skin is a natural part of aging. The fragile skin texture happens to us all at some point, but it is possible to delay the process—or, at the very least, avoid accelerating it. 
And, look, you can practice safe sun, use retinol serums, and implement all the face massages you can fit into your daily routine, but at the end of the day, collagen breakdown is the final culprit. That said, to actually address crepey skin, you'll want to prioritize collagen support. Here's how to do just that.
How to support your collagen levels.
As you age, the balance between production and degradation of collagen begins to tip, with the scale pointed toward the latter. As those collagen levels decline, this can lead to crepey, sagging skin. You can take a collagen supplement to support those natural levels (we've already covered how collagen supplementation can address crepey skin; you can read about that here), but you should keep an eye out for another ingredient as well: antioxidants.* 
"Whether taken internally or applied to the skin, antioxidants can [address] collagen breakdown by decreasing the amount of free radicals in the skin,"* board-certified dermatologist Joshua Zeichner, M.D., once told mbg. 
Vitamin C, in particular, has been found in research to support the production of collagen and to help stabilize it (in fact, your body cannot effectively produce collagen without the antioxidant).* "Vitamin C is a necessary co-factor for the production of healthy collagen, and without it, new collagen cannot be properly made,"* Zeichner adds. Vitamin E is also another important antioxidant, as it protects against collagen cross-linking, a process that plays a role in skin aging.*
So when it comes to healthy, youthful skin, you might want to think about targeted antioxidants as well. To save precious time searching the supplement aisle, you should know that our beauty & gut collagen+ formula is thoughtful enough to feature both vitamin C and vitamin E, as well as a healthy dose of collagen (duh), which enhances collagen production by stimulating fibroblasts, those same cells that make collagen and elastin to begin with.* No wonder comprehensive reviews of clinical trials, like this 2021 systematic review and meta-analysis, demonstrate the ability of collagen supplements to improve skin hydration and elasticity while reducing wrinkles.*
Aging is a beautiful thing, but we can agree that we'd rather our skin ages with us, not before us. In order to support collagen production, look to collagen supplements that contain antioxidants, specifically vitamins C and E.* And if you want to learn more about how antioxidants benefit the skin, read up on antioxidants and glowing skin here.
If you are pregnant, breastfeeding, or taking medications, consult with your doctor before starting a supplement routine. It is always optimal to consult with a health care provider when considering what supplements are right for you.
https://www.mindbodygreen.com/articles/collagen-breakdown-leads-to-crepey-skin