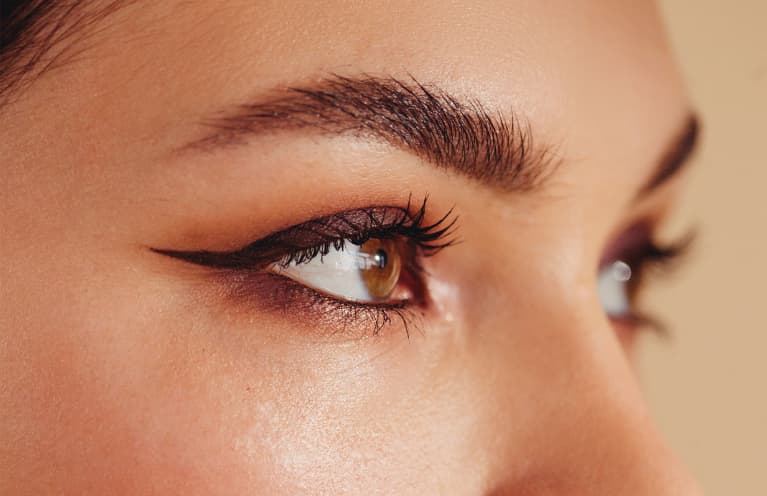 Our editors have independently chosen the products listed on this page. If you purchase something mentioned in this article, we may earn a small commission.
We know that makeup can be transformative—but apparently, it can also foster love at first sight. Namely, a specific eyeliner technique has reached viral status on TikTok, thanks to its ability to attract potential lovers. 
Just take a peek at the zillions of comments on one of the videos, led by creator Michelle Diaz: "I tried this on a first date last night," one user writes. "He told me, 'I can't stop looking into your eyes. I'm infatuated by you.' Don't sleep on this [trick]." Another user (who works at a restaurant) even revealed that whenever she dons this eyeliner look, she receives over $175 in tips. The best part: It only requires four dots of eyeliner and about three seconds of your precious time. 
What makes this eyeliner technique so swoon-worthy? And, uh, does it really work? Find out what the experts know, below. 
How to master the four-dot eyeliner hack. 
Of course, you'll need the right eyeliner: Make sure to choose an opaque white number that delivers high impact, or else the dots might lose their drama. A liquid formula might be best for this since these typically provide the longest wear—try this liquid liner from Lime Crime, or if you absolutely must choose a gel pencil, this option from Haus Labs deposits a long-lasting color. 
Next, look straight into the mirror and place the dots in four strategic spots: Right below your pupil underneath your lash line, above your eyelid underneath your brow bone, and on the inner and outer corners of your eye. Try to space out the dots evenly—Diaz says it helps to "do the bottom ones first" so that it's easier to line up the dots at the top of your eyes. You should wind up with a vaguely diamond-shaped outline. 
Make sure the dots fully dry before you move on to mascara, as long flutters might smudge your handiwork. Other than that, there are no rules: Feel free to swap the white liner for sparkly eye gems, or try your hand at neon dots. "This is the easiest way to make your makeup pop," says Diaz. In fact, it's probably the most low-lift graphic liner tutorial out there. 
Now, for the million-dollar question: Can this eyeliner look really make people fall in love with you? Sorry to say, but your eyeliner cannot magically cast love spells—it does, however, have the ability to enhance eye contact. 
"[It] gives you a really nice twinkle to your eye," says Diaz, which can attract attention to the orbs and influence others to hold your gaze. And as certified sex therapist De-Andrea Blaylock-Solar, MSW, LCSW-S, CST, once shared with mbg, "Research shows us that holding your gaze with someone you're interested in can really foster connection." A 2019 study also found that while eye contact may not directly affect romantic attraction, it does enhance intimate self-disclosure and reduce uncertainty toward a person. 
So let's rewind: If this eyeliner hack can draw attention toward the eyes, which can foster eye contact, which can help create a sense of intimacy and trust, then, yes, the eyeliner trick does technically wield seductive power. But it's not like the four dots themselves can hypnotize folks into falling in love—that's just not how true love works. The eyeliner can certainly kick off a conversation ("Who inspired your eye makeup?"), but then it's up to you to build upon that budding relationship. 
Strategically placed eyeliner can certainly draw attention to the eyes, which can foster eye contact and create a sense of intimacy. Does this automatically mean someone will spot you across the room and fall head over heels? Let's not dish out false promises here—but we can't ignore the power of a bold eyeliner look. Makeup should also be for you, first and foremost, but if you'd like to rely on graphic liner to strike up a conversation in a crowded bar, by all means, dot away. 
Heal Your Skin.
Receive your FREE Doctor-Approved Beauty Guide
You are now subscribed
Be on the lookout for a welcome email in your inbox!
https://www.mindbodygreen.com/articles/four-dot-eyeliner-trick