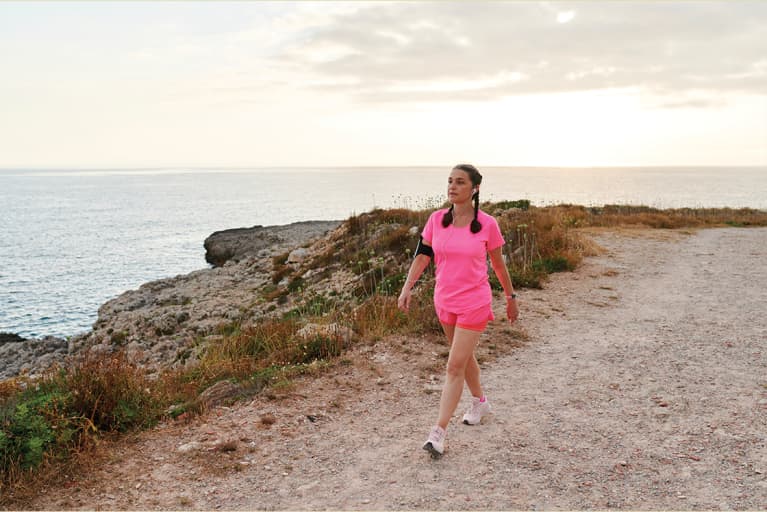 HIIT, weight training, running—there are so many types of exercise to choose from, and each offers some unique benefits to keep your health in check, strengthen your body, and improve your mood. With the rise of the "hot girl walk" in recent months, it raises the question: How much do you really need to be walking each day to reap the benefits? Well, a review for Harvard Health offers some insight.
How much do you need to walk for heart-health benefits?
Considering walking was touted as "the closest thing we have to a wonder drug" by the former director of the CDC, Thomas Frieden, it's safe to say this is a valuable form of exercise to lean on regularly for improving health in all areas. And in fact, you don't even have to walk for hours each day to reap the benefits. "Walking for 2.5 hours a week—that's just 21 minutes a day" can support your heart health, the review notes.
What's more, the perks of walking for just 21 minutes a day don't end at your heart: The review goes on to note that other positive effects of the low-impact workout may include a sharper memory, plus lower blood pressure and cholesterol. "Tension starts to ease as the road stretches out in front of you. Mood-elevating endorphin levels increase," the authors note. Moral of the story: If you haven't been out for your hot girl walk today, it may be time to go take a stroll.
If you're looking to take your walk up a notch while enhancing heart-health benefits, new studies have also shown that nordic walking is even more effective than HIIT workouts for keeping your cardiovascular well-being in check. Not many people have nordic walking poles readily available in storage, however, so if you can only go for a regular walk, your body will still thank you.
It's clear that walking (even for just 21 minutes per day!) is an excellent, well-rounded form of exercise that supports full-body health. Pair that walk with other practices, like eating nutritious foods, making sleep a priority, and taking a well-rounded supplement like mbg's ultimate multivitamin+, and you're really looking out for your long-term health.*
Taking care of your body with regular exercise is, without question, one of the best things you can do for yourself, particularly when it comes to your heart. What's better: It takes only 21 minutes of walking each day to support both your physical and mental health. So grab a friend or plug into a podcast and head out for your heart-health-boosting stroll.
If you are pregnant, breastfeeding, or taking medications, consult with your doctor before starting a supplement routine. It is always optimal to consult with a health care provider when considering what supplements are right for you.
https://www.mindbodygreen.com/articles/heres-how-long-you-need-to-walk-each-day-to-support-heart-health