Pros
Comes in two shades to better color-correct based on your skin tone
Cons
Contains silicones, in case you avoid those
Considerations: Vegan, Cream, Clinically-backed results
Four incredible actives make this cream my top pick, as they work together to address dark circles from multiple angles. The vitamin C (as aminopropyl ascorbyl phosphate, a more stable form of the ingredient) fights free radicals and addresses dark pigmentation. Niacinamide boosts hydration and barrier support. Ginzing and caffeine from coffee beans act as vasoconstrictors that reduce the blood flow to the area, which is the cause of dark circles.
Considerations: Vegan, Cruelty-free, Cream, Organic ingredients
A simple formula that packs in plant-derived nutrients that soothe reactive skin and are loaded with restorative properties. It contains a custom superfood blend of kale, spinach, green tea, and vitamins C and E. The green tea and vitamin C can address dark circles, and then the rest of the complex delivers hydration, peptides, fatty acids, and anti-inflammatory benefits.
Pros
Delightfully light texture
Cons
Not as many additional actives for skin care needs
Considerations: Vegan, Cruelty-free, Cream
An ideal option for daytime wear, this non-nano zinc oxide sunscreen is specifically formulated for the delicate eye area. Along with wearing sunglasses and hats, using an SPF-infused eye cream can protect the skin from UV damage. We love this one from Supergoop (the masters of sophisticated sun care) because it doesn't pill over your other skin care items, has a peach hue for subtle color-correcting, and can double as a primer under concealer. 
Best lightweight: Versed Vacation Eyes Brightening Eye Gel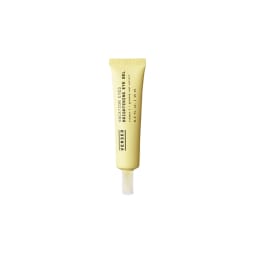 Versed Vacation Eyes Brightening Eye Gel
Cons
Doesn't address mature skin needs as well
Considerations: Vegan, Cruelty-free, Gel or serum
When it comes to eye treatments, texture can make or break an experience. Some are partial to thick, dense formulas, while others want something silky and fast absorbing. If you count yourself in the latter group, this gel is for you. The clear formula instantly absorbs into skin: The vitamin C, ginseng and niacinamide work together to refresh tired-looking skin.
Considerations: Vegan, Cruelty-free, Cream, Organic ingredients, Clinically-backed results
This soft, silky cream uses a totally underrated skin care ingredient: vitamin K. It's actually most commonly found in medicinal skin care products (like those used by patients after surgeries or those with skin injuries since research shows it significantly reduces healing time of skin). But in addition to its skin rejuvenation properties, it can ease discoloration, minimizes swelling, and soothes inflammation. In addition the formula has niacinamide and horse chestnut for hydration and brightness.
Cons
Thick texture, if you like light options
Considerations: Vegan, Cruelty-free, Cream, Organic ingredients, Clinically-backed results
A rich cream that blankets the skin in comforting hydration: This antioxidant-packed eye treatment uses a science-backed, sophisticated blend of botanicals that address almost all eye concerns (dryness, sensitivities, fine lines, dark circles, puffiness, etc.). Just to name a few: There are tree bark and licorice root extracts to target dark circles, coffee for puffiness, turmeric for soothing antioxidant support, resurrection plant extract for hydration and water retention, and more.
Considerations: Cruelty-free, Cream, Clinically-backed results
Three innovative actives keep your skin seriously hydrated, instantly upon application and throughout the day. It works so well thanks to the multiple layers of hydration: the silk extract acts as a "second skin," aiding in water retention; the Japanese white peony extract improves skin barrier function and soothes any sensitivities; the antioxidant complex protects the area against free radical damage, which can contribute to dryness among collagen decline and pigmentation.
Pros
Great for under concealer
Cons
Contains fragrance if you avoid that
Considerations: Vegan, Cruelty-free, Gel or serum, Clinically-backed results
Part makeup primer, part skin care, all amazing. This multitasking product is cooling, lightweight, and sinks in effortlessly, blurring dark circles and fine lines in the process. But the real results come from the four actives: horse chestnut extract reduces the look of puffiness, hyaluronic acid hydrates and fills in fine lines, Persian silk tree targets visible signs of exhaustion around the eye, and green tea contains caffeine and antioxidants to add luminosity.
Cons
Not as potent, targeted actives as the other products on this list
Considerations: Vegan, Cruelty-free, Cream, Organic ingredients
Fun fact: The eyes and the lips are some of the thinnest areas of skin on the face. This is why both areas need more consistent and targeted hydration and care. This product is formulated with the ability to be applied both places. The peptides work to increase firmness, and the low-molecular weight hyaluronic acid adds plumping moisture. 
Pros
Fragrance-free
PCR packaging; manufactured with renewable energy sources
Cons
Contains silicones if you avoid those
Considerations: Vegan, Cruelty-free, Cream, Clinically-backed results
This gel-cream hybrid targets more set-in wrinkles with niacinamide and collagen-focused peptides. The peptide is made of three amino acids that can support collagen in the skin, resulting in the appearance of firmer skin. Niacinamide is a powerful antioxidant that has several benefits, including protecting the collagen layer by fighting free radicals and brightening the skin.
Best with retinol: Glow Recipe Avocado Melt Retinol Cream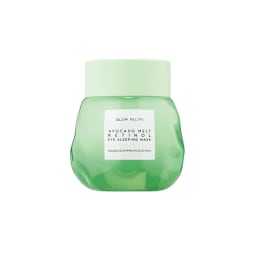 Glow Recipe Avocado Melt Retinol Cream
Pros
A very gentle retinol specific for the eye area
Ophthalmologist & dermatologist testested
Considerations: Vegan, Cruelty-free, Cream, Clinically-backed results
Retinol is an excellent ingredient to spur collagen production, ease fine lines, and a host of other skin benefits. However, it can be very irritating to delicate skin, of which the eye area certainly falls under that category. So if you want to use the ingredient to address wrinkles around the eye area, do so only with a product that's formulated as such (and ideally comes with an ophthalmologist stamp of approval!). Along with a slow-release encapsulated retinol (which makes it more gentle), this is further buffered with avocado for major hydration and coffeeberry extract for brightening and antioxidant support.  
Pros
Easy roller ball application
Cons
May have to wait a few weeks to get substantial results
Considerations: Vegan, Cruelty-free, Gel or serum
This plays the short and long game. Instantly the caffeine gets to work on puffiness and circles, helping improve their appearance in the moment. (Another instant bonus: The roller ball provides a cooling sensation, which can help address puffiness too.) Then the antioxidants pycnogenol and niacinamide work to improve the skin over time. Pycnogenol is a pine tree extract that neutralizes oxidative stress, and niacinamide can help ease fine lines and dullness. 
Best budget: The Inkey List Caffeine Eye Cream
The Inkey List Caffeine Eye Cream
Pros
Smart ingredients at an affordable price
Cons
Lightweight cream for those looking for something ultrahydrating
Considerations: Cruelty-free, Cream
Clocking in at just under $10, this is a smart option for those who are looking for no-frills efficacy. It uses a simple combo of actives that are known to help the eye area. The first is caffeine to temporarily reduce swelling and darkness in the area; the second is a peptide to address fine lines and wrinkles in the long term. The result is a one-two punch that doesn't cost a fortune.
Considerations: Vegan, Cruelty-free, Cream, Organic ingredients
Tap this luxe cream on in the evening and wake up with bright eyes and hydrated skin. The seaweed-derived amino acids can aid barrier function. Peptides ease the appearance of fine lines and enhance hydration. The antioxidant glutathione brightens the skin and fights free radicals. And a fermented ocean extract aids in water retention, for long-lasting moisture. Trust us, the results will leave you starry-eyed.
Cons
Not as strong of a brightener
Considerations: Vegan, Cruelty-free, Cream
Developed by the queen of makeup herself, this number from Bobbi Brown's clean makeup and skin care line Jones Road pairs well with any concealer. This cushiony hydrator is made with natural extracts that pull water into the skin and keep it there. This creates an ideal canvas for makeup—but if you opt to wear it all alone, it helps the skin appear brighter and dewy, too. 
Cons
Not very eco-friendly packaging
Considerations: Vegan, Cruelty-free, Gel or serum
This handy little tube of eye serum feels oh-so-refreshing on the skin (sensorially, it's an instant pick-me-up). And the ingredients are just as revitalizing. The seawater and aloe vera practically splashes onto the eye area, providing hydration. Then caffeine deals with puffiness and dark spots.
Pros
Jar is 72% recycled plastic plus 17% from sugar-cane residue
Affordable price point
Cons
The cream's texture isn't a standout
Considerations: Vegan, Cream, Clinically-backed results
If you're one to wake up with both puffy lids and dark circles, caffeine should be your ingredient of choice. Thanks to the natural caffeine extract from coffee beans, this will help visibly depuff the eye area, stat. The sodium hyaluronate is a smaller form of HA that can better penetrate the skin, delivering intense hydration. It also contains other natural hydrators to keep the skin hydrated throughout the day.
Pros
Budget-friendly
Works great under concealer
Cons
Only temporarily brightening
Considerations: Cruelty-free, Gel or serum
This option focuses on plumping fine lines and adding a layer of hydration to help the eye area appear brighter and more youthful. The hyaluronic acid is an excellent humectant that attracts and holds water, thereby plumping the skin with hydration. The cream also contains squalane to act as an occlusive layer, which can keep the water in the epidermis (i.e., supports water retention throughout the day). The dewy finish can temporarily make the eye appear brighter in the mornings, too.