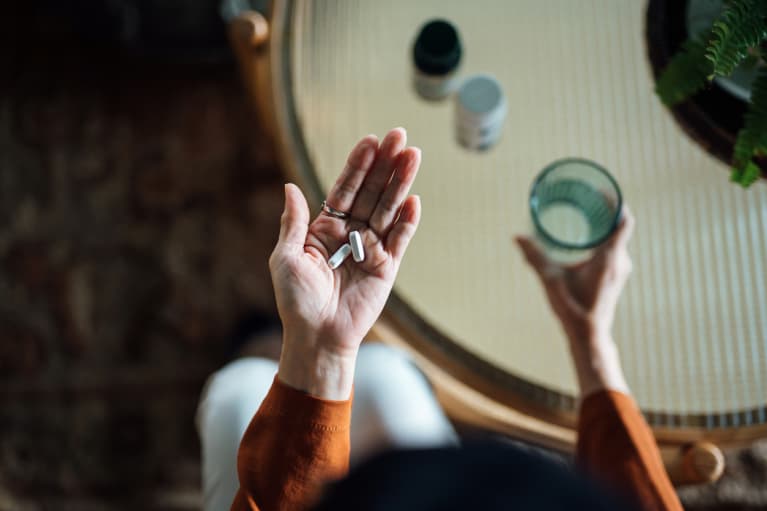 If you regularly take supplements, you can probably relate to the following scenario: You start with a few important basics like a comprehensive multivitamin, sustainably-sourced omega-3s, and targeted probiotics. Then, you may find yourself periodically adding another (and another) capsule to the collection. The end result? Potential overwhelm and a lack of motivation or focus in your nutritional supplement life.
To which we say: Make life easier and look for multitasking supplements when you can! (Your wallet will thank you, too). Here's a three-in-one option that comes in quite handy, in our humble opinion. 
Why this skin care-focused supplement is a 3-in-1.
When you look for skin-loving supplements, there are generally a few different areas to target: Antioxidants, hydration, and cellular energy and function, to name a few. (When your skin cells have more energy, they literally act younger!) That's why we combined all of these factors into one, super-charged beauty supplement, cellular beauty+.* Specifically, here's what you're getting in each serving (two vegan capsules):
2.
Hydration from the inside out.
The moisture barrier is, well, everything when it comes to hydrated, youthful, dewy-looking skin. Without hydration internally and externally, your barrier may not be top notch, which can lead to skin aging. 
To encourage internal skin hydration, we incorporated ceramides into our supplement (technically phytoceramides, which are plant-sourced ceramides). Ceramides are key lipids naturally found in your cells, and in fact, they make up the very barrier we were just talking about—they work on locking in moisture and keeping potential aggressors out. And plant-based ceramides (like the Ceramosides® found in our formula) have been clinically shown to improve skin hydration after only 15 days, with even greater benefits after 8 weeks.* 
3.
Cellular energy & function.
Let's not forget: Your skin is an organ (your largest one, in fact!). And as all other organs do, this one needs to function properly in order to maintain balance and serve its intended purpose. 
Hence, the addition of CoQ10. Coenzyme Q10 (CoQ10) is a fat-soluble enzyme helper (note, the term coenzyme) compound that's found in all of your cells. It's simply that important. Your cells need CoQ10 to produce energy and function normally, skin cells included.*
Supplementing with CoQ10 has been clinically shown to improve skin elasticity and smoothness, in addition to easing fine lines and wrinkles.* Ubiquinol CoQ10 (found as Kaneka Ubiquinol® in our formula, because it's the most researched form of ubiquinol available, and because ubiquinol is the bioactive form of CoQ10 in the body) has been clinically shown to increase CoQ10 levels in the body and promote cellular energy.
It's not unusual for people to take supplements for these three reasons separately (i.e., a standalone antioxidant supplement, a standalone supplement for skin hydration, and a standalone CoQ10 supplement), which is why investing in a multifaceted, well-researched, and high-quality supplement like cellular beauty+ is worth the price. (Did we mention the eco-friendly, recyclable amber glass bottle that also protects the precious ingredients inside from light?) After all, investing in a supplement should be based on the whole package.
Those who regularly take supplements know that the daily routine can become quite hefty, oftentimes resulting in a handful of different capsules that all cost a pretty penny. We recommend choosing the supplements that best fit your health goals and lifestyle, but it also doesn't hurt to choose formulas that tick multiple boxes (at clinically-backed doses), if you can. And if you're wondering how long it takes to see results from our cutting-edge beauty supplement, you can check out a timeline here. 
If you are pregnant, breastfeeding, or taking medications, consult with your doctor before starting a supplement routine. It is always optimal to consult with a health care provider when considering what supplements are right for you. 
https://www.mindbodygreen.com/articles/why-cb-is-3-in-1-supplement