With fashion magazines having long ago surrendered their status as the sole arbiters of style and trends to the more egalitarian Instagram, the culture at large has broadened its definitions of what's beautiful and sexy.
What's more, the old way of worshipping at the altar of "thin" has been mercifully tossed aside as fitness-as-lifestyle has made strong, muscular physiques the new goal.
From actors to musicians to athletes, celebrities are wearing the benefits of exercise and a healthy diet on their sleeves (or rather, on their biceps), and inspiring people to aim for fit over gaunt.
These are frames built for action and made for endurance, no matter what the challenge. So, please, feel free to flex along at home.
1. Alicia Vikander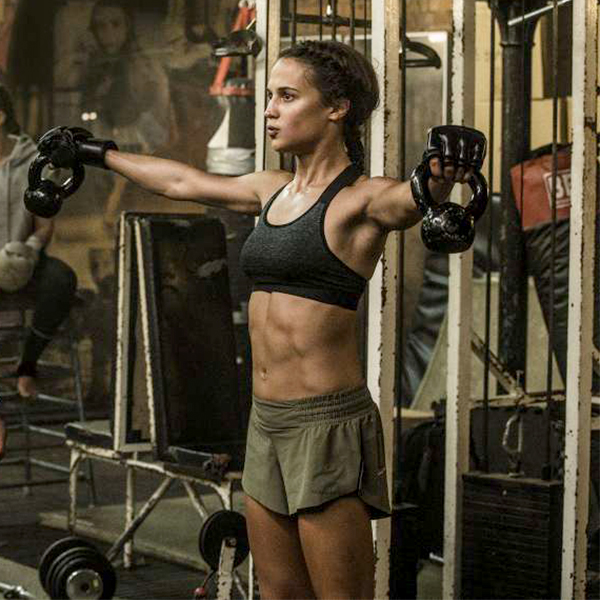 You Know Her From: The movies Ex Machina, Tomb Raider, and The Light Between Oceans.
Alicia employed the Magnus Method of interval training while preparing to play iconic video game heroine Lara Croft in 2018's Tomb Raider reboot, putting on 16 pounds of muscle in the process.
The Swedish-born actress has a dance background, which contributes to her small (she clocks in at 5'5″) but muscular build.
She also did a fair amount of mixed martial arts training as Tomb Raider — her first major action role — would ask her to portray a woman fighting for survival in the harshest environments.
2. Brie Larson
You Know Her From: The movies Captain Marvel, Avengers: Endgame, Room, and Kong: Skull Island.
When you're asked to play a superhero, you know you have to muscle up. When you're asked to play, literally, one of Marvel Comics' most powerful superheroes, you really need to step things up.
Larson, known more for quiet dramas like Room and The Glass Castle prior to donning Captain Marvel's flight suit, went all in — going so far as to push a Jeep up hill.
When you put in that work, you want to show off the results, naturally.
3. Teyana Taylor
You Know Her From: The VH-1 reality series Teyana and Iman, Kanye West's "Fade" video, the TV series Hit the Floor.
This singer, dancer, and actress stopped everyone in their tracks when Kanye West released "Fade" — an appropriately gym-set music video that showcased Taylor's gym-toned body so effectively  she even released her own exercise program called Fade2Fit.
Taylor told Women's Health she prefers dance- and movement-based exercise over straight weight lifting given her natural propensity for building muscle.
4. Angela Bassett
You Know Her From: Malcolm X, What's Love Got To Do With It?, How Stella Got Her Groove Back, Waiting to Exhale, and most recently, Black Panther and Mission Impossible: Fallout.
If there were some kind of honorary Oscar or lifetime achievement award for making unabashedly toned and muscular arms a red carpet must, it would go to Ms. Bassett.
While doing press for Mission Impossible, she credited her fitness more to diet than exercise: "You can outeat any exercise routine."
5. Hilary Knight
You Know Her From: A seven-time Olympic and IIHF gold medalist with the US National Women's Hockey Team, inaugural Isobel Cup champion with the NWHL's Boston Pride, member of the former CWHL's Les Canadiennes de Montreal.
Quite simply one of the greatest hockey players in the world, Knight has done a lot to promote the sport in her home country and internationally.
In 2014, she was featured in ESPN The Magazine's "Body" issue, and discussed the issue of body type: "There is this image of athletic women as small and petite — the yoga body type."
"Women in general, we tend to shrink ourselves and not have as much confidence as we should in presenting ourselves and our body types. It's OK to be fit and healthy and comfortable within your body, whatever frame you have."
"Since gaining 15 pounds to be at the top of my sport [for the Olympics], I've tried to shatter the body image that muscular isn't feminine."
6. Beyoncé
You Know Her From: Really?
A quintuple threat icon — singer, dancer, actress, producer, walking event — Beyoncé Knowles mixes weights, yoga, and running (in addition to legendarily high-energy stage performances like her appearance during halftime of Super Bowl XLVII) to enhance her body's natural shape and musculature.
She's experimented with different diets, too (at one point going vegan), and has sometimes come under fire for being a little extreme.
But she and trainer Marco Borges try to mix interval and circuit training into her routine to maintain her fitness and energy.
7. Emily Blunt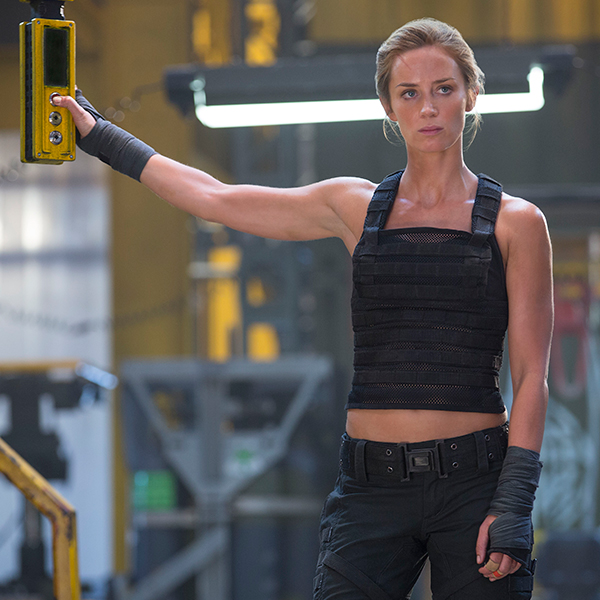 You Know Her From: The films Edge of Tomorrow, Mary Poppins Returns, The Devil Wears Prada, and A Quiet Place.
The English actress — who made a name for herself playing a perpetually dour fashionista in The Devil Wears Prada — surprised everyone when she got jacked for her role opposite Tom Cruise in the sci-fi action flick Edge of Tomorrow.
The actress underwent three months of intense training, which included martial arts as well as weapon and wire work. The actress wore a weighted vest to simulate the battle armor she'd be wearing in the film.
She told USA Today at the time: "This was six days a week, two and a half hours a day. It was brutal at first and then became addictive. I wanted her to look lethal and I wanted to go all the way."
8. Lindsey Vonn
You Know Her From: An Olympic gold medal-winning downhill skier (2010 Winter Games), she won a record eight World Cup season titles, and was one of only two female skiers to win four World Cup overall championships.
For an Olympian and world-class athlete like Vonn, being in the gym, according to her trainer Alex Bunt, "five to six days a week, year-round" isn't really all that shocking an admission.
Vonn and Bunt split her training, according to an interview with Bunt for Women's Health, between strength and agility training.
Vonn's Instagram account is essentially a tutorial on building muscle, and her modeling work has helped push strong, healthy, muscular physiques into the spotlight.
9. Evangeline Lilly
You Know Her From: The TV series Lost and the epic action adventures The Hobbit: Battle of the Five Armies, The Hobbit: Desolation of Smaug, Ant-Man, Ant-Man and the Wasp, and Avengers: Endgame.
There's a unique moment in the Marvel Studios film Ant-Man where it's Lilly's Hope Pym who has to train the protagonist Scott Lang (Paul Rudd) how to fight like a superhero.
It's something Lilly took seriously and trained for intensely, often taking to Twitter and Instagram to show off her impressive gains.
10. Carrie Underwood
You Know Her From: The singer-songwriter won American Idol in 2005 and quickly became a country music superstar.
"I've been pretty consistent with exercise for the past several years," Underwood told Self magazine in 2012. "Growing up, I was semi-sporty but didn't really do much. If I'd kept on that path, it wouldn't have ended well! I'm from the South, where there's a lot of fried food, and that's bound to show."
Underwood follows a vegetarian diet and, alongside her former NHL star husband Mike Fisher, has embraced an active, athletic lifestyle that shows.
11. Zoe Saldana
You Know Her From: The films Avatar, Avengers, Guardians of the Galaxy, and Star Trek.
Between traveling, 16-hour shoot days, and raising three boys at home, Zoe Saldana has had to make fitness fit into her schedule.
"I try to work out three times a week, but… I really don't like to be strict with my workout," she told Shape magazine.
Saldana also swears off diets and "cheat" meals so that she worries less about food and more about the things that matter to her.
12. Julianne Hough
You Know Her From: A dancer, singer, and actress, she's appeared on Dancing with the Stars, America's Got Talent, and the 2011 Footloose remake.
Hough has always been a dancer first and foremost, and her training reveals itself in her slim but muscular build.
Dancing has helped her forge tremendous core strength, and she uses it as the basis of her own dance/workout tips. She also mixes weight training with yoga, which she treats as a form of active recovery.
13. Gabrielle Union
You Know Her From: The actress has appeared in the films Bring It On ​and Breaking In, and will be headlining the upcoming Bad Boys spinoff TV series L.A.'s Finest.
Union's strong arms and shoulders have made her something of a fitness icon, an idea she readily leans into on her Instagram account, showing her intense (and sometimes competitive) workouts alongside her husband, former NBA star Dwyane Wade.
She does plyometrics, and mixes in plenty of cardio like running, biking, and stair climbing.
14. Aly Raisman
You Know Her From: This Olympic gymnast competed in the 2012 and 2016 Summer Games, winning gold and silver, respectively.
In 2016, Raisman was the oldest member of the U.S. gymnastics team… at age 21. Still, the intensity of her workouts had her talking to ESPN like a seasoned veteran.
"I feel like I'm smarter now and wiser, so I'm able to understand the importance of staying hydrated and nutrition and the recovery process. But definitely my body is a little bit more achy than it was before."
She also details how important diet is as a complement to many, many hours at the gym — downing lemon water for her metabolism, eating lots of fish, and avoiding processed food and snacking instead on lots of fruit.
15. Michelle Obama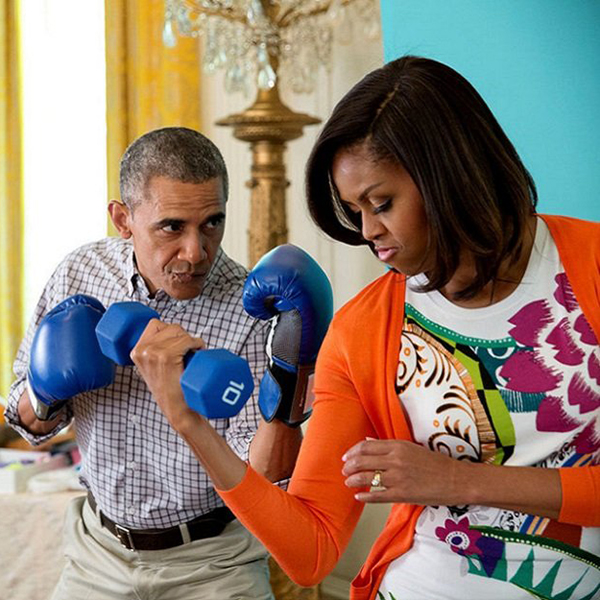 You Know Her From: The former First Lady of the United States.
It's not unusual for first ladies to become style icons, but for Mrs. Obama, it was more about her toned and strong body type than what she draped over it.
Her arms became a mini national obsession, and she combined her personal interest in fitness and her platform to lobby for health education on behalf of children with her Let's Move! Initiative.
As for the arms, she's been seen pushing 35s in the incline press.