Trader Joe's has earned a reputation for selling unique and tasty products, but one section of the store that deserves a special shout out is their spice and seasoning collection. That's because these aren't your usual salt-and-pepper fare. Trader Joe's spices are versatile, international, affordable, and are among the easiest ways to add variety to your meals and enhance flavor.
Spices and seasonings are, simply put, low-effort, high-impact culinary essentials, and TJ's has mastered this niche. Here's our guide to the 15 best spices from Trader Joe's.
1. Everything But the Bagel Sesame Seasoning Blend
If you love a good everything bagel, but don't always want to be weighed down by an entire bagel, this will change your world. Inspired by the savory, garlicky flavor of the beloved everything bagel, this seasoning blend has salt, sesame seeds, poppy seeds, and dried minced onion and garlic. This cult favorite blend amps up the flavor of…well, everything: eggs, avocado toast, hummus, Greek yogurt-based dip, roasted vegetables, grilled chicken, soup — you name it.
2. 21 Seasoning Salute
Trader Joe's 21 Seasoning Salute is a pleasantly potent mix of 21 different spices and herbs, including onion, black pepper, celery seed, cayenne pepper, basil, thyme, oregano, rosemary, and garlic (to name a few). It's perfect for seasoning meat, vegetables, and soups, and it's also versatile enough to sprinkle atop an omelet or add to a salad dressing. The best part? There's zero grams of salt, so you can reduce your sodium intake without sacrificing taste.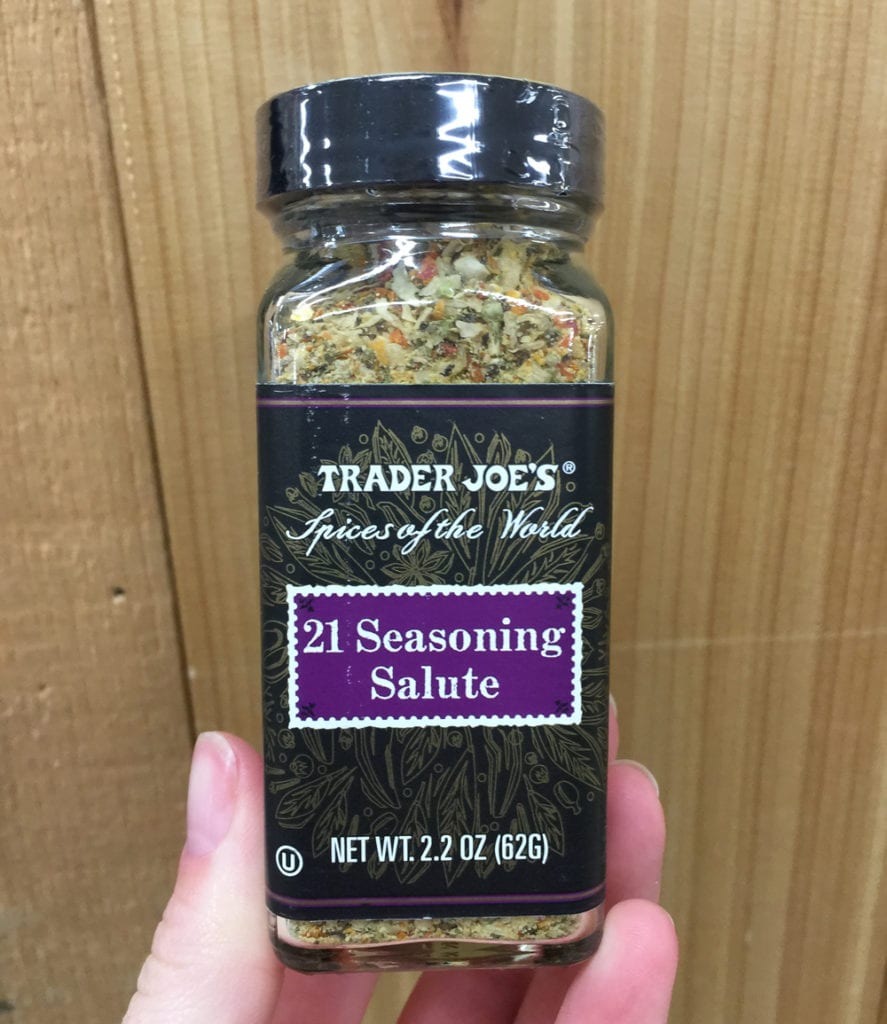 3. Mushroom and Company Multipurpose Umami Seasoning Blend
If you're not yet familiar umami, the savory "fifth taste" of foods, prepare to be amazed. Trader Joe's Umami Seasoning Blend is a savory, earthy, slightly spicy mix that includes kosher salt, dried onion, ground mustard seed, porcini mushroom powder, crushed red pepper, black pepper, and thyme. The flavor is a smooth, rich addition to soup broths, sauces, and meat rubs, and you could also dust it over roasted veggies and pizza crusts. It's not called a "multipurpose blend" for nothing — the versatility is legit!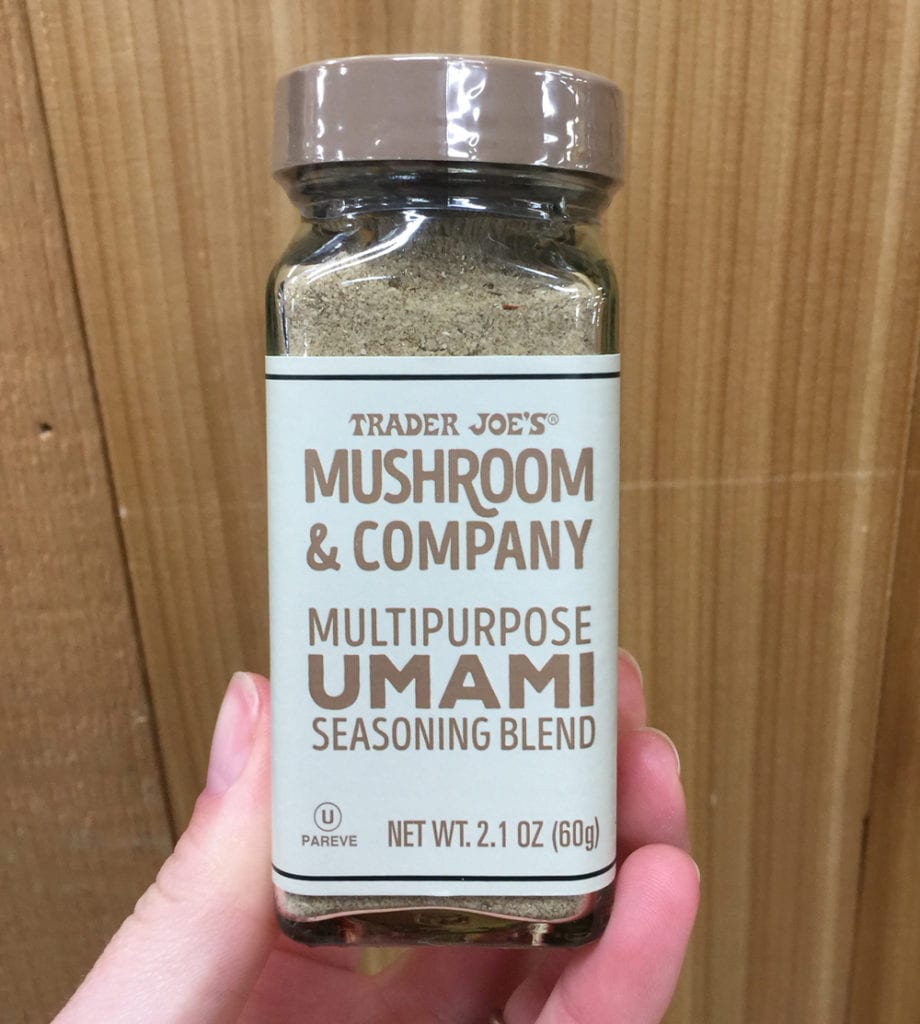 4. Seasoning Salt
Why use regular salt when you can you this cool seasoning salt? This all-purpose savory seasoning brightens the flavor of most any dish. It's a simple, but mighty blend of sea salt, granulated onion and garlic, celery seed, paprika, and dry mustard, plus a bit of ground nutmeg to balance out the saltiness. Use it as the base for salad dressings, sauces, and meat marinades, or sub it in for regular salt and pepper on sautéed veggies and scrambled eggs.
5. South African Smoke Seasoning Blend
When you're tired of your usual rotation of spices, look to this smokey seasoning. It's a delicious blend of African-grown, slow-smoked paprika and sea salt, garlic, and basil. The smoky paprika gives it a flavor similar to bacon, which makes it an excellent addition to grilled or barbecued meat, creamy pasta, and egg dishes.
6. Chile Lime Seasoning Blend
Trader Joe's Chile Lime Seasoning Blend takes everyday dishes to a whole new spicy and refreshing level. Made with sea salt, chile pepper, red bell pepper, and lime juice power, it's the ideal balance of spicy and citrusy. Use it on tacos, salads, grilled fish, chicken, or baked potatoes. Or, add a few shakes to popcorn, sliced cucumber, or fresh watermelon and mango for an invigorating, salty snack.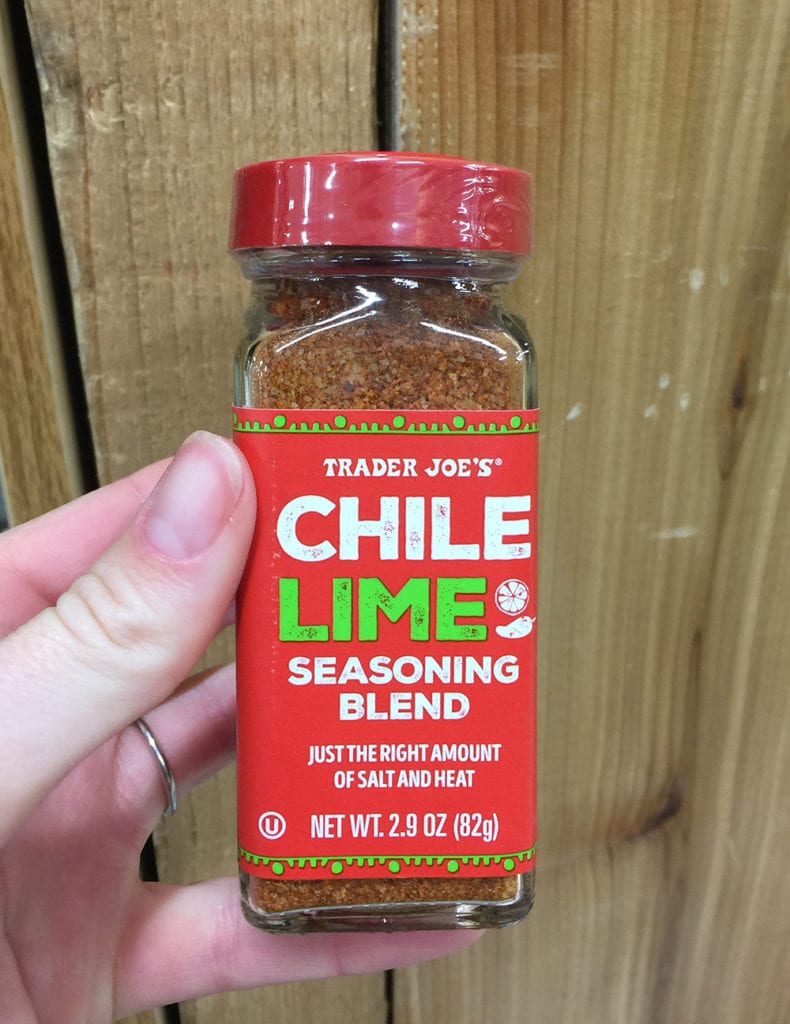 7. Onion Salt
Homemade onion dip is made easy with this Trader Joe's Onion Salt! This savory mixture includes granulated onion and garlic, plus minced onion, kosher salt, green onion, and dried chives. The possibilities with onion salt go beyond just dips: use it to season taco meat, hamburgers, or steak, sprinkle it on baked potatoes, eggs, and roasted veggies, blend it into hummus, or use it to bake your own oniony crackers or bread.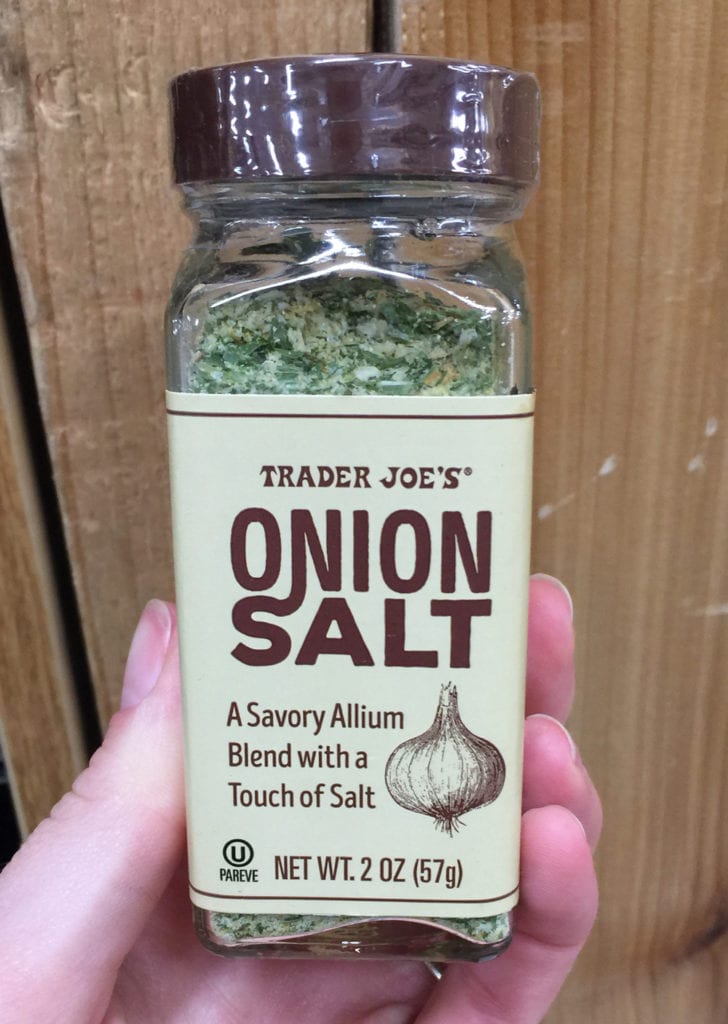 8. Dukkah
Originating from Egypt, this nut and spice blend is designed for bread-dipping purposes. It contains almonds, sesame seeds, fennel seeds, coriander, anise seeds, and kosher salt for a spicy, rich taste. Go the classic route and dip a thick slice of bread in a bit of olive oil and dukkah, or add a pinch of dukkah to hummus or salad dressing to give an extra kick of flavor.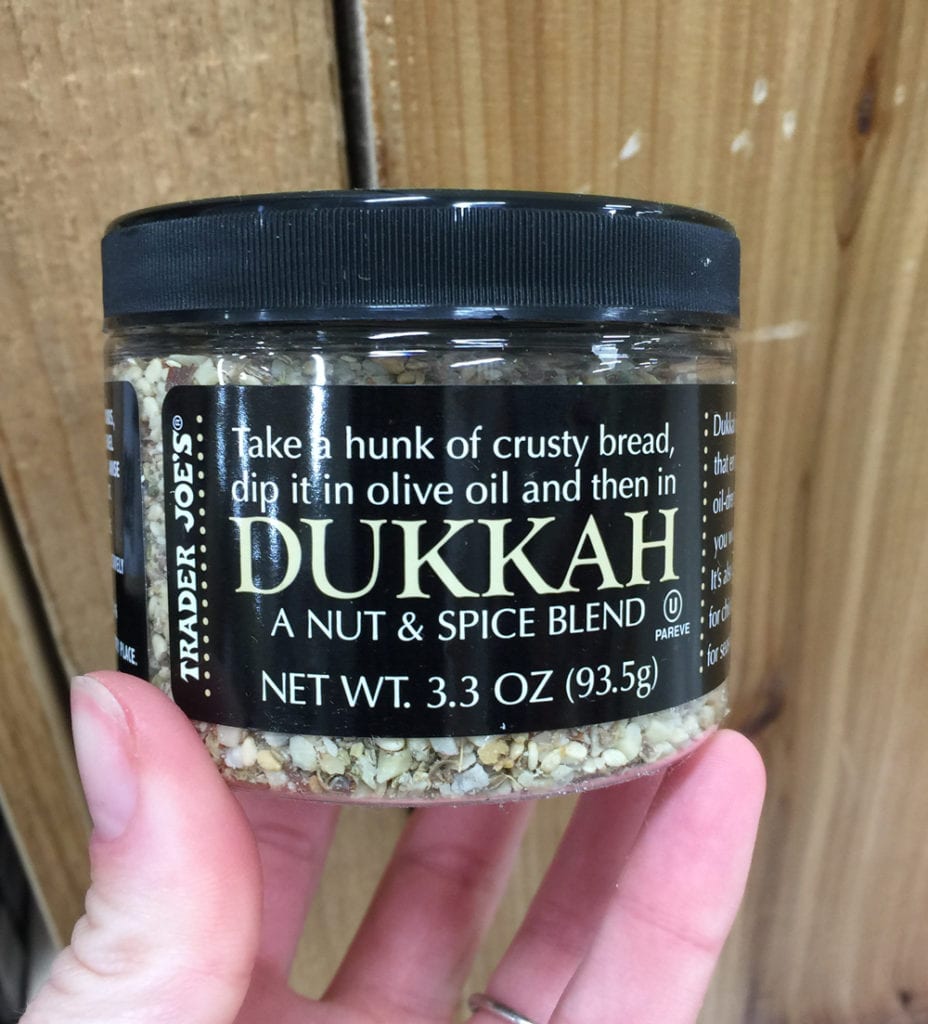 9. Vegan Chicken-less Seasoning Salt
Although chicken salt started as a food trend at fish and chip shops in Australia, it has now taken the world by storm. Trader Joe's is bringing this food craze into homes across the U.S. with its Vegan Chicken-less Seasoning Salt, made with sea salt, onion and garlic powder, turmeric, and a few other spices. It mimics the taste of chicken bouillon, but doesn't use any animal products so our friendly herbivores can still enjoy it. Sprinkle this seasoning over some freshly made french fries or use it to spruce up any vegetable dish!
10. Everything But the Elote Seasoning Blend
There's something so comforting about a fresh ear of corn that's hot off the grill and smothered in spices. Now, it's easier than ever to channel your inner elotero and make the delicious seasoned corn on the cob at home! Like the Everything But the Bagel blend, Everything But the Elote seasoning has everything you'd want on your elote — chile pepper, parmesan cheese, chipotle powder, cumin, dried cilantro and a couple other additions from Trader Joe himself. If you're not a huge fan of corn but still love the taste of this irresistible seasoning, sprinkle it onto some popcorn or even chicken for a nice kick!
11. Nori Komi Furikake
We're taking a trip around the world with Trader Joe's Nori Komi Furikake made with dried nori seaweed, sesame seeds, salt, and kelp powder. This Japanese multi-purpose seasoning is popularly used in rice bowls and other traditional dishes like udon and ramen, but you can mix it in with some eggs, rice, or popcorn. It adds a nice crunchy texture to otherwise soft food like tofu, and the sesame seeds serve as the perfect aromatic to let everyone in the house know that you're whipping up something delicious.
12. Italian Style Soffritto Seasoning Blend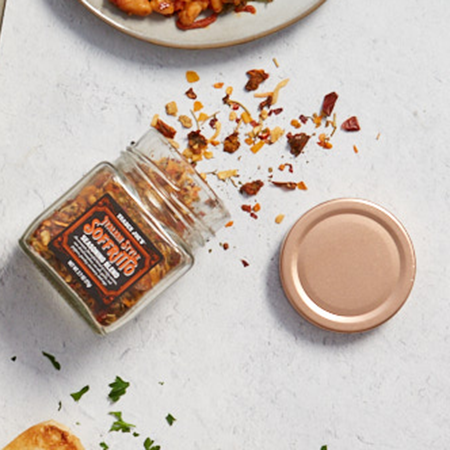 Very rarely do you get a seasoning that can really do it all, but Trader Joe's has concocted this herby and savory seasoning that you can throw on just about anything. It's got crispy onions, tomatoes, garlic, red peppers, and three herbs — everything you could possibly ask for in a seasoning. Bring the warmth of authentic Italian cooking right to your kitchen by putting this in some pasta sauce, roasted meats and veggies, and even dips and salads.
13. Cuban Style Citrusy Garlic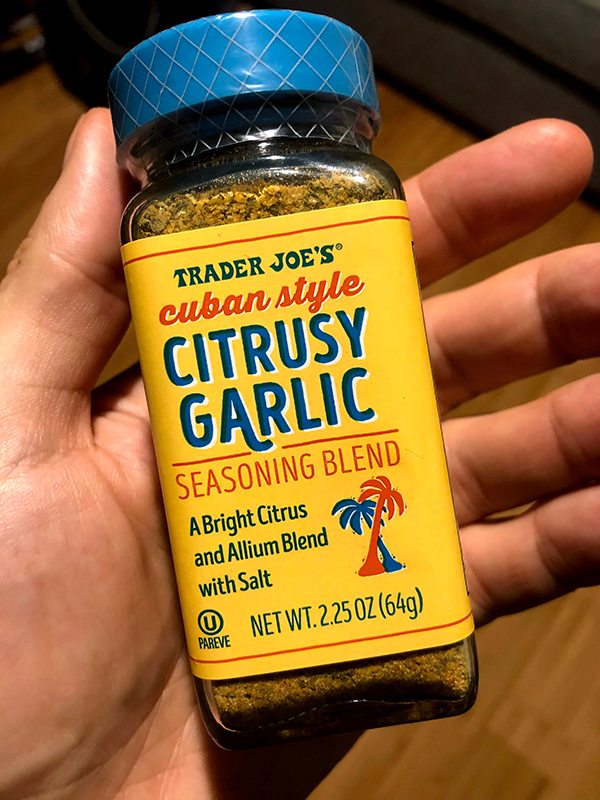 The name Citrusy Garlic might seem self-explanatory, but its combination of garlic, onion, lemon, lime, red pepper and 13 other seasonings hits at least three taste buds and smacks the olfactories with a combo that's tangy, spicy, and savory. Where TJ's Chile Lime seasoning is more chili forward, this blend takes its citrus content to 11, testing the tongue's tolerance for tartness and brightening up the aromatics of anything it touches.
14. Cheesy Seasoning Blend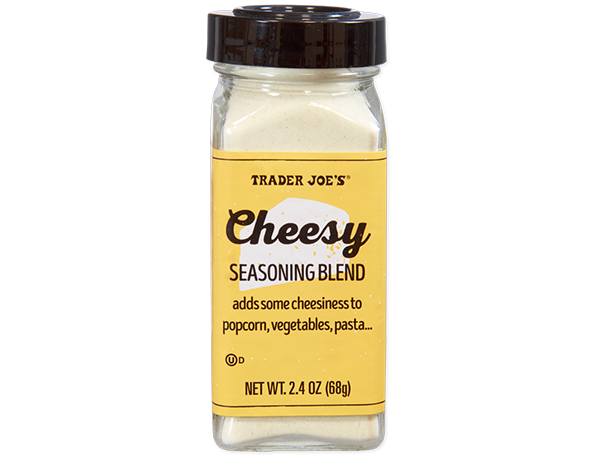 Upgrade everything from your main entrees to your midnight snacks with Trader Joe's Cheesy Seasoning Blend. Made up of powdered Cheddar cheese, garlic powder, onion powder, rosemary, and oregano, this flavorful seasoning can add a touch of cheesy goodness to popcorn, eggs, pastas, and more.
15. Green Goddess Seasoning Blend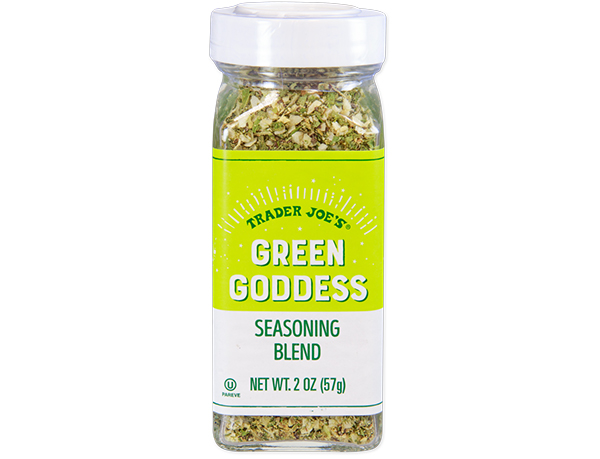 Give your meals the Green Goddess treatment with this seasoning blend. Made of onion, salt, pepper, garlic, and four greens — dried chives, dried green onion, spinach powder, and dried parsley  — this blend promises a kick of herby-freshness. Add to vegetables, proteins, or use this seasoning to create your own Green Goddess dressing.