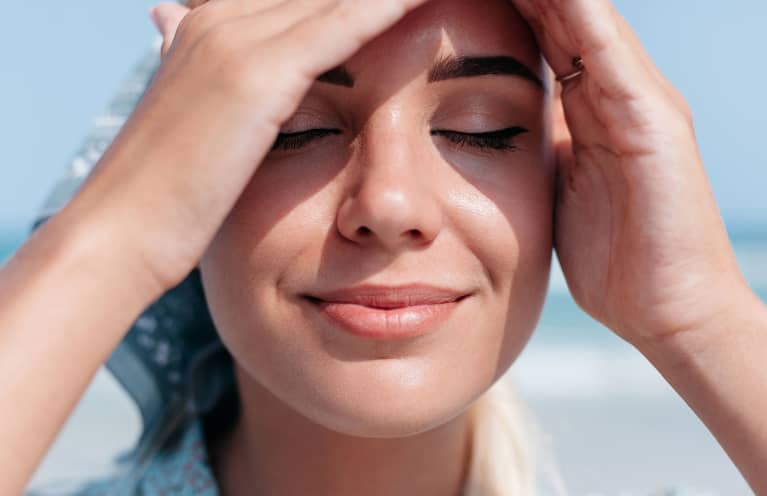 Our editors have independently chosen the products listed on this page. If you purchase something mentioned in this article, we may earn a small commission.
August 2, 2022 — 10:30 AM
When wintertime rolls around, many people reach for a vitamin D supplement to balance out the increased time spent indoors. While we highly suggest taking vitamin D year round (and avoiding the yo-yo effect), it's understandable why some people prioritize this vitamin during the colder months. It's not ideal, but it happens.
On the flip side, there are some skin-supporting vitamins you might gravitate toward during sunnier weather. Here, experts weigh in on the one vitamin that's A+ for healthy, resilient summer skin.
Why you should prioritize vitamin E during warmer months.
In these warmer months of the year, you might spend some extra time outdoors—be it a beach getaway, walk around the neighborhood, or an afternoon spent lounging in the sun. That being said, you should play it safe when it comes to sun exposure, especially if you're looking to maintain healthy skin for the long haul. (After all, those UV rays are responsible for about 80% of visible signs of skin aging.)
One way to do so (in addition to slathering on SPF, of course): upping your antioxidant intake. While vitamin C may be more well known in terms of its photoprotective properties, there's one other skin-loving nutrient you may consider: vitamin E. That's right, this oft-overlooked vitamin works overtime for skin health.*
"Vitamin E helps [enhance healthy] enzymes and cell membranes," board-certified dermatologist Kautilya Shaurya, M.D., once told mbg. "It also [staves off] free radicals," she says.*
This is essential, as free radicals can put the skin into a state of oxidative stress. When this state is extended, it speeds up the skin aging process. Specifically, it contributes to the loss of collagen and elastin fibers, resulting in fine wrinkles, sagging, and textural changes. Other studies echo Shaurya's claim, confirming vitamin E's beneficial effects in helping to ward off sun-induced skin issues and skin aging.* 
Now you're probably wondering: How do I make sure I'm getting vitamin E in my diet? While you can certainly find vitamin E in plenty of foods (sunflower seeds, almonds, pumpkin, and avocado to name a few), you can also incorporate a skin-supporting supplement with vitamin E into your daily routine—here are seven of our go-to picks, a few of which contain a daily dose of this powerful antioxidant. 
And if you find a supplement that includes both vitamin E and vitamin C, the benefits abound. "When paired, vitamins C and E provide a powerful antioxidant combination," dual board-certified dermatologist Brendan Camp, M.D., once shared with mbg. "Together, they are able to address UV-induced sun [exposure] more effectively than [when they're used alone]."*
If you're switching up your summertime supplement lineup, you may want to consider adding vitamin E to the mix. The nutrient will supply your body with antioxidants and encourage healthy, resilient skin.* And if you want to learn more about the process of photoaging (i.e., skin aging from UV rays), check out this explainer. 
If you are pregnant, breastfeeding, or taking medications, consult with your doctor before starting a supplement routine. It is always optimal to consult with a health care provider when considering what supplements are right for you.
https://www.mindbodygreen.com/articles/why-vitamin-e-is-for-summertime-from-derm