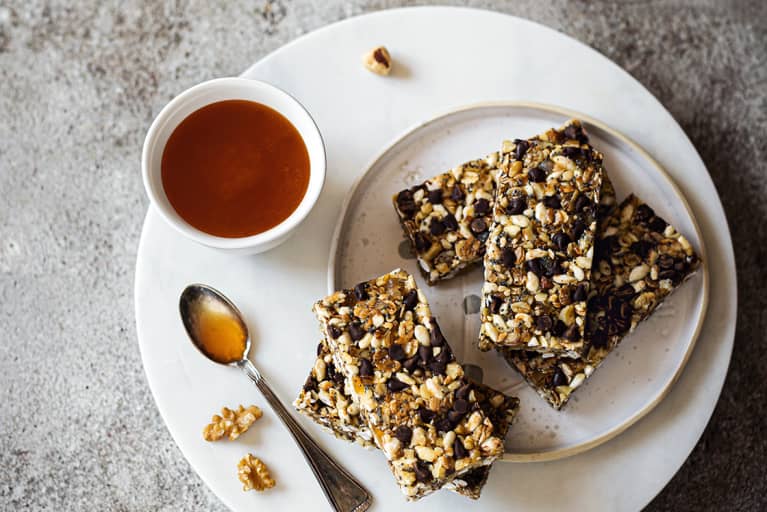 Our editors have independently chosen the products listed on this page. If you purchase something mentioned in this article, we may earn a small commission.
August 5, 2022 — 11:32 AM
Dark chocolate and peanut butter is the best dessert combination by far (peanut butter haters, don't come for me!). It satisfies your sweet tooth, yet that nutty flavor adds a slightly salty flair—seriously, what's not to love? And when you add a base layer of crunchy, shortbread-like batter, the flavors are simply divine. 
Consider mbg founder and co-CEO Jason Wachob, another fan of the chocolate/peanut-butter combo: On the mindbodygreen podcast, he shares his homemade snack bar recipe with integrative medicine doctor Austin Perlmutter, M.D., and it turns out, his go-to dessert is packed with brain-health benefits. Ahead, find all of the delicious details.
How to make Jason's homemade snack bars.
What makes these bars so brain-healthy, you ask? Well, to start, Perlmutter loves Himalayan tartary buckwheat (HTB): "This plant is exceptionally high in certain polyphenols, like rutin and quercetin, that have been linked to overall health," he explains. Rutin, specifically, has been shown to protect the brain and fight free radicals, and there's 50 times more rutin in HTB than regular buckwheat.
Flaxseeds also contain polyphenols, specifically a type called lignans, as well as omega-3 ALA and fiber. Brain-health benefits aside, these decadent snack bars are delicious and easy to make—you'll be whipping them up weekly, trust me.    
Mix the nut butter, flours, honey, and monk fruit sweetener in a bowl. 
Lay out the batter in a glass pan lined with parchment paper, and even it out with a roller. 
Drop in as many chocolate gems as you like. 
Place in the freezer for 90 minutes, then move to the fridge and slice into squares. 
If you want to punch up the health benefits even further, you could even add 1 to 2 scoops of mindbodygreen's beauty & gut collagen+ (depending on how many bars you're serving).* In addition to those brain-healthy polyphenols from HTB, you'll also get premium bioactives like vitamins C and E, biotin, hyaluronic acid, and L-glutamine, plus turmeric and broccoli extracts to support glowing skin, strong hair and nails, and a healthy gut.*
Feel free to use the unflavored or chocolate variety—both will offer the same high-quality ingredients and beauty perks, but if you're a chocolate lover, go ahead and opt for the latter. You might want to play around with the monk fruit ratio since the chocolate option already comes sweetened with organic monk fruit. But for those craving an extra-sweet treat, this collagen powder provides that perfect rich (never saccharine) flavor. 
Chocolate and peanut butter fans, you will fall in love with this easy recipe. According to Wachob, all of the above ingredients keep his blood sugar levels nice and balanced, but everyone's body is different. Feel free to tweak the measurements as you see fit, and add these delicious bars to your weekly meal prep.
If you are pregnant, breastfeeding, or taking medications, consult with your doctor before starting a supplement routine. It is always optimal to consult with a health care provider when considering what supplements are right for you.
https://www.mindbodygreen.com/articles/how-to-make-jason-wachobs-homemade-snack-bars