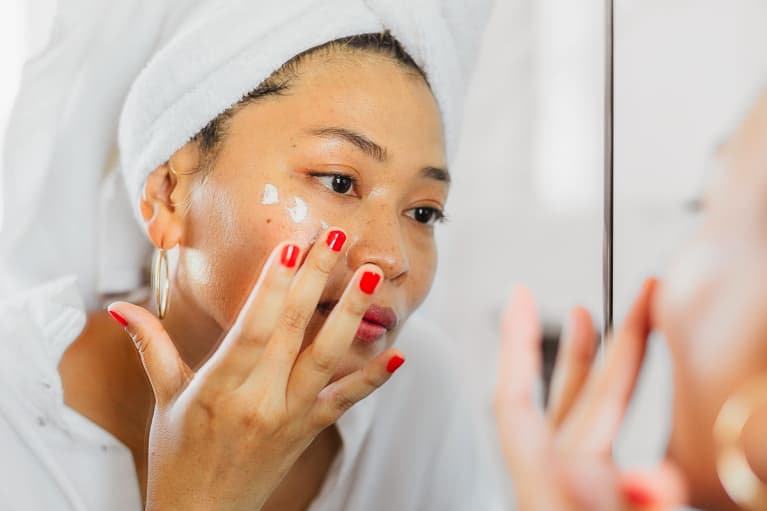 Our editors have independently chosen the products listed on this page. If you purchase something mentioned in this article, we may earn a small commission.
I'm a proud member of the "Dark Circles Since I Was A Small Child club," so I'm very discerning (almost skeptical) when it comes to brightening eye creams. In fact, there's not really much I can do about the natural shadows—the skin around my eyes is just so thin, which makes the underlying blood vessels more visible and contributes to discoloration. I'm still loyal to eye cream (the thin skin is also more prone to dryness—super fun!), but I know that it's not going to magically lighten my half-moons completely. Only a trusty concealer can nix my dark circles completely, and, boy, do I know my way around a good color corrector.
That said, when an eye cream adds color correcting pigments to the mix, I'm absolutely game. (Why not streamline the two steps?) Recently, I've been testing Ole Henriksen's upgraded Banana Bright+ Eye Crème, and it's been especially transformative for my sallow, tired under-eyes.
What makes the Banana Bright+ Eye Crème different?
The original Banana Bright Eye Crème was an instant cult-hit—so why reformulate? Well, Ole Henriksen wanted to create a vegan, fragrance-free formula that was gentle enough for even the most sensitive under-eyes (the previous iteration did include some fragrance). Plus, with the advances in vitamin C technology over the years, the brand felt it was time to create a new and improved formula. 
And that formula is pretty dang good, if I do say so myself. The hero ingredient is, of course, vitamin C, specifically three forms of the powerful antioxidant to really enhance brightness and skin rejuvenation: a vitamin C complex of ascorbic acid, master antioxidant glutathione, and real gold; the stable and brightening ​​3-O-ethyl ascorbic acid. The oil-soluble form, called tetrahexyldecyl ascorbate, notably pairs well with other types of vitamin C. Science jargon aside, just know that combining forms of vitamin C can help with the stability and efficacy of the product. For this eye cream in particular, I can certainly see the ingredients at work.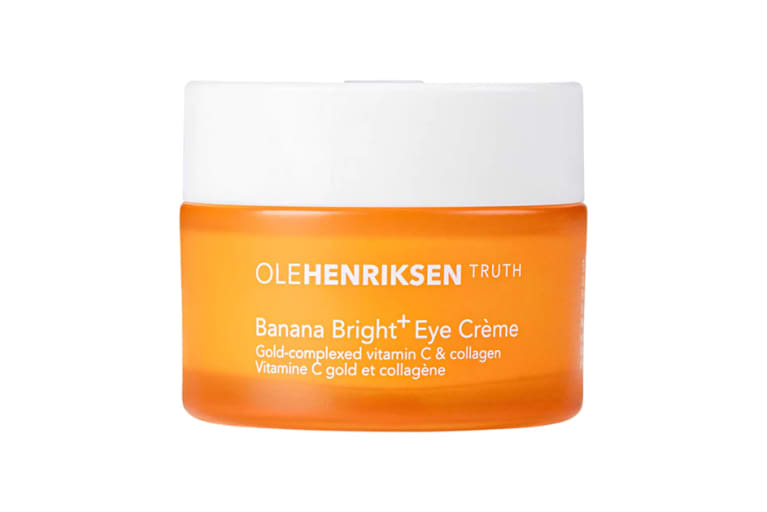 Ole Henriksen
Ole Henriksen Banana Bright+ Eye Créme
$42
Then for even more antioxidant abilities, the formula weaves in citrus bioflavonoids to fight free radicals, as well as hardy orange extract to further brighten the skin. Finally (and the kicker for me, personally), the eye cream contains light-reflecting yellow mineral pigments, which help neutralize cool shadows and color correct the area. In fact, the product itself was inspired by banana powder, which has a yellow-golden hue to help brighten and conceal discoloration. That's exactly why the brand named it "Banana" Bright—contrary to what you might think, there are no banana extracts in this formula. The name simply pays homage to the makeup artist staple. 
Thanks to those peachy pigments and skin-brightening actives, my under-eyes appear well-rested and vibrant—even without a stitch of makeup. The texture of the eye cream itself even feels like a pot of my favorite concealer: buttery and plush with a demi-matte finish.
I generally stick to eye creams with a thinner, serum-like consistency during the day, since they typically layer better under makeup (especially during summer). However, I find that this creamy, rich formula immediately melts into my skin, and thanks to the yellow-peach color correcting tones, I don't need to swipe on nearly as much concealer. It's a minimal makeup lover's dream. 
Now, I wouldn't say this eye cream delivers full coverage; rather, I'd consider it "concealer-lite," great for no-makeup days when I want to disguise my dark shadows without digging through my cosmetic bag. And honestly? I tend to stick to lightweight color correctors over concealers, anyway, especially during peak humidity (hello, August!) when the less makeup I can layer on, the better.   
A little bit of eye cream goes a long way (I use just a tiny dab for each under-eye), so the $42 formula should last you a while. Plus, I can honestly say I wear less makeup because of this upgraded eye cream—and whenever I do crave a full-coverage look, my concealer glides on so much smoother.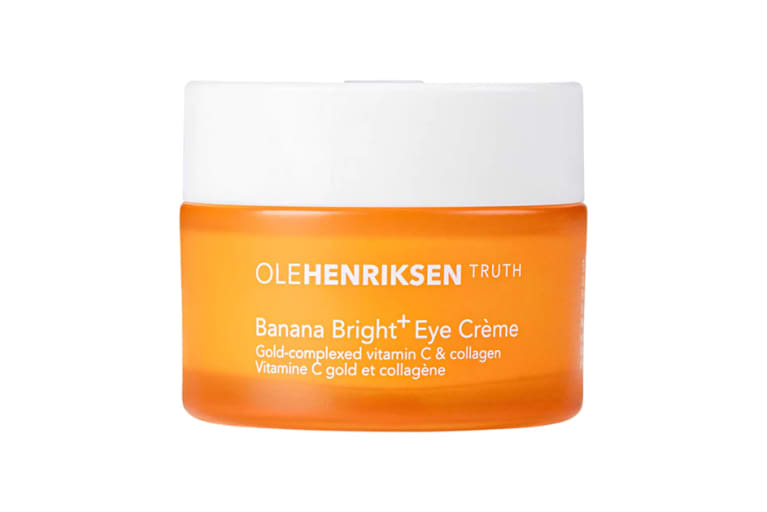 Ole Henriksen
Ole Henriksen Banana Bright+ Eye Créme
$42
https://www.mindbodygreen.com/articles/ole-henriksen-banana-bright-eye-creme-review