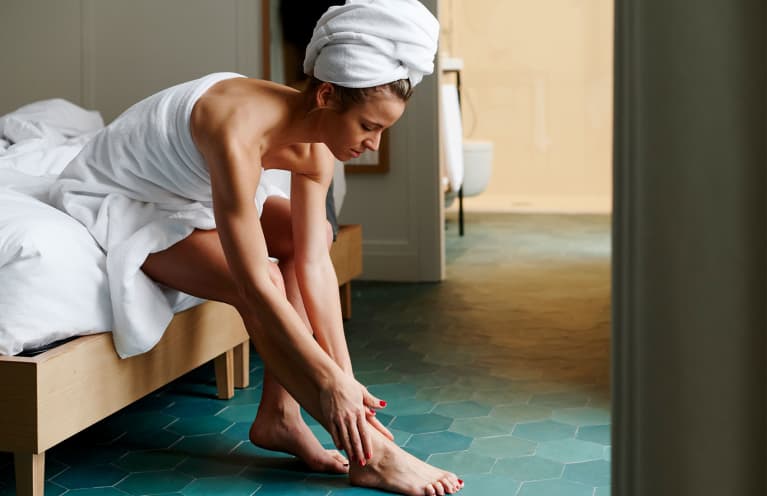 August 9, 2022 — 10:01 AM
A good body lotion contains hydrating, barrier-supporting players to lock in moisture and soften any microcracks in your skin. A great body lotion, however, can also address any skin care concerns and/or goals you might have. For example, let's say you'd like to tighten and tone crepey skin; a body lotion with skin-firming ingredients can help maintain a supple appearance. Or perhaps you want to prep an area for a smooth shave—apply an AHA body lotion a few days before grabbing the razor. 
Point being: Your body lotion can do so much more for you. And if you're hoping to fade hyperpigmentation (also called age spots or sun spots), mbg's postbiotic body lotion is the perfect pick. 
How mbg's postbiotic body lotion fades age spots. 
Two words: aloe vera. Not only is the famous sunburn soother immensely hydrating—it's been shown to increase the water content of the outermost layer of skin—but it also contains a compound called aloesin, which has natural brightening capabilities. 
In fact, one study found that aloesin was effective in treating UV-induced and post-acne hyperpigmentation when applied four times per day for 15 days. Another study found that the topical application of aloesin can directly inhibit hyperpigmented skin from producing more melanin (and when you have an overproduction of melanin, it can lead to dark spots). Additionally, aloe contains an antioxidant protein called metallothionein, which has been found to have a protective effect on skin that's been exposed to and damaged by UV rays. 
Dark spots can happen for a variety of reasons (blemishes, ingrown hairs, etc.), sun-exposure is one of the main culprits for those patches of color on the body. And yes, SPF can help prevent sun damage in the first place (and we always recommend practicing safe sun care), but using aloe vera post-sun can help prevent preexisting spots from getting darker and help them fade with repeated use. 
But mbg's star body lotion also includes CoQ10, a buzzy antioxidant that has the ability to improve skin texture and tone. See, sun damage over time can also lead to crepey skin, which tends to go hand in hand with age spots. CoQ10 protects the skin from UV radiation, which is one of the main drivers for crepey, delicate skin; the ingredient also has energizing effects for the skin cells (so they literally act younger). So if you're hoping to address skin aging from multiple angles, you'll also want this all-star ingredient on your radar—a recent market report published by Spate even named it the No. 1 top skin care trend by growth. 
High-quality ingredients aside, the praise from real users speaks volumes: "In just a month, I saw a large difference in the sun damage on my chest and arms," shopper Kathy L. writes in a review. "The dark spots have lightened pretty significantly. The lotion is my new best friend in skin care!" Another body lotion fan, Lani U., has seen significant improvement on her arms and legs. "It is moisturizing but not sticky and seems to be lightening the sun spots on both these areas," she notes. 
If you're looking for a body lotion to address skin aging concerns (be it sun spots or delicate, crepey skin), mbg's winning formula is a perfect option. We specifically formulated it to address every aspect of your skin barrier function—and when you nurture this barrier, soft and supple skin isn't too far behind.
https://www.mindbodygreen.com/articles/how-mbgs-postbiotic-body-lotion-can-fades-age-spots