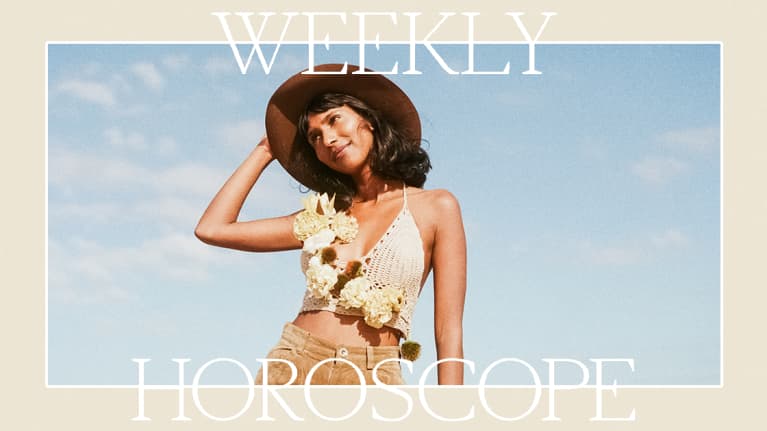 August 13, 2022 — 12:18 PM
There's a push to express yourself this week—just make sure you don't say anything too hasty. Here's your horoscope, from the AstroTwins.
Good luck NOT wearing your heart on your sleeve this week, as jovial Jupiter in Aries envelops amorous Venus in Leo in a passionate embrace.
With these planets striking such a sweet (and sexy!) chord, relationships of all manner will just click. And with both Venus and Jupiter in fire signs, the buzz of excitement will spread like flames.
With Jupiter retrograde, however, there's a tendency to idealize or put the carriage before the horse. Instead of letting chemistry burn wildly, contain the blazes strategically. Then you can direct the heat towards your desired venture…or should we say, co-adventure!
On Saturday, passionate Mars blazes into persuasive Gemini, turning the world into an open marketplace for an extended seven months.
It won't take much convincing to get people on board with any wild schemes, but here's the catch: If you want to maintain their trust, make sure you can deliver the goods!
The red planet is spending a prolonged period in the sign of the Twins—as opposed to its usual seven weeks. There's no wriggling out of any promises penalty-free.
Caution: This transit can also bring out the smooth-talking salespeople. Don't rush into any dynamic duos. Be especially cautious while Mars is retrograde from October 30 to January 12.
Monitor your screen time, too. With stressful Mars in this gadget-loving sign, a digital deluge of texts, alerts and electronic info could quickly devolve from "stimulating" into fraying your nerves.
In love, talk might be cheap, but for the next seven months, it's undeniably hot!
As lusty Mars logs into loquacious Gemini for this extended cycle, racy repartee becomes an art form. Fearless Mars favors bold expression—and during the hot-tempered retrograde cycle from October 30 to January 12, avoid any possibility of your messages being misconstrued.
Variety is the spice where Gemini is concerned, so mix it up with new locations, positions, role-playing, toys, whatever! Attractions may be fast, fickle and fleeting, however. Don't start planning the wedding after the third date. If your attention span is short, don't worry. Just make sure you're not leading anyone on.
Couples may argue more or treat each other with brusque impatience. Remember that respect is the foundation of any lasting relationship. If insults or contempt creep into your dynamic, stop and address the frustration behind your biting (and fighting) words. Or, save your edgy talk for the boudoir!
https://www.mindbodygreen.com/articles/weekly-horoscope-for-august-15