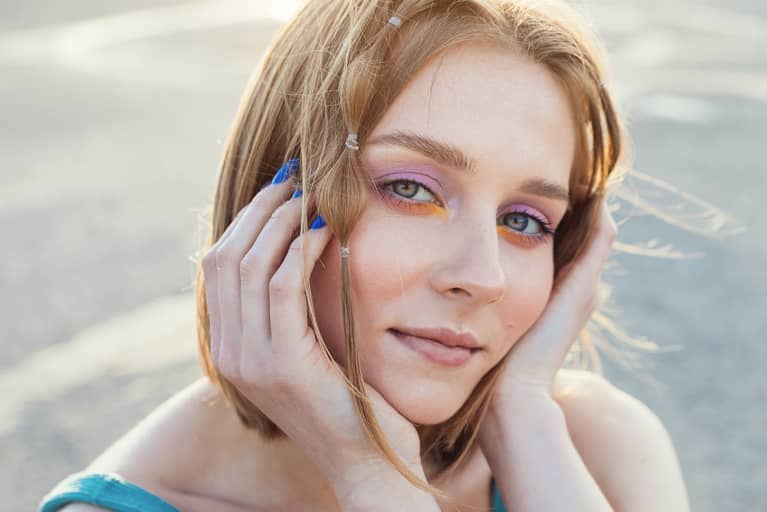 August 16, 2022 — 3:07 AM
As the 90s showed us, brow trends are not always forgiving. Plucking almost every hair to create pencil-like wisps was not so fun a few years later when full, fluffy brows made a strong return. 
Recently, another brow trend has returned from the 90s capsule with a vengeance—bleached brows. This DIY look is all the rage, but as brow expert Joey Healy told me during my most recent eyebrow tune-up, it may not be the safest in terms of brow health. No fear: Here's an alternative method you may want to consider before going all in with bleach and a spoolie. 
Where the bleached brow trend comes from.
While younger generations may see bleached brows making an appearance on magazines and social media for the first time, it's hardly a cutting-edge look. In the 90s, countless avant-garde fashion photoshoots and runways claimed the effortless, minimalistic look.
After making an appearance on the runway, celebrities, angsty teens, and fashion lovers followed suit. After all, dyeing your brows is incredibly DIY-friendly, compared to many other modern trends that cost a pretty penny and limit access to those belonging to certain economic brackets. 
While accessibility is a major benefit, we can't ignore the obvious: Bleach isn't the best ingredient for the health of your brows. What's more, it's almost impossible to prevent the bleach from touching your skin, which (as you might guess) is extremely dangerous as it can lead to a burn, rash, and irritation—especially for those with sensitive skin. That's why the celeb set see licensed professionals before sporting bleached brows; it's very unlikely that they're bleaching from home.
How to lighten your brows without bleaching them.
Luckily, you don't have to commit to a permanent or semi-permanent look or sacrifice the health of your fragile brow hairs. Simply call upon the transformative power of makeup. Here, a step by step guide for lightening your brows, sans bleach. 
Concealer
A spoolie brush or brow comb 
A light eye or brow shadow (more on that below) 
Brow gel 
Prep your brows, just like you would for any makeup look. Do whatever you need to do to ensure your desired shape, whether that be a quick trim or tweezing a few stray hairs to get your brows primed and ready. 
When you do this, make sure to start with clean brows. If you try to mess with your brow shape when you already have a pencil or cream product on, you'll be deceiving yourself and may end up over-plucking (and not in the 90s-chic way).
2.
Put a few dots of concealer on the brows.
You'll want to use a concealer that holds well for this look, rather than a super liquid-y formula. If you have a deeper skin tone and want to lighten your brows significantly, you may want to layer on an even lighter concealer than the one you'd typically use for spot coverage or under eye circles. Put a dot of your concealer on the front of the brow (the square section), middle (where the brow arches), and the tail (where the brow ends). 
You can use a brush, your fingers, or a makeup sponge to lightly blend the concealer across the brow. Depending on your brow density and color, you may need to go back in and apply a bit more product. But the goal is for your brows to look, you know, bleached.
3.
Brush through your brows & add shadow. 
Once your concealer has dried down, lightly run a spoolie through the brow to redefine the shape. Then, depending on your desired brow color, you can take an angled brush and fill your brows in with a light shadow. 
At this point, you'll want to decide if you want to go for platinum white brows, a blonde-ish hue, or a smokey, light gray tint. This is where experimentation and trial and error come in. It may take a few tries to find your perfect shade, but the end result will surely pay off. 
If you want to go all out: 
If you want to take this process a step further, whether it be for a special occasion or simply to have a bit more fun, you can add a pop of color or even some glitter to your newly "bleached" brow look. The muted base will help any subsequent color and sparkle pop even more. This is perfect for those looking to make a statement but want to go beyond a bleached canvas.
Finally, if you adore the final bleached brow look and want to commit to dyeing them, you may want to consider seeing a professional to avoid any unnecessary incidents—skin rashes and brittle brows included. 
The bleached brow trend has returned from the 90s, but it's not necessarily the safest bandwagon to hop on. Bleach can cause skin irritation and damage the hairs on your brows, two things you'll want to avoid if you're looking to play around with brow trends in the future. Instead, try using concealer and a tinted shadow to recreate the look safely. And if you must bleach your brows, remember to be careful, seek out professional help, and never let the bleach sit on your skin. Now if you're looking to optimize your brows as they are, pre-bleach or otherwise, check out these three non-negotiable tips from a brow expert to get started. 
Heal Your Skin.
Receive your FREE Doctor-Approved Beauty Guide
You are now subscribed
Be on the lookout for a welcome email in your inbox!
https://www.mindbodygreen.com/articles/how-to-get-bleached-brow-look-safely