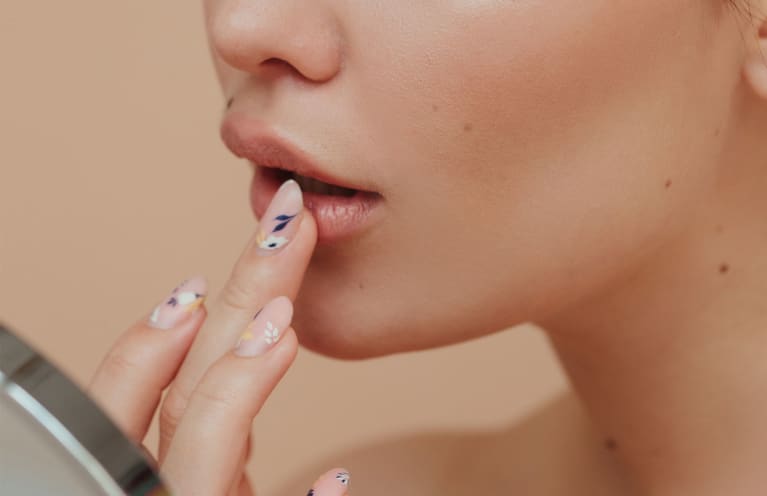 August 18, 2022 — 20:32 PM
Sometimes, it's not a skin care product itself that works wonders but how you apply it. Think of face oil, for example: If you barely rub it into the skin, you may be left with a canvas that's greasy to the touch and not so great for makeup prep. However, massaging the oil into your skin and perhaps following up with a facial tool may make all the difference. 
Another example? Your lip balm. Here's an application tip that will seriously change the game, especially for those experiencing chronic dry lips. 
Why you should apply your lip balm to damp skin.
During a recent chat with mbg, Los Angeles-based cosmetic chemist Javon Ford shares his best beauty hack for soft, touchable lips: Apply your balm to damp lips. This is especially important if your lip balm contains hyaluronic acid (a popular humectant). 
Humectants hydrate the skin by pulling in water to surface, which is why it's essential to have water already on your lips. (The same goes for patting an HA serum into skin elsewhere, too.) As board-certified dermatologist Angelo Landriscina, M.D., once said about applying products on damp skin: "The humectants in your products, like hyaluronic acid and glycerin, will have an easier time holding on to moisture if you're providing it.
After the humectant attracts water to your skin and plumps the surface, you'll want to make sure your balm has the right emollients and occlusives to help soften the texture and lock all that moisture in. If you're in the market for a new lip moisturizer that contains HA (plus emollients and occlusives) mbg's lip balm is an ideal option. Apart from the ultra-hydrating and plumping actions of the sodium hyaluronate (a salt form of hyaluronic acid), a blend of other naturally-derived ingredients help keep the lips as soft as can be, including: 
Cocoa seed butter
Moringa seed oil 
This cocktail of ultra-nourishing ingredients will help heal dehydrated lips, especially when applied to damp skin. Not to mention, the added antioxidant power from vitamin E and moringa seed oil will help protect the lips from experiencing extended oxidative stress (which can ultimately lead to physical skin aging, lip skin included). 
Even if you have the best, most potent skin care products in the world, proper application is essential to make sure they work. That said, if you want soft, touchable lips, you may want to consider applying your balm to damp lips. This way, the humectant ingredients will pull that water in, while the rest of the formula will nourish the skin and lock moisture in. Major bonus if your balm contains antioxidants as well. And if you want to take it a step further, you may even consider taking part in a lip slugging routine to double down on pout hydration. 
https://www.mindbodygreen.com/articles/why-you-should-apply-your-lip-balm-to-damp-lips