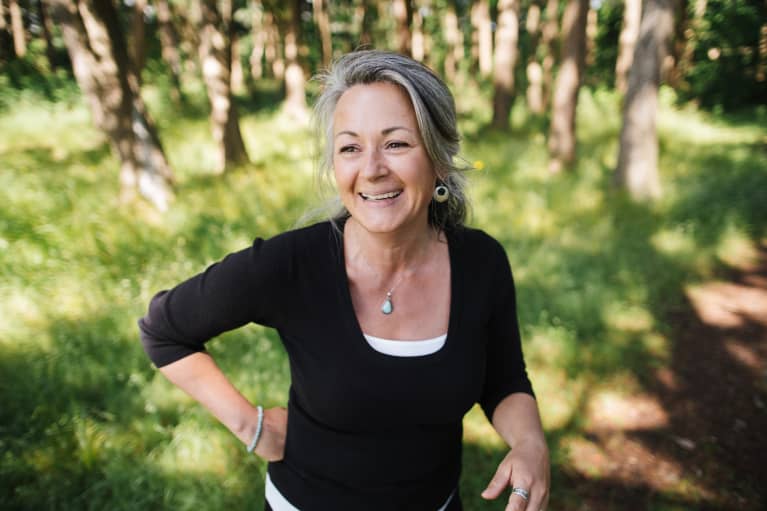 August 26, 2022 — 11:02 AM
Interested in living well into old age? Well, the secret may be hiding in plain sight: walking.
This underrated form of exercise has been getting some much-deserved attention in recent months (ahem, hot girl walks). And now, there's even more reason to love this trend: A new study being presented at the ESC Congress 2022 Barcelona later this month reveals that just a 10 minute stroll everyday (or one hour each week) has been linked to increased longevity in people 85 and older.
So, here's what that means for your workout routine. 
We know that 150 minutes of moderate exercise each week is generally advised to maintain our overall well-being over the years, but this new research reveals that as it's common to grow more sedentary in age, when you reach the age of 85 and older, a 10 minute walk each day is also beneficial. 
According to a press release from the European Society of Cardiology, the study looked at the connection between walking for exercise and the causes of cardiovascular concern as you age, in adults of the aforementioned age group. Based on information gathered from the Korean National Health Insurance Service Senior database, the researchers found that within 7,047 adults ages 85 and older between the years of 2009 to 2014, those that walked for at least one hour a week had a lower risk of cardiovascular concerns than those that were less active.
Within the press release, study author Moo-Nyun Jin, M.D. of Inje University Sanggye Paik Hospital explained, "Walking was linked with a lower likelihood of dying in older adults, regardless of whether or not they did any moderate-to-vigorous intensity physical activity. Identifying the minimum amount of exercise that can benefit the oldest old is an important goal since recommended activity levels can be difficult to achieve." 
TL;DR: even if you only have time to go for a short walk, that's going to be better for your long term health than nothing at all. Hot grandma walk, anyone?
Other ways to support longevity.
We all know that exercise and a balanced, nutrient-dense diet are some of the tent poles for a long and healthy life, but the list doesn't end there. Our personal favorite tip for supporting longevity and giving your body what it needs to feel great at any age is mbg's ultimate multivitamin+.* 
Starring 14 vitamins, 13 minerals, and 6 botanical bioactives, this supplement contains significant amounts of the nutrients your body needs to thrive. In fact, in just two capsules, this high-potency, vegan supplement offers an optimized dose of vitamins and minerals, supporting the bioavailability, bioactivity, and even gentleness of each ingredient.* Plus, it's well suited for both men and women. 
Of course it's important to try to meet the daily recommended amount of exercise regularly, but as you age it can become more difficult to get up and get moving. Thankfully, just a 10 minute walk each day, or one hour of walking each week, can help support heart health and nurture a long and happy life.
If you are pregnant, breastfeeding, or taking medications, consult with your doctor before starting a supplement routine. It is always optimal to consult with a health care provider when considering what supplements are right for you.
https://www.mindbodygreen.com/articles/walking-for-ten-minutes-day-supports-longevity-says-new-study