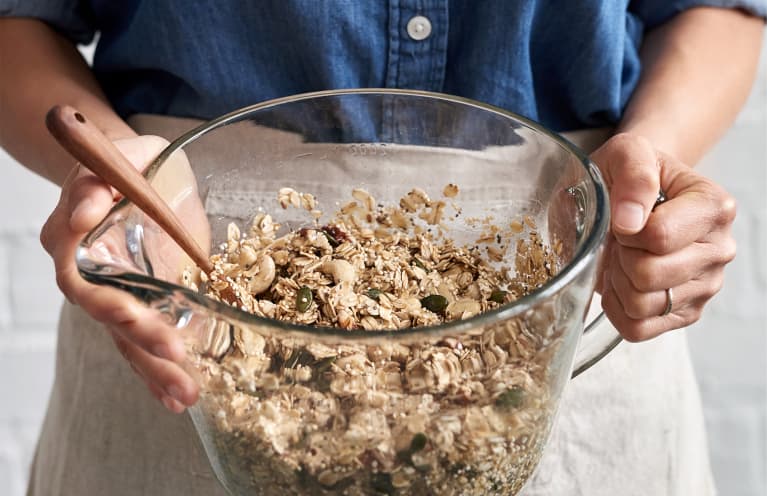 August 27, 2022 — 9:58 AM
Is anyone else consistently disappointed by granola? The crunchy clusters are kind of reminiscent of an ex-boyfriend: sweet and seemingly good for you at first, but ultimately full of garbage and kind of a letdown. Seriously though, so many are laden with excess sugar, artificial flavors, or processed oils—all of which I'd personally like to keep as far away from my smoothie bowl as possible, thank you very much. Sure, there are a couple of brands doing it right (you can read all about my healthy picks here)—but when in doubt, I'm all about having agency and crafting some homemade granola that checks all of my boxes. Case in point: This cardamom & ginger granola recipe I whipped up this weekend.
Whenever I make granola, I generally eyeball the ingredients—a little bit of this, a little of that—without really taking stock of what I created. However, once I took a bite of this latest creation, I immediately typed out the recipe. This concoction managed to be just the right amount of crunchy, chewy, and sweet—all while packed with ingredients that I know will nourish my body. I'm talking: antioxidant-rich ginger which gets just the right amount of candied in the heat of the oven; underrated and nutrient packed pumpkin seeds; and cardamom with all its wonderful anti-inflammatory properties.
Then, of course, there's the pièce de résistance: mindbodygreen organic veggies+. This greens powder is packed with 31 powerhouse ingredients, including organic sea vegetables, dark leafy greens, root vegetables, berries, and herbal botanicals. What's more, it contains digestive enzymes, prebiotic fibers, and probiotics to support healthy digestion and nutrient absorption.*
All together, this granola contains ingredients to support blood sugar balance, gut health, satiety, and more—and I can't get enough of it. Sprinkle on top of your smoothie bowl, toss it on yogurt, pour homemade oat milk on top for a crunchy cereal, or eat it on its own as a little snack. Now, be right back, I have to go make another batch.
Cardamom & Ginger Granola
3 tbsp ginger, chopped
1 1/2 cup oats
1/2 cup almond butter (or nut butter of choice)
1/4 pumpkin seeds
1/4 cup roughly chopped nuts (almonds, walnuts, pecans)
1 date, chopped
1 tsp raw honey
2 tbsp organic veggies+
1 tsp cinnamon
1/2 tsp cardamom
1/4 tsp nutmeg
2 tbsp coconut oil (adjust as needed)
2 tbsp chia seeds
2 tbsp flax seeds
Combine all ingredients into a bowl, and stir until combined. The mixture should be slightly crumbly, but sticky enough to press together into a ball.
Spread out onto a baking sheet, patting flat with your stirring utensil or your hands.
Bake at 375 for 7 minutes, or until the top starts to turn golden brown.
Remove from oven, and let cool for 15 minutes.
Store in glass container for up to 2 weeks.
https://www.mindbodygreen.com/articles/cardamom-ginger-granola-recipe