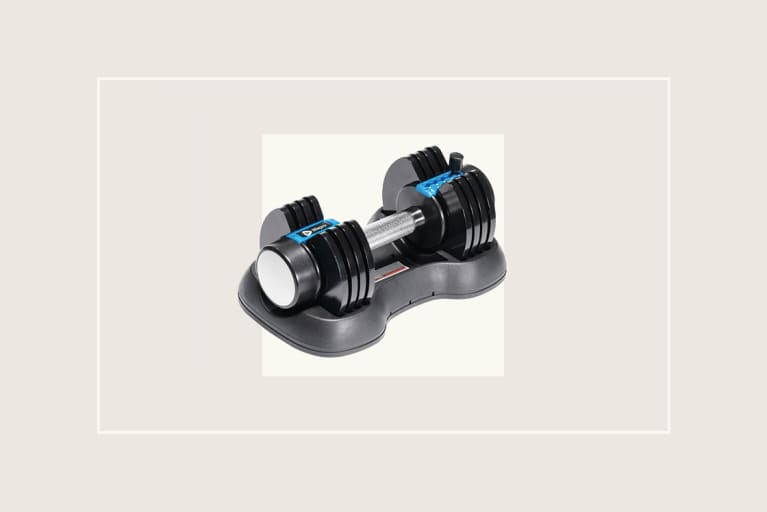 Our editors have independently chosen the products listed on this page. If you purchase something mentioned in this article, we may earn a small commission.
August 30, 2022 — 23:03 PM
I have waxed poetic about my love for working out at home to truly anyone that will listen. It's not only free (well, besides rent), but it suits the ebb and flow of my typical workout routine. Over the years, my exercise interests have changed with the season as I've flipped through a broad range of workouts (see: swimming, running, weight lifting, walking, HIIT, yoga…you get the picture). But one thing that has become a staple despite the constant evolution of my workout routine is my adjustable dumbbells from LifePro.
Why I love the LifePro Adjustable Dumbbell Set.
Allow me to set the scene: It's the spring of 2020 and the gyms are closed, dumbbells are sold out across the entire internet (Amazon, Target, you name it), and I'm utterly lost as to how to maintain my hard-earned "gains"—cringey, I know. Without a set of weights to fall back on, I was doing more cardio than ever, but I missed being able to crank out a few overheard reps at a moment's notice. 
By the holiday season of 2021, I was yearning for a piece of at-home workout equipment that would allow me to still get in my strength training exercises without taking up too much space in my apartment—and Santa delivered. What found its way to me carefully wrapped in snowflake packaging was a box containing one of my next workout essentials: LifePro's Adjustable Dumbbell Set. Just like that, I was right back in love with lifting weights and the feeling of content exhaustion after each workout.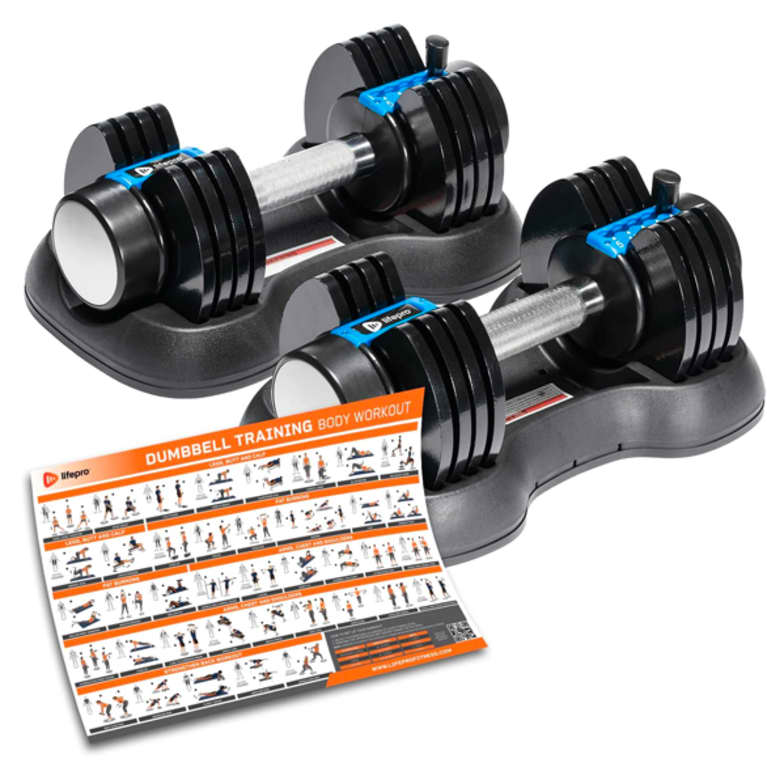 LifePro
LifePro Adjustable Dumbbell Set
$190
These affordable dumbbells quickly became an essential in my routine. Each dumbbell comes with five weight options: 5 pounds, 10 pounds, 15 pounds, 20 pounds, or 25 pounds. In order to swap from one weight to the next, all you have to do is place the dumbbells back into the base and move the knob on the top to your desired weight. This resets the plates at your designed heaviness, so unwanted plates are left in the storage base when you lift up your dumbbell.
Now, there are several things that I love about this set. First off, $190 for five sets of weights is significantly cheaper than buying individual weights, not to mention this compact set takes up a mere tiny corner of my apartment that hardly has any room to spare to begin with. It's also worth noting that while you might think an adjustable weight set would pose the risk of the plates falling off, this secure set is as sturdy as you would want two 25-pound dumbbells to be.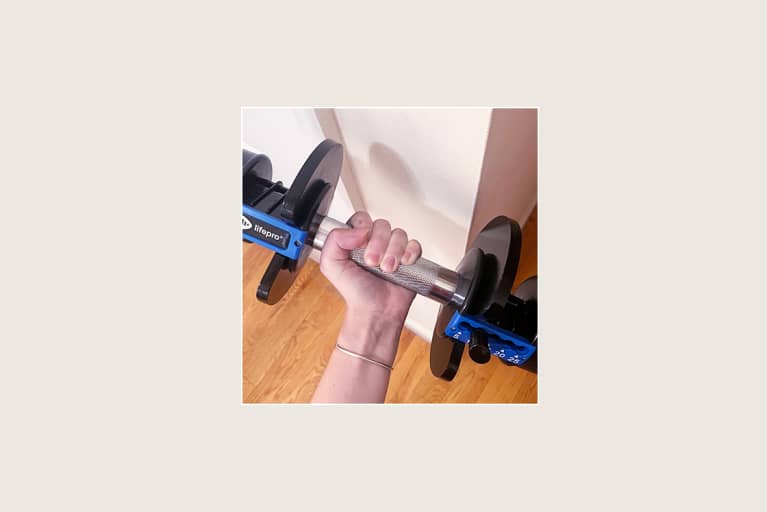 I'm also often doing full-body workouts that switch between varying dumbbell weights (my favorite right now: this 20-minute full-body workout from BB Arrington), and after putting my dumbbells back into the base, they're easily changed with the push of one lever. The moral of the story: No matter how easy or difficult I want my workout to be that day, I still only need one piece of equipment to get through it. Well, and my favorite Gaiam yoga mat.
Plus, this adjustable dumbbell set has only become more vital to my workout routine after sustaining a hip injury from running about a month ago. A cornerstone of any and all my workouts, these dumbbells are key to both my physical (and mental) well-being.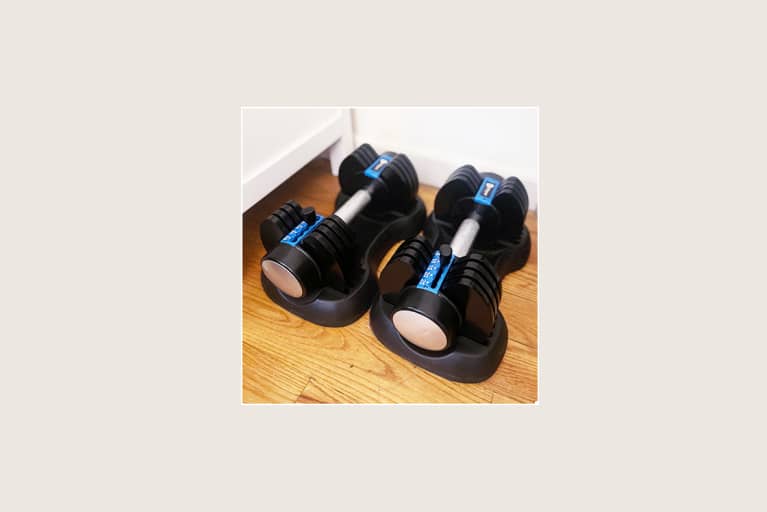 Even though I have no interest in rejoining a gym, I still love weight training, and this adjustable dumbbell set from LifePro has allowed me to squeeze in high-intensity weighted workouts from home before a busy day without wasting any time by leaving my house. (Bonus: They're $100 off right now with an on-site coupon.) Taking up virtually no space in my living room, the functional piece of equipment made weight lifting accessible and easy, two words I'm happy to have associated with my workout routine.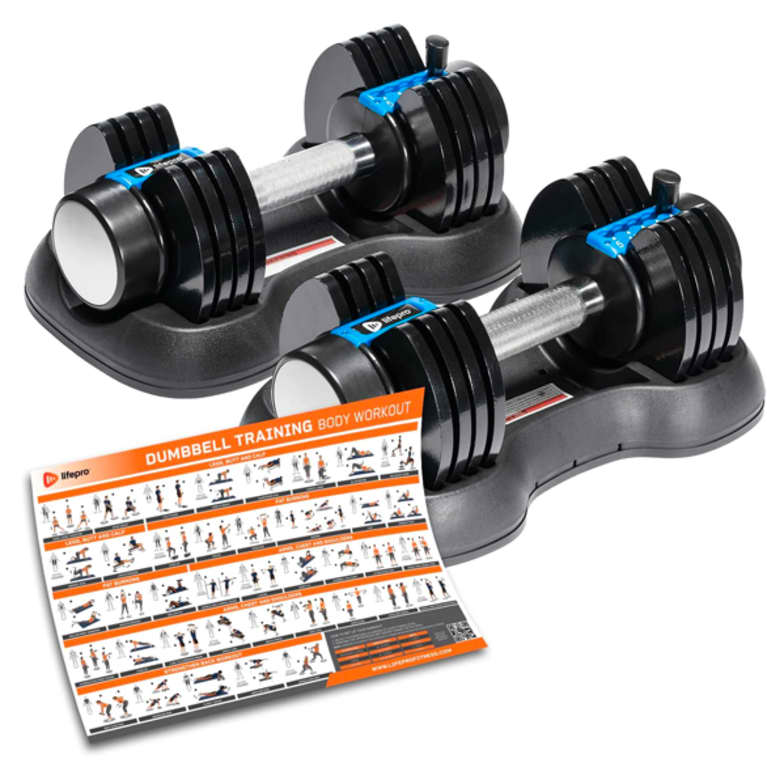 LifePro
LifePro Adjustable Dumbbell Set
$190
https://www.mindbodygreen.com/articles/lifepro-adjustable-dumbbell-set-review