We love those bright orange, cheese-powder-coated puffed-corn snacks as much as the next person, but let's face it — they're not exactly the healthiest choice to satisfy those salty snack cravings.
That's why we're so intrigued by puffed water lily seeds, which can pack the same yummy, cheesy crunch in a much-less-processed package.
Here's what you need to know about this new snack trend.
What Are Water Lily Seeds?

You may not have heard of water lily seeds before, but they're about to take over the snack aisle at your grocery store.
Also known as Makhana, puffed water lily seeds come from the Euryale ferox plant, a type of water lily.
Found in ponds throughout Asia, these seeds start out as pea-sized kernels which are harvested and "popped."
The result: a puffed snack that packs a crunch that rivals Cheetos, popcorn, and potato chips.
Plain water lily seeds have a mild, earthy flavor — but they can be seasoned for a savory, spicy, or cheesy snack.
Are Water Lily Seed Snacks Actually Healthy?
Puffed water lily have a high amino acid index and low glycemic index.
They're a paleo-friendly snack, and there are plenty of vegan and gluten-free options available (it varies, though, so you should always double-check the label).
And a one-ounce serving of Bohana Wild White Cheddar water lily seeds — around 60 popped kernels — has just 120 calories. It also contains three grams of protein and four grams of fat.
"I am amazed at how low fat they are for being a seed," says Maleah Staton, RD.
As with any snack, you still need to watch your portions — but at 60 puffed seeds per serving, it can be a bit easier to avoid mindlessly doubling or tripling the recommended serving size the way you might with a bag of cheesy puffed corn.
(Cheetos, for example, have around 21 puffs per serving.)
Puffed water lily seeds are also commonly recommended in Ayurvedic medicine for reproductive health and regulating blood sugar — but more research is needed to back up those claims.
Where to Buy Water Lily Seeds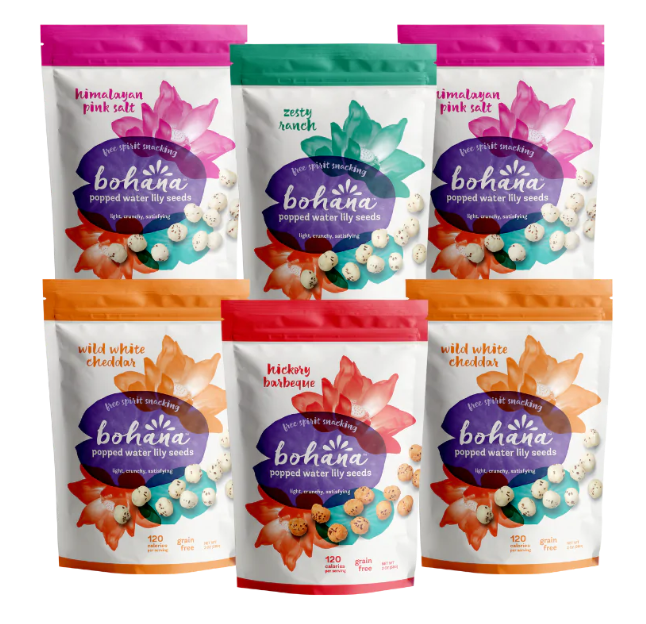 There are currently only a handful of brands offering puffed water lily seeds sold in the United States, including Bohana, Taali, AshaPops, and Lily Puffs.
The Bohana line of puffed water lily seeds comes in three different delicious flavors: Pink Himalayan Salt, Soulful Spice, and Wild White Cheddar.
If you follow a vegan diet, both Lily Puffs and AshaPops offer vegan cheese flavors of puffed water lily seeds.
And AshaPops even has a turmeric flavor that combines two healthy trends into one delicious package.